Updated 26 November 2003
Celestron 14 Telescope
Photos of a 1983 Vintage Orange Tube C-14
---
This telescope was purchased from a previous owner (and the scope's only other owner) in the fall of 2003. This scope has a 10x70 finder and quite a few accessories. This is the telescope I dreamed of having as a kid since 1974. I finally have it. Celestron no longer makes this style of C14, all of the new ones are on the CG type German Equatorial mount. This scope is heavy and not that easy to transport, eventually it will be housed in an observatory that I hope to build soon.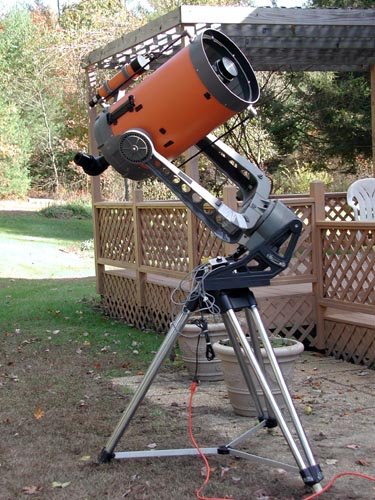 The scope set up in the backyard shortly after I got it. Here I was using it to observe the Sun (using the solar filter of course, however it is not shown in this photo).
---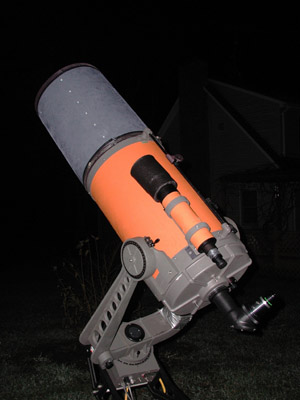 Celestron 14
---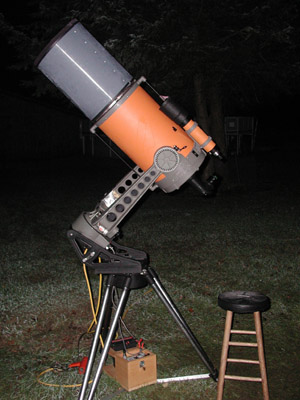 A stool is needed at times to get to the eyepiece (when looing at things fairly low on the horizon).
---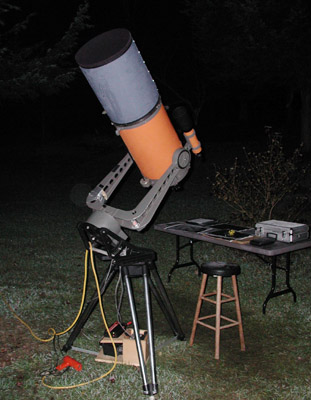 The C14 on its first major night out at my place in Voluntown. Below is my observing report!
---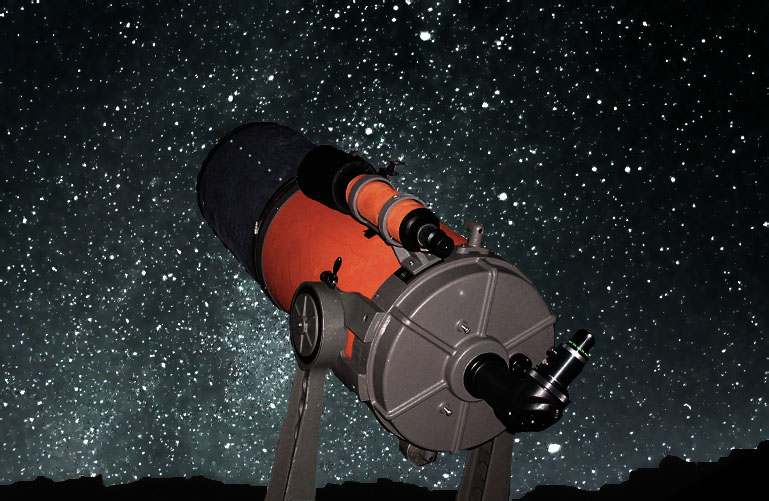 A composite photo (C14 from my backyard with the northwestern skies of Colebrook, CT). I only wish I had the C14 in skies like this every night!
---
First Observations using the C-14
Observations for 21-22 November 2003
Telescope: Celestron 14
Location: Voluntown, CT
Sky Conditions: Good, one of the best nights of the year
Tonight was the first night I had the new (vintage) C14 scope out under some reasonably dark skies. I worked mostly deep sky objects (galaxies), but also looked at a lot of Messier objects along the way. I observed from around 6:30pm until 2:00am.
Uranus: Easily resolved into a disc, however due to poor seeing conditions at the low altitude, photographs were not really an option. Planet has distinct green tint.
M15: Very nice view using a 15.5mm Erfle eyepiece (252x). Resolved to the core, stars quite bright. Very pleasing view.
NGC7454 (galaxy in Pegasus): Fairly easy to find, quite bright in the C14 using a 24.5mm eyepiece (160x). Several fairly bright stars in the field with one right next to the galaxy.
NGC 7448 (galaxy in Pegasus): Two galaxies seen at this location in the C14, not sure which one is actually 7448. One galaxy is more spread out and dimmer while the other is small and bright. Both are easy to see in the C14 at 252x. A bright star is in the field; one of the galaxies is due east of this star. I checked Redshift software and no second galaxy is shown here. comet? (not likely).
NGC 7541 (galaxy in Pisces): Easy to see, elongated, fairly bright star lies at one end of the galaxy. Also near NGC 7541 (just south of it) is another fainter and smaller galaxy; unquestionably visible but not too bright. Believe this is NGC 7537, the NGC catalog lists this as mag 14.0 and very faint.
NGC 7331 (galaxy in Pegasus): I looked at this galaxy as a warm up to try for Stephan's Quintet. NGC 7331 is very bright in the C14, there appears to be some hint of structure visible. Also, I spotted three additional (much fainter) companion galaxies located nearby. One of these is NGC 7337 (NGC catalog lists this as mag 15.5 extremely faint); another is NGC 7340 (mag 15.0 very faint). My software shows two galaxies very near the location of the other (single) galaxy I saw, the two possibilities are NGC 7335 and NGC 7336. The NGC catalog lists NGC 7335 as mag 14.5 very faint while NGC 7336 is listed as mag 15.0 extremely faint, so I probably saw NGC 7335.
Stephan's Quintet (galaxy cluster in Pegasus): I worked my way to this area from NGC 7331. I was able to immediately see suspicious objects once I reached the area (used a 40mm wide field eyepiece [98x] for locating the area). When the power was stepped up to 160x the view was better. I was able to see all 5 of the galaxies! However, two of them are quite faint, on the threshold of visibility. The best view was had using a 9mm Nagler eyepiece (435x). All of these galaxies fit into the field at 435x (field is around 11 minutes wide at this power with this eyepiece). I also tried using a Meade Super Wide Angle 6.7mm eyepiece (584x) and all galaxies were still visible, however the view with the 9mm was better. Several of these galaxies are listed as 15th magnitude in the NGC Catalog, with descriptions of "extremely faint". I agree that in general these are faint galaxies.
NGC 7662 (planetary nebula in Andromeda): Using the 9mm Nagler (435x), this planetary nebula is very large and bright. Can see hints of structure in the nebula.
NGC 772 (galaxy in Aries): Very bright in the C14, nice view at 160x.
NGC 891 (galaxy in Andromeda): Easy to find (locate Gamma Andromeda in the low power field and then sweep east in RA). Galaxy is easily visible but not that bright for being a famous object. Dark lane across galaxy is visible nicely using averted vision. I recall trying to see this galaxy using a 2.4" refractor. Now I know why I was never able to see it despite excellent skies and repeated attempts!
M33 (Triangulum galaxy): Appears very large even at the lowest power I can get (98x). Spiral structure is visible, however the galaxy spills out of the field of view. Can see patches of nebulosity at various places around the galaxy.
M31: This galaxy is far too large to fit into the field of view; even the nucleus area fills the view. Dark lane structure is easily visible. Structure is also visible as one sweeps around the arms of the galaxy. M32 is extremely bright. M110 is also an amazing sight in the C14, it reminds me of M31 itself as seen in smaller scopes!
M77 (galaxy in Cetus): This galaxy is very bright; also, there are hints of spiral arms visible using 252x. Easy to find.
NGC 1035 (galaxy in Cetus): Easy to see, oblong galaxy at 98x in the C14. Also, there is another smaller galaxy nearby with a brighter center (NGC 1052).
NGC 750 (galaxy in Triangulum): This galaxy in Triangulum is easy to find and quite bright at 160x (fairly small however). Very nearby is NGC 751 which is also easily visible and very similar (slightly fainter) to NGC 750.
NGC 1700 (galaxy in Eridanus): Very bright at 160x.
NGC 1832 (galaxy in Lepus): Quite bright, easy to see in the C14 at 160x. A bright star is nearby and a faint star appears to be involved with the galaxy.
NGC 2392 (planetary nebula in Gemini): This is the so called "Eskimo nebula". In the C14 it really does look like an Eskimo! A bright inner bubble is surrounded by a slightly fainter outer ring. Nice view using a 9mm Nagler (435x). The best view I have seen of this object to date.
NGC 404 (galaxy in Andromeda): Very bright galaxy in the C14, used power as high as 435x with good views. No structure visible.
M79 (globular in Lepus): Nicely resolved using 160x. Tried higher magnifications, however the seeing conditions at the low altitude were not so great, the best view was at 160x.
M1 (Crab Nebula): Very bright and very large, can see the "S" shape.

---

"Back" links, e-mail and Copyright

Use your browser's "back" button, or use links below if you arrived here via some other path:

This page is part of the site Amateur Astronomer's Notebook.
E-mail to Joe Roberts
Images and HTML text © Copyright 2003 by Joe Roberts. Please request permission to use photos for purposes other than "personal use".

---