Jupiter and Saturn through the Celestron CG-11 scope
Below are photos of Jupiter and Saturn taken through the Celestron CG-11 scope. The photos were taken using the afocal method, the camera was an Olympus C3030 zoom (digital camera, images taken at 2048x1536 pixels). The scope had a Tele Vue 21mm Plossl eyepiece and a Daiken 2.4x barlow in line (magnification = 320x). The camera's optical zoom was also set to maximum. The photo of Jupiter is not too bad... the photos of Saturn are marginal at best. Saturn is a difficult object to photograph because it is not large as seen in the scope and seeing conditions need to be near perfect for about 1 second while the photo is being taken. All photos taken from Wilbraham, MA (just east of Springfield MA). Photos taken 25 December 2000.
---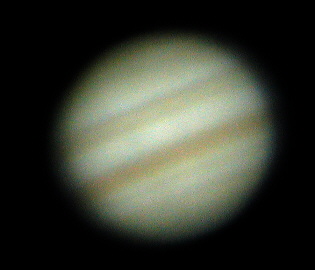 Jupiter through the CG-11 scope using Afocal method
---

Five frames of Saturn, these were the best of about 30 taken on Christmas night. The pictures are "noisy" (grainy) because short exposures were used to minimize seeing effects.
---
"Back" links, e-mail and Copyright

This page is part of Joe Roberts Astrophotography Images by Category
E-mail to Joe Roberts
Images and HTML text © Copyright 2000 by Joe Roberts
---