Updated 21 November 1998
Gallery of Meredith Lorenz
Below are three astrophotos that were submitted by nine year old Meredith Lorenz. Meredith took these photos (with a little help from her Mom) for a science project at school. The pictures were taken with a Minolta camera mounted on a tripod on a couple of clear nights in October 1998. Film was 200 speed Polaroid. Meredith took notes as each photo was taken. A friend of Meredith's scanned the photos and sent them in for posting. I (Joe Roberts) have provided some info as to some of the objects that appear in the photos. Specific information for each photo appears below:
---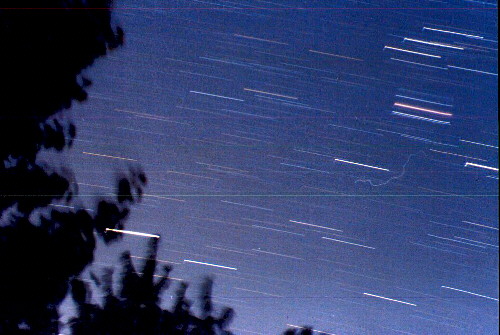 This picture was taken near dawn with the camera facing southwest. It shows parts of the constellation Orion and the bright star Sirius.
---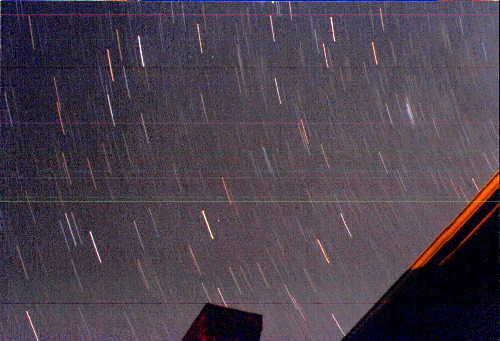 This picture was taken on October 20 from 6:05 am to 6:18 am. The camera was facing roughly west. This picture shows parts of the constellations Perseus, Andromeda and Triangulum. This picture was taken in the early morning.
---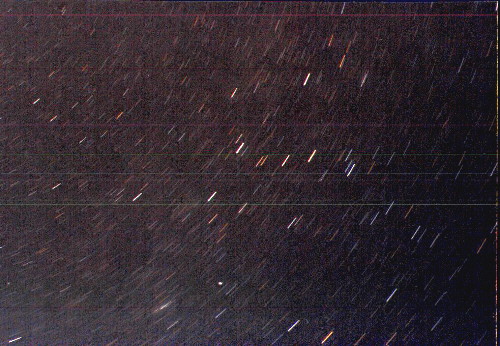 This picture shows the constellation Cassiopeia. The "fuzzy" object near the lower left corner of the picture is the famous Double Cluster.
---
Commentary
The photos that Meredith took and submitted represent outstanding work for a such a young person. I remember the first astrophotos I took in 1975 and they are not nearly as good as those shown above (and I was 14 at the time). It is very gratifying to see young people taking an interest in astronomy and science. Meredith chose a challenging topic (astrophotography) for her science project and has succeeded with remarkable results! In my opinion Meredith has earned an "A" on this project!
---
"Back" links, e-mail and Copyright
Use your browser's "back" button, or use links below if you arrived here via some other path:
This page is part of the site Amateur Astronomer's Notebook.
The Joe Roberts Home Page: www.cshore.com/astroman/.
E-mail to Joe Roberts
Images © Copyright 1998 by Meredith Lorenz.
---