Orion's Belt and M42
This is a photo of Orion's Belt and M42 (the grouping is also known as the asterism Venus' Mirror). The color saturation in this shot has been mildly enhanced to bring out the color contrasts of the stars (and nebula) in this region. Note the mix of occasional red stars among the more populous blue stars. Photo was taken with a Pentax 135mm F2.5 lens; film was Kodak Ektar 1000. Exposure not recorded, but was probably a few minutes. Photo taken 24 October 1992 from Oakdale, CT USA (moderate light pollution).
---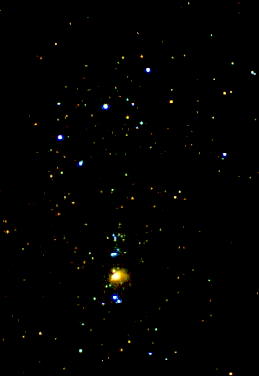 ---
"Back" links, e-mail and Copyright
Use your browser's "back" button, or use links below if you arrived here via some other path:
This page is part of the site Joe Roberts Astrophotography Images by Category
E-mail to Joe Roberts
Images and HTML text © Copyright 1997 by Joe Roberts. Please request permission to use photos for purposes other than "personal use".
---