Updated 20 December 1997
Joe's "Emergency" trip to Hawaii
---
I was recently called away on a sudden, urgent trip to Hawaii to investigate a problem on a Navy ship. The trip came up so suddenly that I did not have time to do ANY preparation for seeing "Five-O" related sights. I barely had time to notify my family. I got the definite word to "go" at 2pm on a Thursday afternoon, had all my travel arrangements in place by 4pm, and was on a plane the next morning! It was very hectic but at the same time quite exciting. The good news is that there's a good chance I'll have to go back for a follow up investigation!!! (update for 1998: the task was canceled, I did not get to go back after all! After seeing how beautiful Hawaii is, I'll have to go back on my own some day...)
I flew from Providence to Atlanta, and then from Atlanta to Honolulu. The flight from Providence was more or less routine, but late getting into Atlanta due to heavy fog. Then, there was a big delay getting out of Atlanta (again, due to fog). While boarding the plane to Hawaii, Hawaiian music was playing and video footage of the islands was being shown on the video screens. The plane out of Atlanta was an L1011, and every seat was packed. Luckily, I had an aisle seat and could stretch my legs out somewhat. The L1011 video screen gave the passengers a constant readout of the plane's speed, altitude, outside temperature and headwind speed. Most of the way over we had headwinds of 80 mph, and at times the headwinds were up to 105 mph! The temperature (outside) at 35000 feet was about -55 degrees F. Our ground speed was about 460 mph. Due to the headwinds, the flight took longer than normal, about 9 hours and 20 minutes. The airline (Delta) gave out free headsets to all passengers as compensation for the delay (even though it wasn't their fault). I watched the movie (Jurassic Park Lost World). I give the movie an A+ for special effects but a D for plot (it had too many preposterous events). I arrived in Honolulu at about 6:30pm HST, but then there were problems getting the luggage because the luggage carousel was busted. Honolulu airport is unlike any I have been in... some parts of it are "open air", meaning that there were no walls in some parts (the outside air could flow freely in and out). There was a person at the end of the jetway greeting passengers and saying "Welcome to Hawaii" while offering leis. Many people were dressed "Hawaiian" style, and I could feel people looking at me and probably thinking "Where the hell did that guy come from!" because I was wearing a hooded sweatshirt! The weather was spectacular compared to where I came from (a cold and damp 30 degree climate).
I finally got a rental car, but now it was more like 7:30 and it was dark. It was also Friday night in Honolulu, and the traffic was heavy. It took me about an hour to find the hotel! The hotels do not have obvious signs. I was looking for bright, lit up signs. The signs were in fact rather small and inconspicuous, must be some kind of ordinance in Honolulu for them to be so small. I finally did find the Ala Moana Hotel (it's on Atkinson Drive, off of Ala Moana, just north of Ala Moana Park. I found out I had to pay to park my car at the hotel ($8 day, or $12 day for valet) even though I was a registered guest. The hotel was quite nice compared to those I am used to staying at. I checked in and had a room on the 27th floor. I got up to the room and the first thing I did was go to the balcony and take in the view. I was so high up that I got an uneasy feeling looking down to the ground. I thought of the various Five-O episodes where various people and/or bodies are tossed over the side! It was now about 9pm HST, or 2 am EST, and I was very tired. I was hungry, but decided to order up room service rather than venture out. I ordered up a Hawaiian Veggie Pizza. It came within a short time, and was quite tasty!
The next morning I woke up at about 3am HST (because my "body clock" was still on east coast time despite being extremely tired the night before. I went down to breakfast at one of the five restaurants in the hotel. I had complementary passes for the breakfast buffet. The buffet was fabulous. The only thing I did not see available was steak. There was fresh fish, ham, eggs, bacon, hash browns, a huge assortment of fresh fruits, breads, muffins, cereal, yogurt and juices. In addition, there was a chef at a station making up fresh omelets to order. I concentrated on the fresh pineapple (it was incredibly good). Also had the fish... not sure what kind it was (Mahi Mahi I'm guessing) but it was very good. Overall the buffet was tremendous and I looked forward to eating every morning! I don't know what the menu cost of the buffet was, but it was probably not cheap. I was very surprised to receive complementary passes for this breakfast!
We worked long hours on the ships, so we really had very little time to see any sights. On the first day (while driving to the base), I took a roundabout way and actually spotted the Iolani Palace. I was not able to stop because the gates appeared to be closed and there was no obvious parking. The driving in Honolulu is tricky when no one is available to navigate. I was being careful because there seem to be quite a few one way streets.
We did have a few hours on our last day (Tuesday before Thanksgiving) to drive around and see some sights. We went over to the Arizona Memorial. It was a very windy day, and as we were waiting in line, a park ranger announced that the ferry to the memorial would not be running any more that day (the harbor master shut down the harbor due to the winds)! I was a bit in disbelief... the one day in my life I get to visit the Arizona Memorial and it gets shut down!!! We did see the movie however. To my surprise there is no admission fee to the Arizona Memorial.
After the Arizona Memorial, we had only enough time for a short trip, so we decided to take a drive up to the Pali Lookout. It took us about 25 minutes to get up to the lookout. The wind at the lookout was tremendous! It was hard to look into the wind because your eyes became blurry. I took about 10 pictures. The view at the Pali Lookout is breathtaking. Photos cannot really capture the beauty, you really do need to see it in person. One of those panoramic cameras might do a decent job, but there's nothing like actually being there! After checking out the lookout, we drove down the north side of the mountain. We spent about 45 minutes driving around, but then had to head back to the airport. We had been advised on the flight into Hawaii that we would have to undergo an agricultural inspection prior to taking off and I had no idea how long this would take. We stopped off at the base to pick up the other car, and then I proceeded to the airport. The road to return rental cars is the most twisted around and convoluted path I've ever seen! It is well marked however ( a good thing, or no rental car would ever be returned!). The man driving the shuttle bus back to the airport was very friendly and kidding me about the ice and snow on the ground where I was headed. Turns out that the agriculture inspection was very quick, very similar to getting luggage X-rayed. The airport was very quiet! There were only a few people in line and I got checked in very quickly. The flight going back to Atlanta was only about half full, so I had plenty of room to spread out and sleep. The meal was the same as on the flight out (beef with sun dried tomatoes, potatoes with cheese sauce, green beans, a roll, and a desert bar). I had several pillows and blankets and my flight was quite comfortable. I didn't watch the movie (Contact) because I wanted to try to get some sleep. As it turns out I didn't sleep too well because I had 3 cans of Coke. We were at 38000 feet altitude for most of the flight, and the outside air temperature was -77 degrees F! We were cruising along at about 550 mph much of the way because the winds were helping us in this direction. The flight from Providence to Atlanta was packed to the gills because it was the day before Thanksgiving. I was very happy when that plane touched down!
And now for some pictures...
I took about 60 pictures, and a sampling of them appear below.
---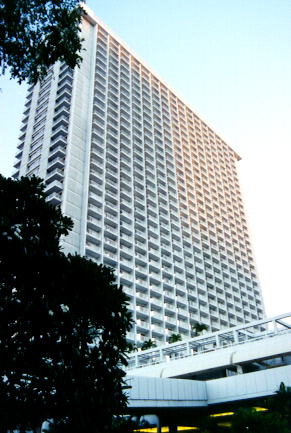 This is the hotel I stayed at... the Ala Moana Hotel on Atkinson Drive, just off of Ala Moana Blvd. I was staying on the 27th floor; my room had a magnificent north view. I was very high up. Looking up at this building, I couldn't help but imagine a body being flung over the balcony rail as is seen in some Five-O episodes!
---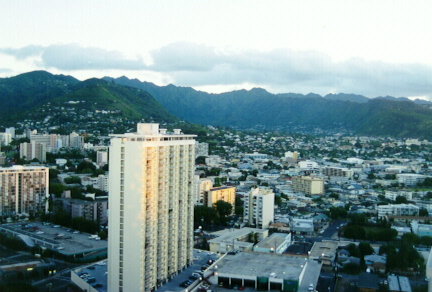 Here is a view looking to the northeast from my balcony. The sun was just coming up.
---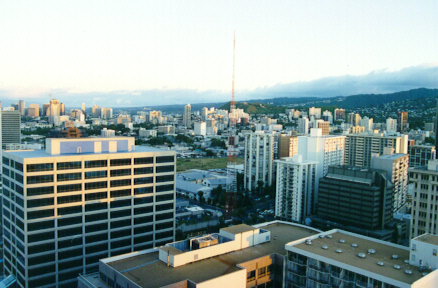 Here is a view looking to the northwest from my balcony. I think the radio tower may be the one seen in the opening sequence of Hawaii Five-O! Have to investigate further...
---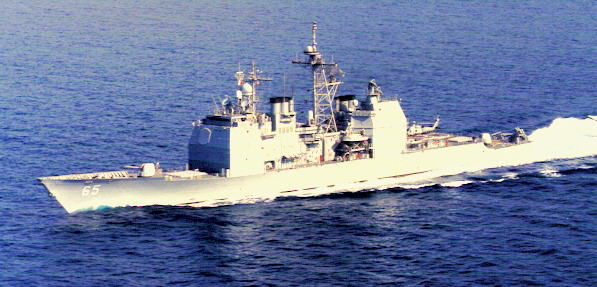 One of the ships I was working on, the USS Chosin, CG-65.
---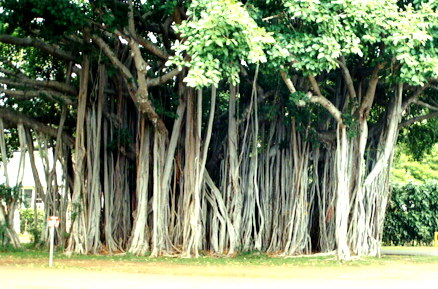 A most unusual tree I spotted in Hawaii. Did not get the full name, started with "Ficus...". I saw a few in Ala Moana Park (about a 3 minute walk from my hotel). This specimen is located on Pearl Harbor Naval Station. The tree is protected as an endangered species. It is most unusual in that the lower branches seem to "drip" towards the ground and then take root. Cutting one of these trees down would be a tremendous chore because of the number of trunks!
---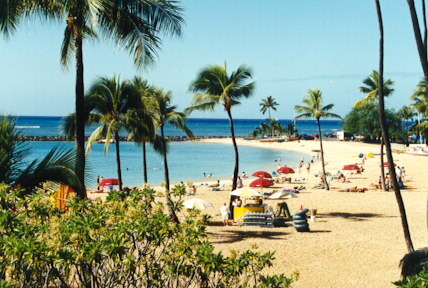 Here is a view looking west along the beach just south of the Hilton Hawaiian Village Hotel (one of the people working with me was staying at this hotel). The sun was actually hot and the weather was beautiful... 75 to 80 degrees every day! I was amazed at the number of midweek weddings taking place at the Hilton Hawaiian Village. I didn't see any members of the "People's Attack Group" while I was here... (this statement will only make sense if you're familiar with a particular episode of Hawaii Five-O).
---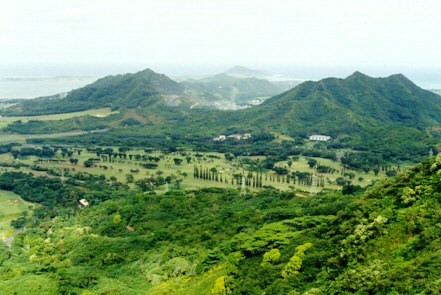 We had very little time to see the sights. We did manage to drive up to the Pali lookout (just north of Honolulu), about a 25 minute ride from Pearl Harbor Naval Station. This view is looking to the north east, in the general direction of Kailuha. The winds were very strong while we were up here, so strong that if not prepared they would knock a person over.
---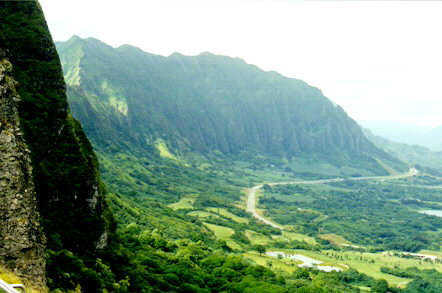 Here is a view from the Pali lookout, looking to the northwest. Photos cannot capture the view from the Pali lookout, you really have to be there to fully appreciate the magnificent view!
---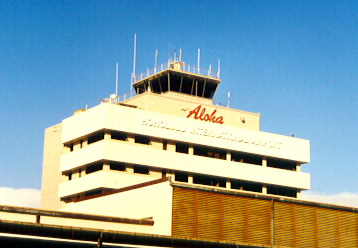 Here's a view I grabbed from the airport while waiting for my flight out. This building (with an older finish) is seen in a number of episodes of Five-O.
---
Back links and E-mail
E-mail to Joe Roberts
Back to Joe's Hawaii Five-O page...

End of page... come back soon... Aloha!
---