Updated 13 December 2008

The Realistic SA-10 Stereo Amplifier
---
Introduction
This page focuses on the Realistic SA-10 amplifier. The SA-10 is a small audio amplifier intended for use in entry level low power stereo systems (those that might be used in a den, office, etc). It is by no means a powerhouse amp, however it is a very good little amp for many situations where a low power system is adequate. I use one in my basement laboratory (it is connected to a pair of 10" 2 way speaker systems) and it provides more than adequate sound for what I want in that environment. This amp is no longer offered by Radio Shack (I bought mine around 1979 for $29.95, however it was dropped from their line a number of years ago). The SA-10 is widely available on Ebay for around $10 - $25 (sometimes people want like $50 for this amp, too high in my opinion unless you want one for nostalgia reasons). I sometimes see outlandish specs posted on line for this amp, this page will provide the true facts about this amplifier (see my resume for credentials).
Specifications
Radio Shack actually published specs for this small amp (they are listed in the owner's manual). Here are the published specs:
Power Output: 1.2 Watts per channel (at 1000 Hz with 10% distortion)
Inputs: Tape/Tuner and Phono
Tone Control
Volume Control for each channel
Stereo/Mono Switch
AC Power Consumption: 12 Watts max.
A few words on the above specs. First, any audiophile knows that 10% distortion is a very high amount. I measured the power output of this amp and it can put out about 0.75 watt per channel with very low distortion (I did not measure the THD but the sine wave output at this level was very clean). The Phono input on this amp does NOT have a preamp, it is basically a high level line input (no different than a CD input for example). If you want to use this amp with a turntable that has a magnetic cartridge (in other words about 95% of all turntables in use today) a phono preamp will be required. If you wanted to connect a microphone to this amp a mic preamp will be required. The Tape/Tuner input means tape or tuner (one or the other, not both). The bottom line is that this amp has two line level inputs. Like most entry level Radio Shack amps, the SA-10 has a built in loudness curve (meaning that the frequency response of the amp favors the low end when the volume controls are at the lower end of the scale).
1.2 Watts per channel? Who would want that measly power? Well, the fact is most people don't realize how loud a 1 watt per channel amp can sound, and they are similarly surprised at how "quiet" a 100 watt per channel amp is (compared to a 1 watt per channel amp)! The human ear "hears" things logarithmically, which basically means it takes a LOT of power to make something sound a lot louder. Twice the power only makes the sound slightly louder. For most people, to make something sound significantly louder requires about 10 times the power to the speakers. The bottom line is that 1 watt per channel is more than adequate for a den system, a small bedroom system ,etc. Again, don't plan on shaking walls down with this unit, but do expect a very nice sound for a basic entry level system.

What speakers can be used with the SA-10? In truth, most any speaker will work (8 ohm speakers would be preferable). Although you can use large high power speakers with this amp, this amp is really intended to be used with smaller bookshelf speakers. Speaker connections on the back of the amp are via RCA connectors.





Technician Data
WARNING:
DO NOT ATTEMPT TO WORK ON ANY ELECTRONIC EQUIPMENT UNLESS YOU ARE THOROUGHLY QUALIFIED TO DO SO. FAILURE TO ADHERE TO THIS WARNING CAN RESULT IN RUINING THE EQUIPMENT, BURNING DOWN YOUR HOUSE OR IN EXTREME CASES, DEATH.


Below is the schematic for the SA-10 (this is from the SA-10 owner's manual): Click on the image below and a large version will open up in a new window.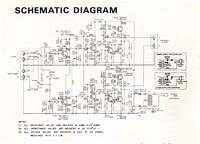 Discussion of the SA-10 electrical design: There are a few shortcomings with the design of this amp. However, keep in mind that this (at the time) was the most entry level amp in Radio Shack's line and it sold for $29.95, so one cannot expect a rock solid world class quality design. Keeping that in mind, here are my comments (some of this will not make sense if you do not have a background in electronics):
Build Quality: The build quality is typical for the price class. The case is plastic. The knobs have a smooth feel to them.
Power Switch Note: In looking at the schematic, one can see that the method of applying power to the amp is by way of switching on the center leg of the secondary winding of the power transformer. This is not a design I favor as it means that 120 VAC is applied to the primary winding of the amplifier whenever the amp is plugged in. In other words, even if the amp is switched OFF power is still applied to the transformer. No transformer is perfect (all have some losses). In a small amp like this losses will be minor, however in my opinion it is always preferable to have AC power to the unit fully OFF when the power switch is OFF.
Component ratings: Some of the components in this amp are being operated too close to their design limits (in my opinion). Take a look at the schematic and located C108 (this is a 100 uF 10V smoothing capacitor). Also note that the schematic shows that 9.4 V will exist at this point when no signal is applied to the amp. This means that this part is operating at 94% of its rated value! A part of higher rating (I would have used a 16V part) could have been used, however this would raise the cost of the amp and probably why the designer opted for the 10V part. I have seen cases where parts do fail over time when they are operated close to their design ratings.
Circuit Topology: The SA-10 is a class AB amplifier using a single rail supply (supply rail is 14.4 VDC). As such, the speaker outputs are capacitively coupled. When you power up the SA-10 you will hear a "thump" from the speakers. This is normal for amplifiers of this design (no damage to the speakers will occur from the turn-on thump).
Stereo/Mono Switch: A look at the schematic shows that the stereo/mono switch basically shorts the right and left input signals directly together when the switch is in the mono position. This is a design of economy. It's not generally a good idea to short two input signals directly together. In practice, it probably won't cause any damage to the component connected to the amp however it's just not a good design practice. The saving grace is that the output impedance of the signals being applied to the amp by the component (CD player, tape deck, etc) is not zero so when they are shorted together each channel dumps into the output impedance of each other. Long story short: Not the best design, but understandable in an amp of this price class (this scheme would not be used in high end units).
Bottom line: There are some things I would have done differently if I was the designer. Again, for the price class, a decent unit.
---
E-mail and Links
E-mail to Joe Roberts

Images and HTML text © Copyright 2008 by Joe Roberts (the schematic is not copyright by me, it is from the SA-10 owner's manual). Please request permission to use photos for purposes other than "personal use".
---