Established July 1996... Updated 28 Jan 2009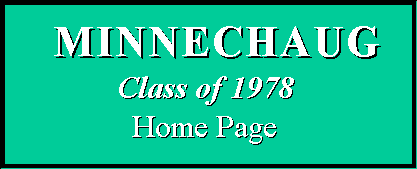 Welcome to the "Unofficial" Minnechaug Class of '78 Home Page! This page is unofficial in that it was created by and is maintained by Joe Roberts, Class of '78. Most people probably don't remember me as I was very shy in school... to help you remember, you can find out more about me by visiting the Joe Roberts Homepage (or, take a look at vintage photo of me back at Minnechaug). The goal of this Minnechaug page is to provide class members and alumni with information on how to contact each other, to provide reunion news, and to provide a collection of nostalgic school related material for class members. It is hoped that this site will be the product of contributions from many class members... if you have a picture or story you'd like to add, please e-mail the Webmaster!
Although this is the "Class of '78 Home Page", it is not just for '78 members. As of July 2002, this site continues to be one of the very few Minnechaug related class pages (with significant content) on the web. Therefore, any Minnechaug alumni are welcomed to this page and are encouraged to and encouraged to register their e-mail address.
---
Class of 1979 30th Reunion Photo Gallery
The Class of 79 held its 30th reunion on Nov 27th at the Sheraton in Springfield. If you were unable to attend and want to check out the photos, here they are: '79 30th Reunion Photo Gallery.
---
Menu
Place cursor over menu item for more information on a topic!
---
"Back" links and E-mail
E-mail to Webmaster
Home Page of the Webmaster (Joe Roberts)...
---