Updated 17 March 2013
Minnechaug's Final Days
---
This page contains photos of the final days of the original Minnechaug Regional High School. Demolition of the school started in August of 2012, and as of March 2013 only the smokestack remains. I wanted to take one last walk through the school... I got permission and did so on 02 July 2012 (thank you to Mr. John Derosia for allowing me to do this). My neighbor Paul Goewey also took photos that same day. A lot of moving activity was already in progress when I was there. This page also contains photos from John Bedard who visited in 2010. I also got a few more photos on 25 July.
I am one of possibly 15,000 students who attended Minnechaug between the years 1958 and 2012 (I was there from September 1974 to June of 1978). Minnechaug had a big impact on my life in a number of ways. I remember a LOT about my days there. Many happy memories and also quite a few that are not happy at all. I have included some of these beneath some of the photos below (only the happy memories though). The comments are just a miniscule sample of all the things that have taken place in Minnechaug's 50+ year history. Like one of the photos shows, "If these walls could talk".
All photos below are taken by me (Joe Roberts) unless otherwise noted (other contributors include John Bedard and Paul Goewey). All photos processed by me. Nearly every photo below can be clicked on and a high resolution version will open in a new window (there are a few older low res images that won't support HD size, those are so noted)..
CLICK on the photos below to open a high resolution version!
---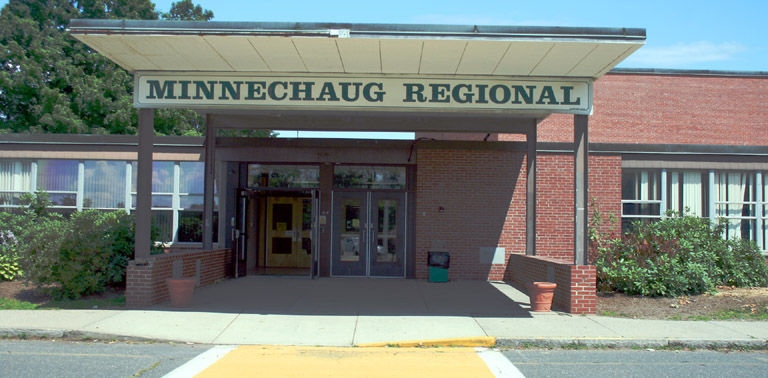 Front entrance. This is where the school buses dropped students off. I must have walked through those doors over 700 times in my life. Photo by Paul Goewey.
---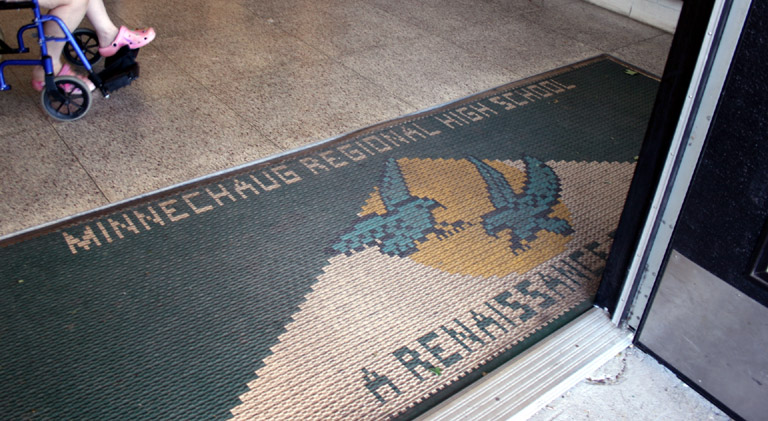 Front entrance door mat. Photo by Paul Goewey.
---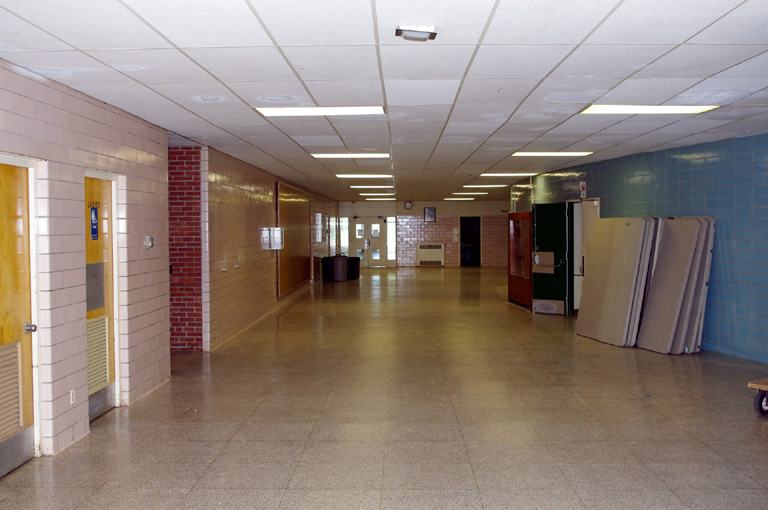 The view of the main lobby as seen from just inside the main door. The auditorium is to the right, B Hall is to the left. The double doors off in the distance lead to E hall.
---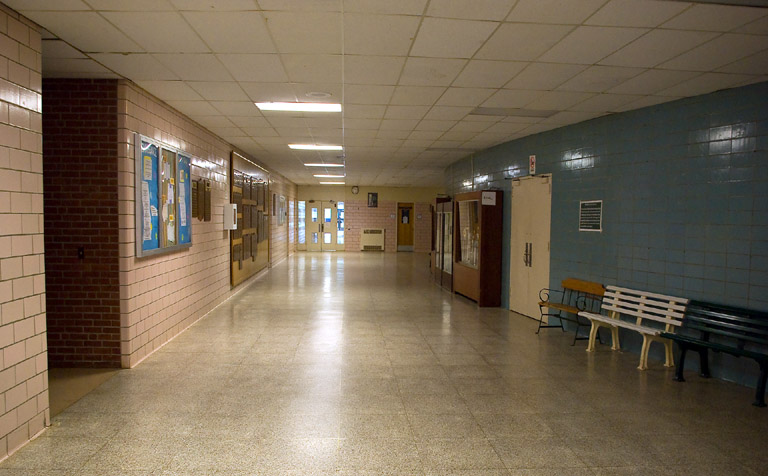 Same basic view as above from 2010 (before any moving activities). Photo by John Bedard of New England Photos.
---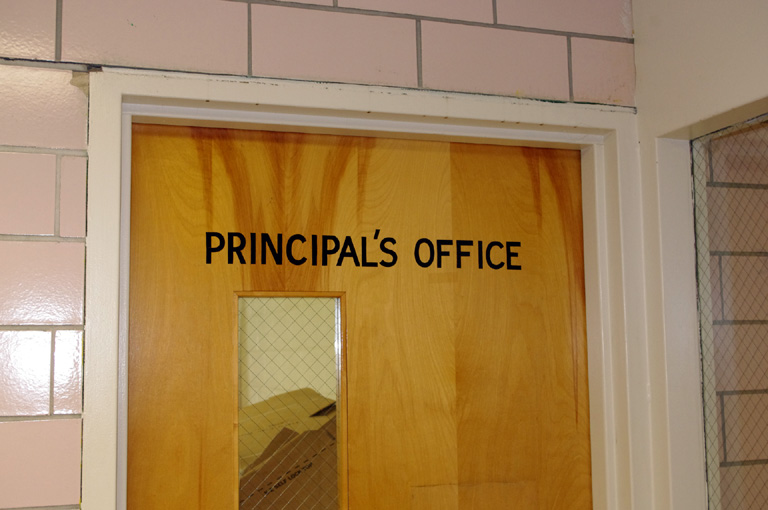 A place that was (at least back in my day) feared by most students. Get sent here and you knew some severe punishment was coming once Mom and Dad got word!
---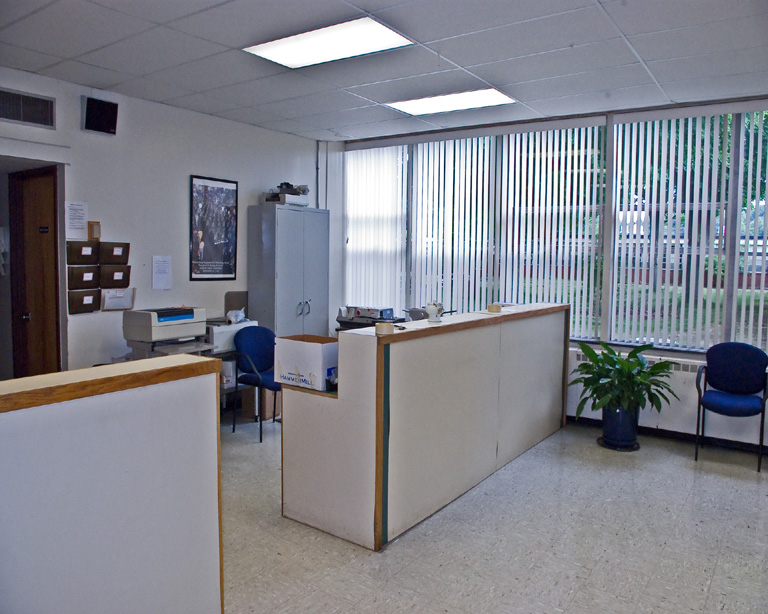 Principal's Office from 2010 (before any moving activities). Photo by John Bedard of New England Photos.
---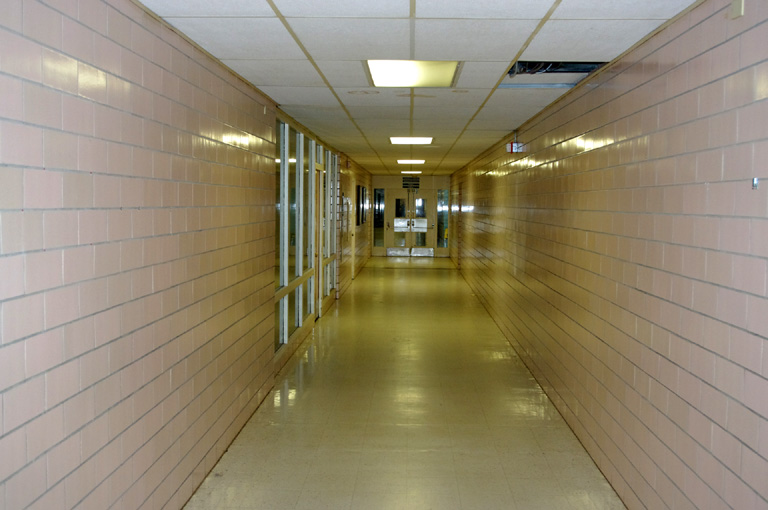 B Hall (in the vicinity of the admin and guidance offices). This is the hall I walked down probably 700 times or more. To the left are the guidance offices.
---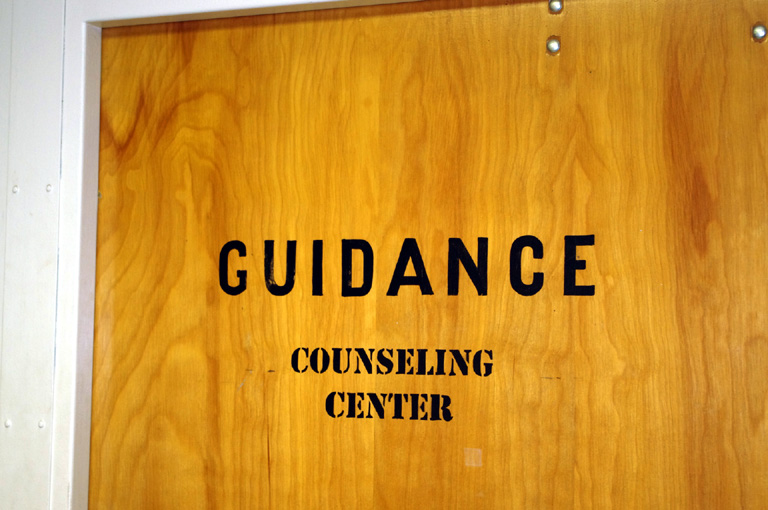 Guidance office door.
---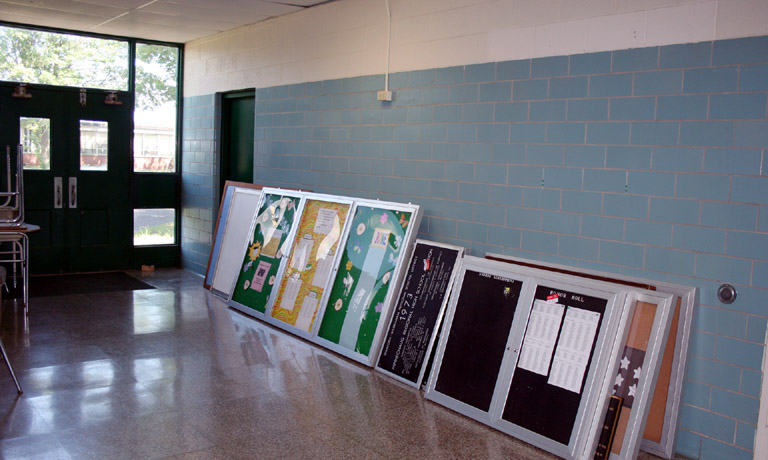 Doorway in B Hall that leads out to the main courtyard (across from the girls locker room). Various cases and plaques are lined up along the wall (presumably to be saved). Photo by Paul Goewey.
---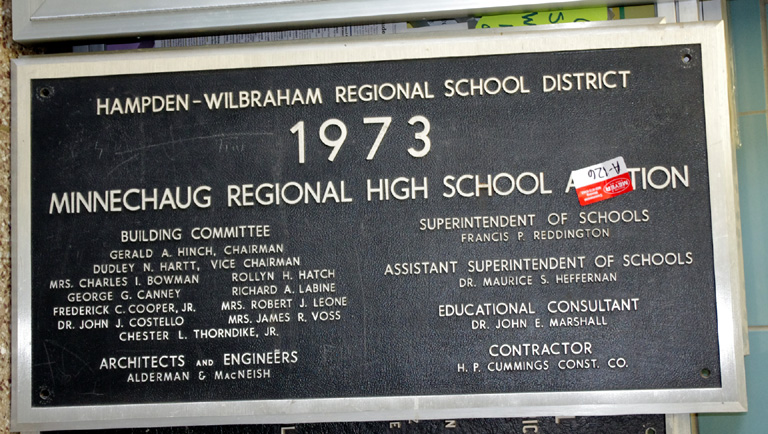 Close up of the plaque for the new part of the building.
---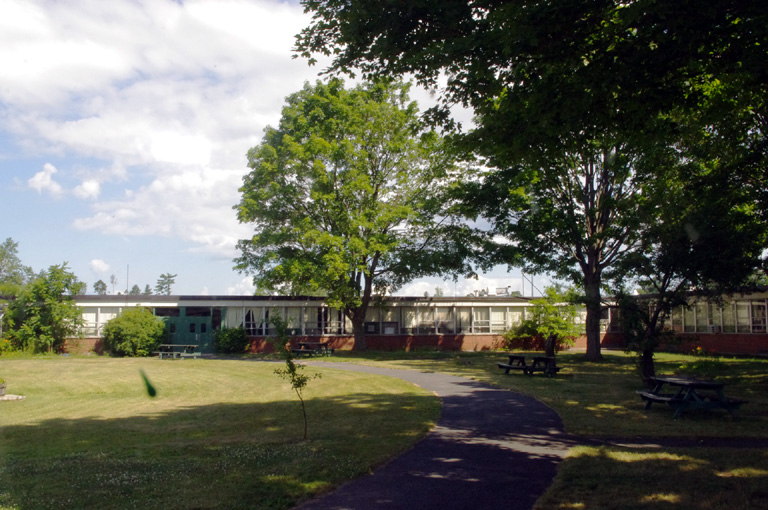 Looking out the door towards D hall across the main courtyard.
---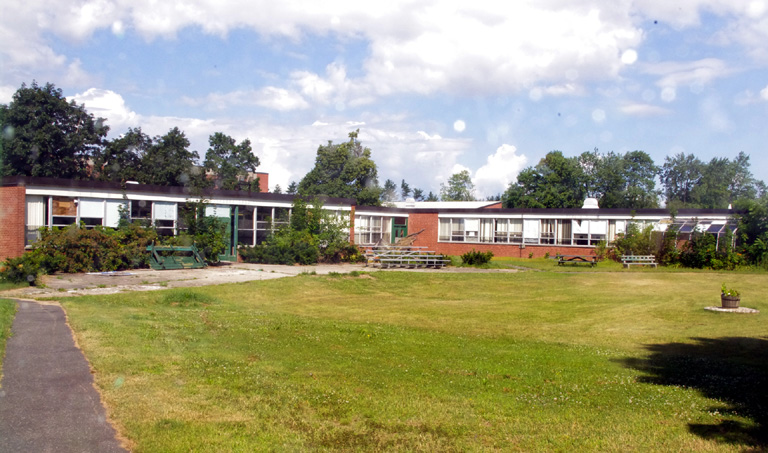 Another view of the courtyard, this time looking more towards the intersection of C and D halls.
---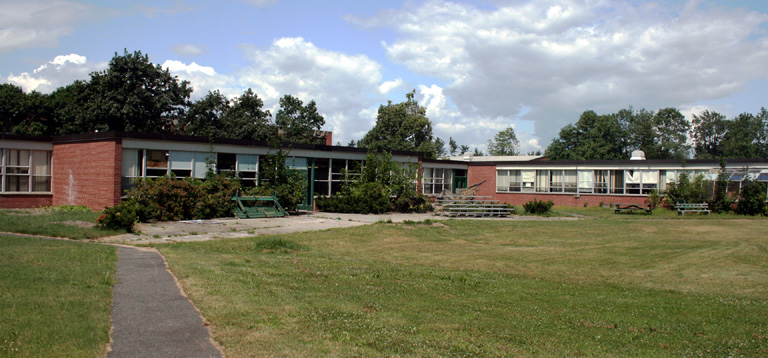 Similar shot (as above, but taken outside, not shot through the window). Photo by Paul Goewey.
---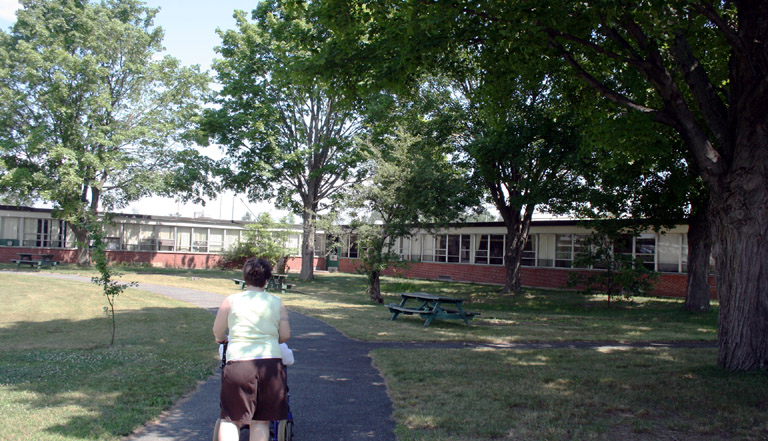 Outside in the main courtyard looking towards D and E halls. Photo by Paul Goewey.
---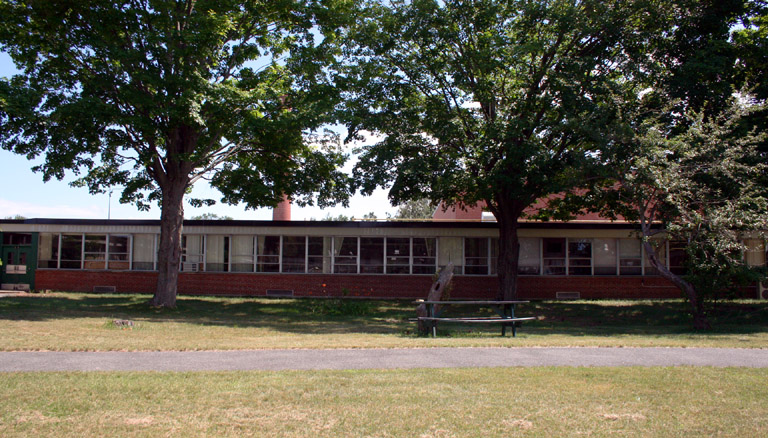 D Hall as seen from the main courtyard. Photo by Paul Goewey.
---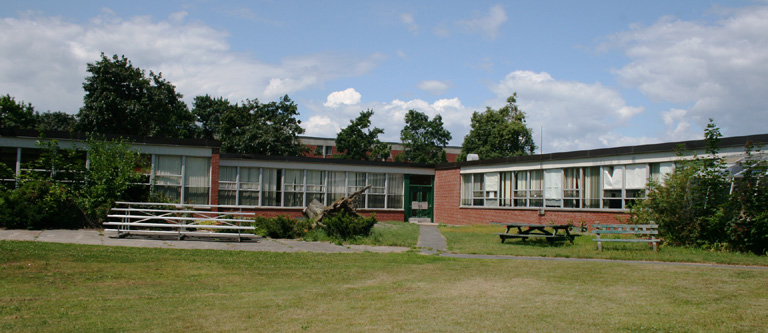 C and D hall as seen from the main courtyard, the new section of the building can just be made out in the background. Photo by Paul Goewey.
---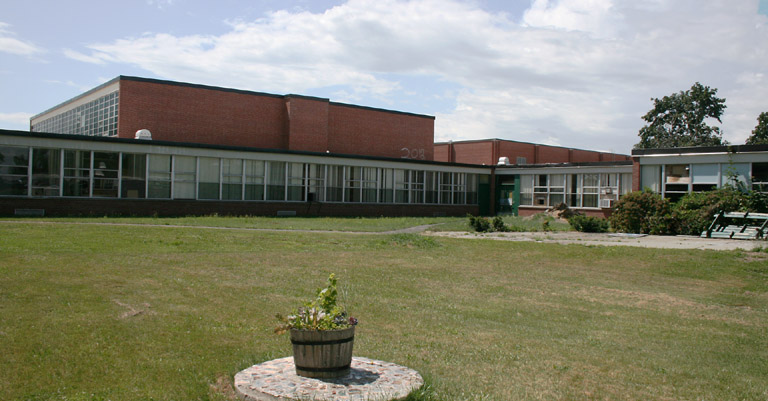 B and C halls as seen from the main courtyard, both the Old and New gyms are also visible. Photo by Paul Goewey.
---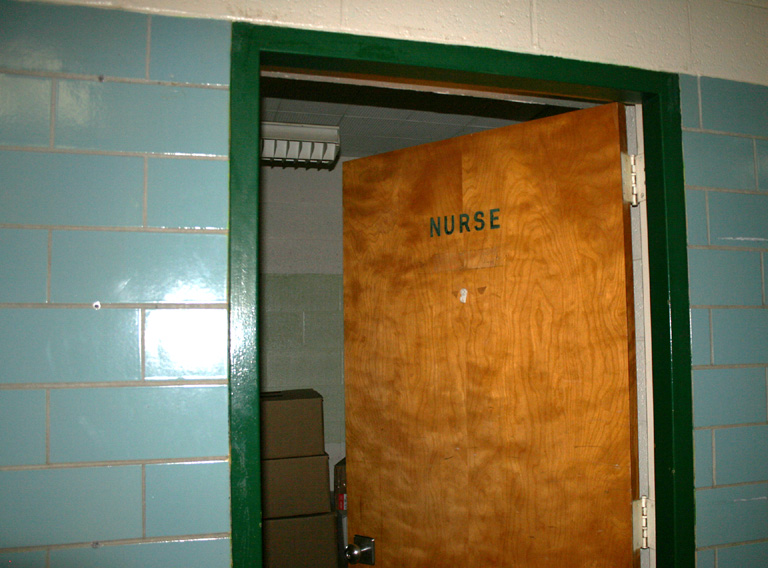 The Nurse's office. I recall only going here once for being sick while in school, probably sophomore year. We also got physicals here by the school doctor. I remember various kids complaining about one of the tests. They would say something like "He sticks his finger near your dick and says 'cough'" (most likely he was checking for hernias). I remember the doctor seemed pretty old at the time (he was probably younger than I am now). A classmate saw this post and writes "The Doctor who did the physicals was Dr. Goodwin who was rather old and very stern. Because of the dreaded Hernia Check he was sometimes referred to as "The Gay Doctor" which of course was total BS. I was shocked to see his obit in the paper just a couple of years ago, I would have assumed he had died many years ago. He was like 98 years old." Photo by Paul Goewey.
---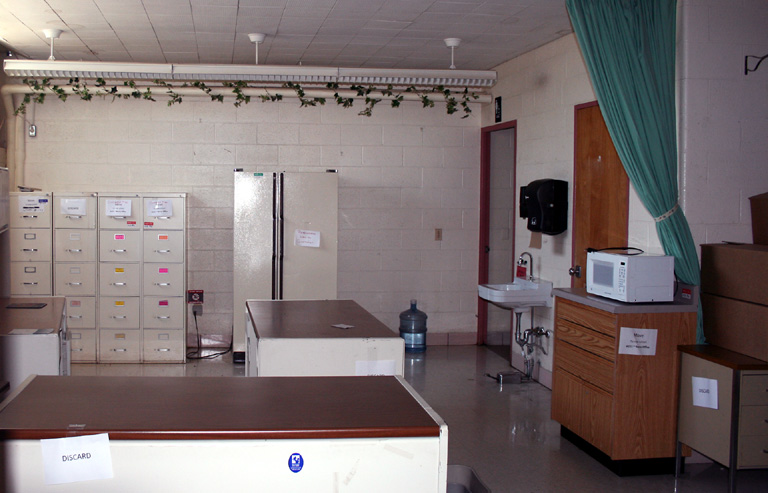 A view inside the nurse's office. Photo by Paul Goewey.
---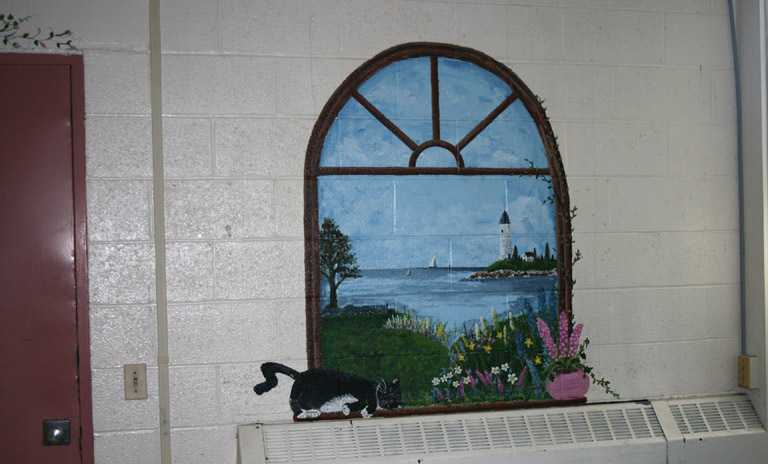 Some artwork on the wall in the Nurse's Room. Photo by Paul Goewey.
---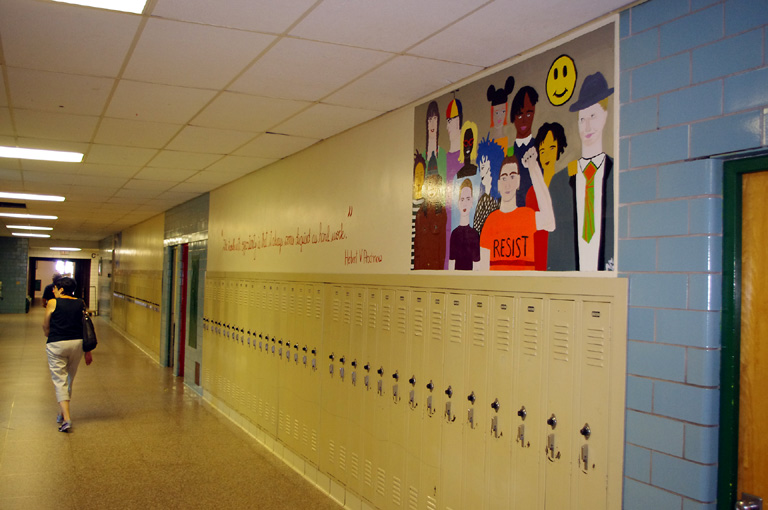 A view looking down B hall (you can just make out C hall in the distance). The "Phone Booth" was located on the right about half way down in this photo. Back in the day cell phones were unheard of so if you wanted to make a call you had to go here. The Old Gym is off to the left (not visible) of this photo. The door that is just visible in the lower left hand corner is for room B-3. I had English in this room with Mr. Tipaldi during freshmen year. I remember studying the play "Hamlet" (I think that was it, it's the play where there is a "moving forest" towards the end, the forest was people walking with trees to make it look like the forest was moving. I also remember watching "Day of the Trifids" movie in this class. Back then all that was available were black and white video players (with tape you had to thread up). the quality was terrible by today's standards). I also remember having to read books for this class. Ann McGranaghan had the book "Dibs: In Search of Self". She came in one day and showed the book to Mr. Tipaldi. One problem: the book was ripped clean in half! She obviously did not do it (it would have taken pretty good strength to rip a book like this clean in half). I remember laughing to myself when Mr. Tipaldi said to Ann "I guess he didn't like the book!" There is a door that leads to room B-5 from B-3. I remember (for whatever reason) Mr. Tipaldi asked Carey Dalton to check something out in that room. When she went to open the door she found it was locked and said "It's locked". Some wise guy kid (can't recall who it was but it was someone who was not headed to a bright future) then said "Duh". Mr. Tipaldi shot him a look. At some point in this class we had to write compositions, and some of them were then filmed by Mr. Tipaldi (this was optional). I remember Clay Shaw doing some kind of salesman act (the topic of his writing), Mr. Tipaldi filmed it in a "zoom in and out" fashion. We also studied Romeo and Juliet (I think that was it) and we had an opportunity to go see the play at some playhouse in northern CT. I signed up figuring a bunch of other kids would too. Then I come to find out that only ONE OTHER PERSON (believe it was Linda Welsh) signed up! I felt like backing out, but back then I had no assertiveness so I went. I do recall it was actually pretty decent so it was not so bad in the end. I really enjoyed having Mr. Tipaldi as a teacher, he was a "regular guy" and obviously enjoyed his work very much.
---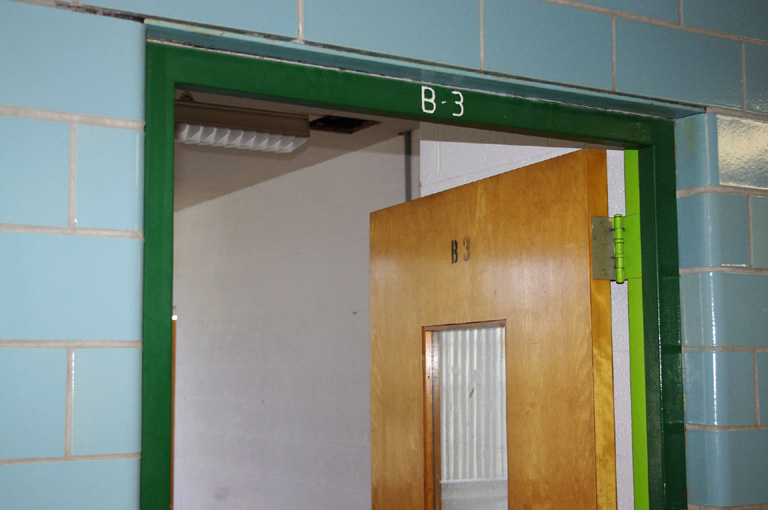 The doorway to classroom B-3.
---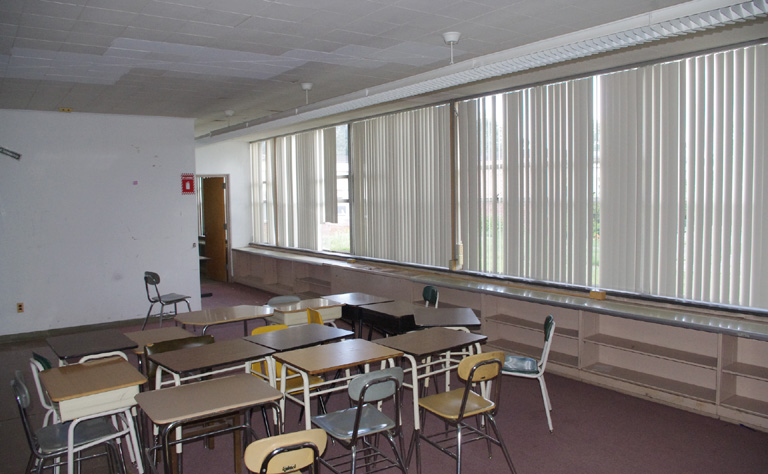 Inside classroom B-3. I kind of do not recall that wall being back there, it may have been added at some point. I remember the room being one big long room. The door at back right leads to B-5.
---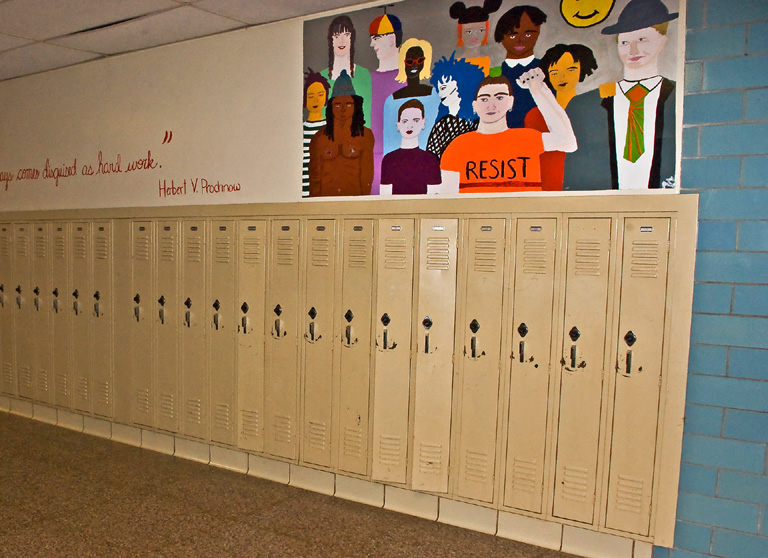 A shot of the B Hall lockers from 2010 (before any moving activities). Photo by John Bedard of New England Photos.
---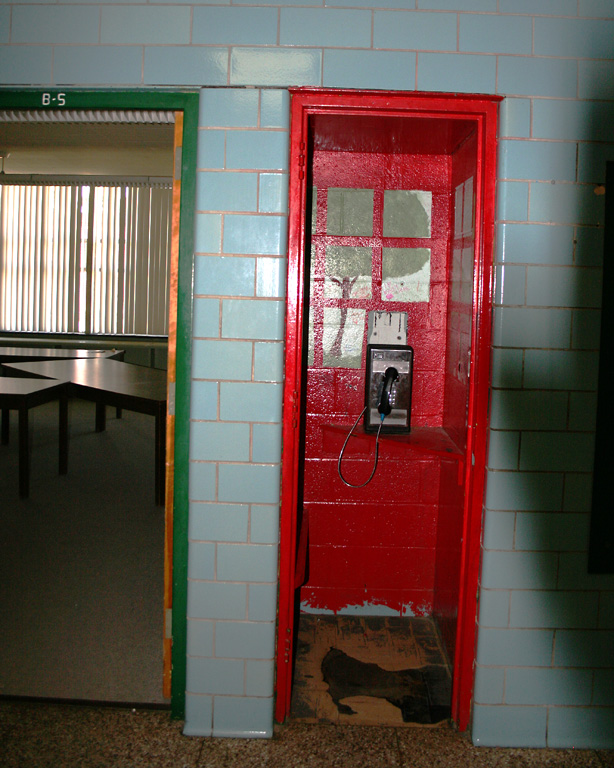 The phone booth. Probably hardly ever used in the last 5 years (for making phone calls anyway). Photo by Paul Goewey
---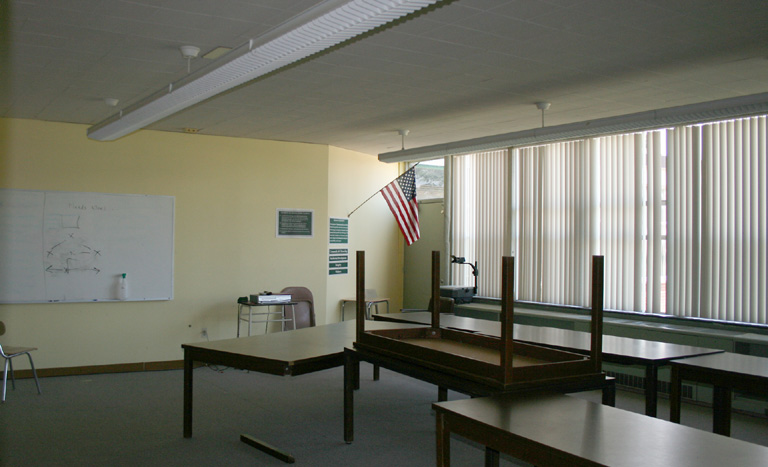 Looking into room B-5. I'm pretty sure this is where I had Research with Miss Winetrout during winter-spring of 1977. I was a stereo fanatic back then and many of my writings tried to work some element of stereo into them. We had a major term paper due on a Monday, I had a lot of the research done put planned to finish it up over the weekend. So what happens? By some mental fart I forget to bring the materials home on Friday afternoon! I was so pissed at myself, I tried to get into the school on Saturday to get what I needed but had no luck. I had to have my father drive me to the school on Monday morning (13 June 1977), get all the materials and then be "sick" that day so I could work on and complete the paper. I took it in Tuesday and explained the situation to Miss Winetrout (why I was a day late). She said "You should have explained it all to me Monday and I'd have given you an extra day!". I think she knew I was not trying to pull a fast one on her. Photo by Paul Goewey.
---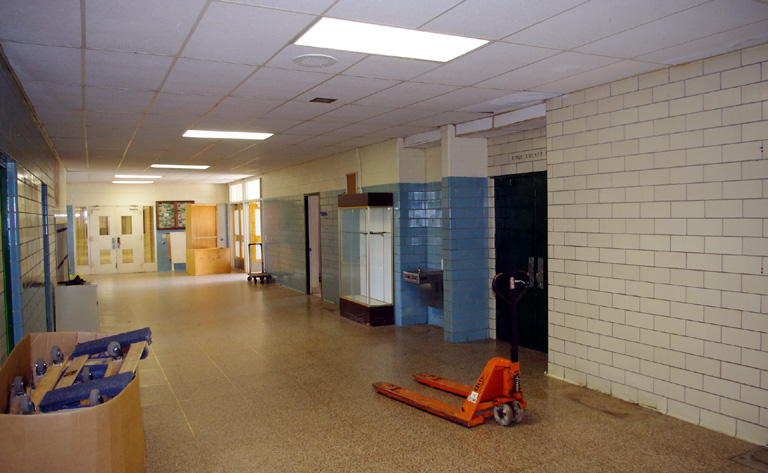 B Hall, looking back towards the direction of the Principal's Office. The door to the Girl's Locker Room is visible on the right. Rooms B-3 and B-5 are on the left.
---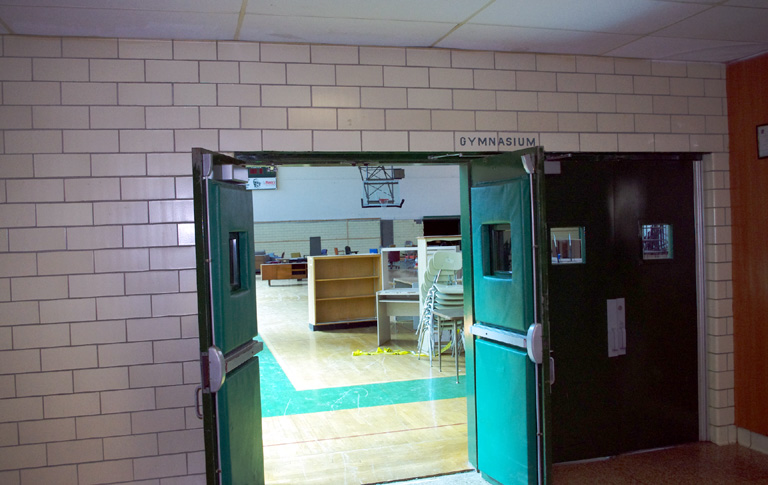 The doorway to the Old Gym.
---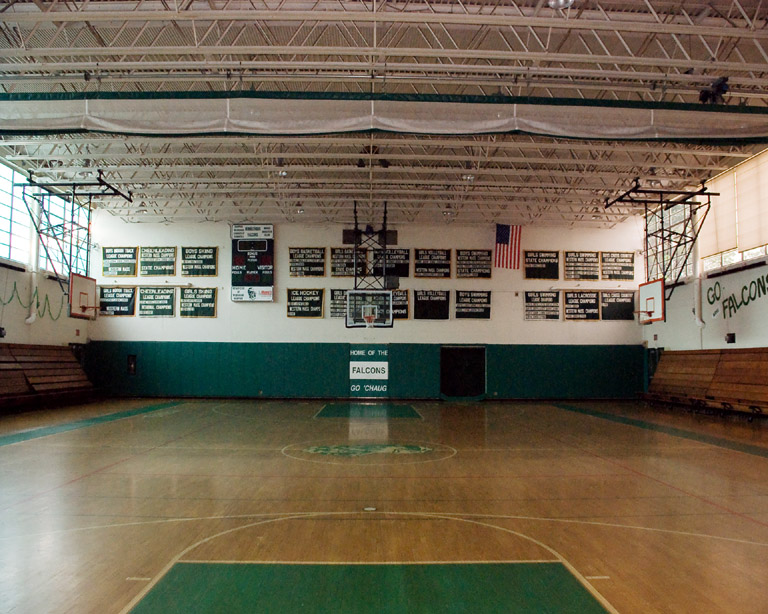 The Old Gym as seen in 2010. So many events took place in here. Not only gym class... many school dances, pep rallies (one was held on Friday 02 December 1977), Arena Scheduling, gym shows, etc. In the 90s I was a DJ in here on at least 2 occasions. You can see videos of these events here: Sadie Hawkins Dance, 12 April 1991 and Homecoming Dance, 25 October 1991 (be warned that these are BIG files). I also hosted the Semi Formal Dance on 15 December 1990 (this was in the large cafeteria). We also did a school dance back in Fall of 1980 but it wasn't very good by comparision. I recall that one was a benefit for Cliff Kerr (sp?). Photo by John Bedard of New England Photos.
---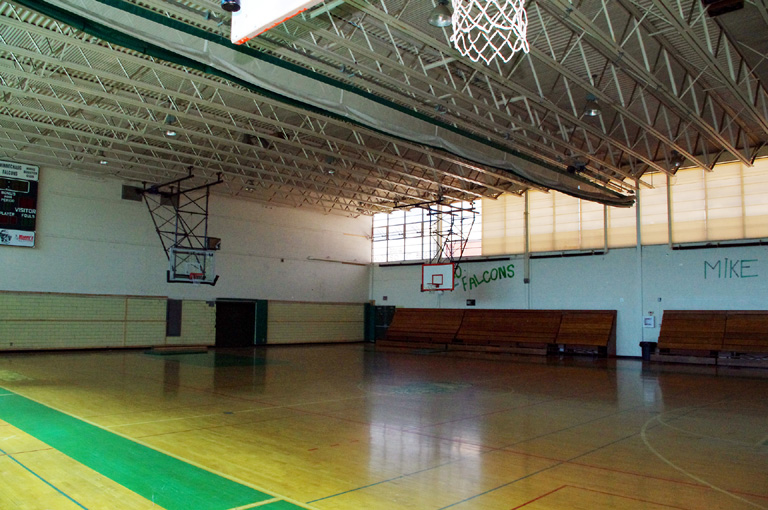 The Old Gym as it looked in July 2012. Sometimes we'd have "indoor" gym class when it was rainy out. One time there were way too many people packed in here, all playing volleyball. There had to be 10 or 12 people on each side, it was disorganized chaos (but the teachers really did not have a choice). I remember someone serving the ball, it came over the net and smacked directly into the forehead of a girl. Her glasses went flying, she seemed stunned, she must not have seen it coming!
---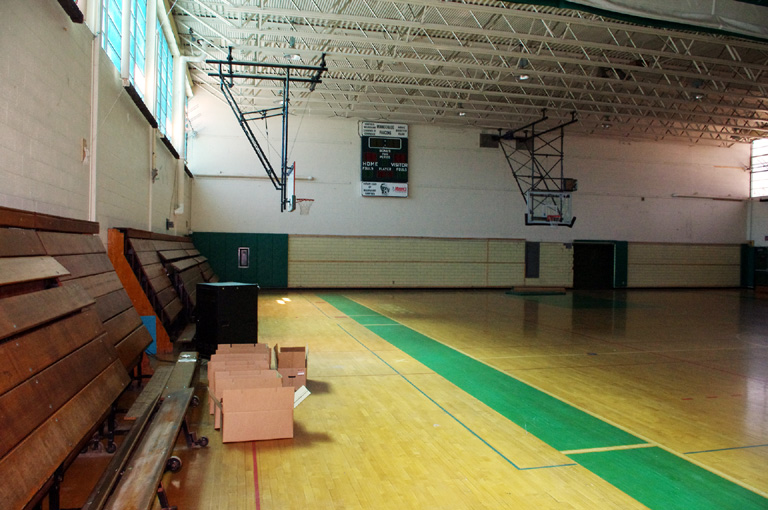 Another view in the Old Gym. We had floor hockey in here. I remember the puck getting jammed into a corner, and kids were thrashing their hockey sticks in a wild, uncontrolled manner trying to get it out. I was among them. Bob Moynihan was in that group too. I remember hitting something but it must not have been the puck as I heard Bob yell out (in a kind of pissed voice) "Watch that stick". The thrashing continued with more scrambling and banging and Bob finally yelled out (VERY pissed now) "WATCH THAT F___ING STICK!" I guess what I was hitting was his shins! (Sorry Bob!)
---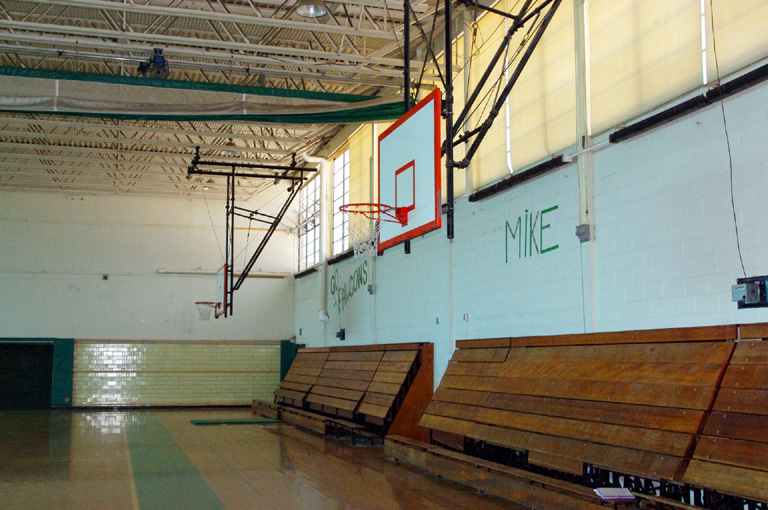 A view of the other side of the Old Gym. On 18 - 20 May (Tuesday-Thursday) 1976, Arena Scheduling takes place for the first time. Arena Scheduling was a system that would allow kids to pick their classes (and their teachers) for the following year according to their preferences. There were tables set up in the gym, each staffed with one or two teachers, and boxes of IBM cards. Before going into the "arena" kids had to fill out a worksheet with the classes they wanted (and alternates). IF you went in early you did well. If you went in late the classes (and often the teachers) you wanted were already taken. In that case you had to go back and try to find some combination of classes that would work. If you got into the arena late it was not fun as just about everything you wanted was taken. I remember the "help" table, the place where kids went if they could not make things work. There was chaos at this table, people crying, etc. A draw was used to determine which homerooms went in at what time. In my case, room J-8 got shitty position 2 years in a row. I remember having to take classes with teachers that I didn't want (looking back though it all worked out). In the 1977 Arena J-8 finally got a good slot (we were like 3rd to go in) and I got everything I wanted with no issues. I took a light load that year, setting myself up with 2 studies every day. It was a fairly easy year. In retrospect I probably should have taken at least one more course. When I got to college the workload "shock" was very much obvious. I never know how easy I had it until I got to college! I look back at all the work I did in high school and it was some of the easiest times of my life. I had no clue what was to come (in the working world)... At some point after I graduated Arena Scheduling was done away with. My guess is that the administration determined that it was more trouble than it was worth!
---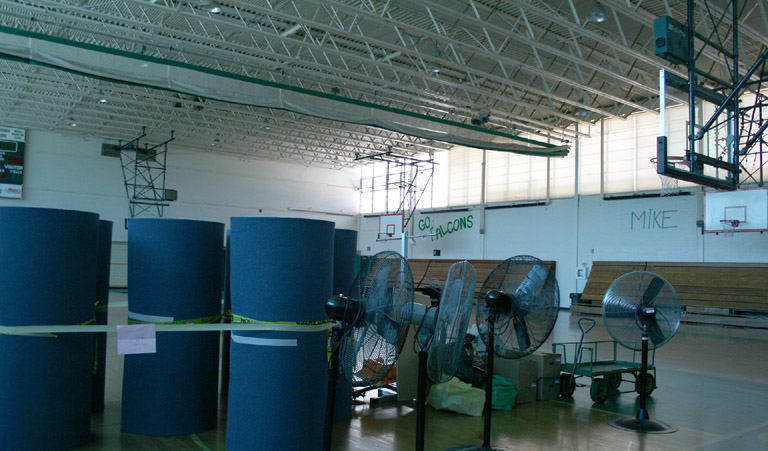 Another view of the Old Gym, materials presumably to be moved. Photo by Paul Goewey.
---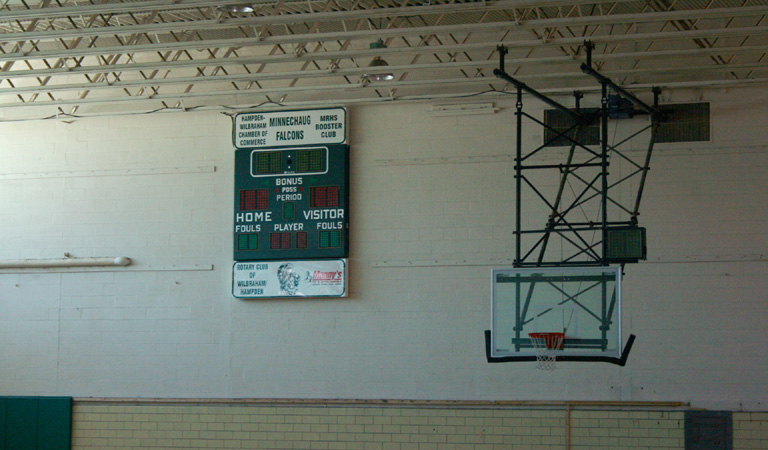 Scoreboard and basketball hoop. Photo by Paul Goewey.
---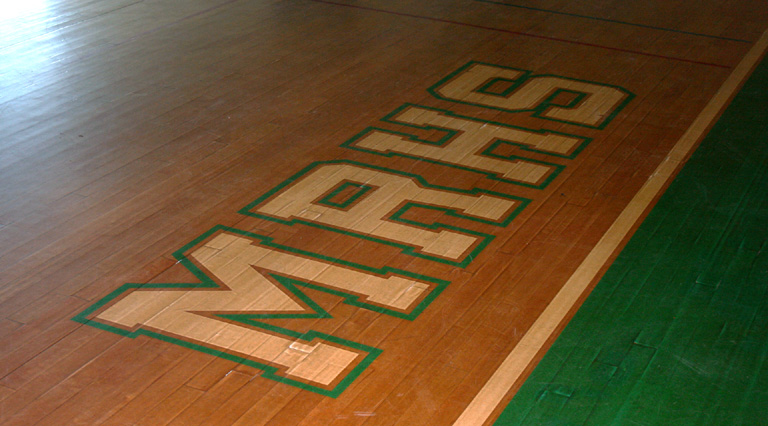 MRHS lettering on the Old Gym floor. Photo by Paul Goewey.
---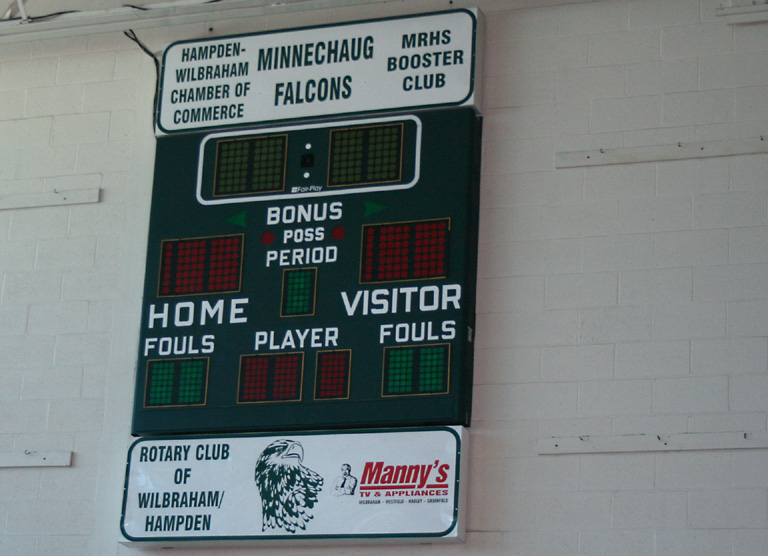 Close up of the scoreboard. Photo by Paul Goewey.
---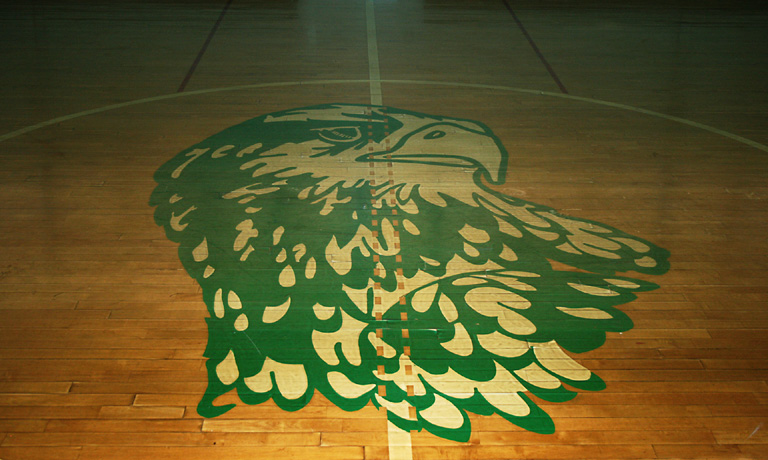 Falcon Emblem on the Old Gym floor. Photo by Paul Goewey.
---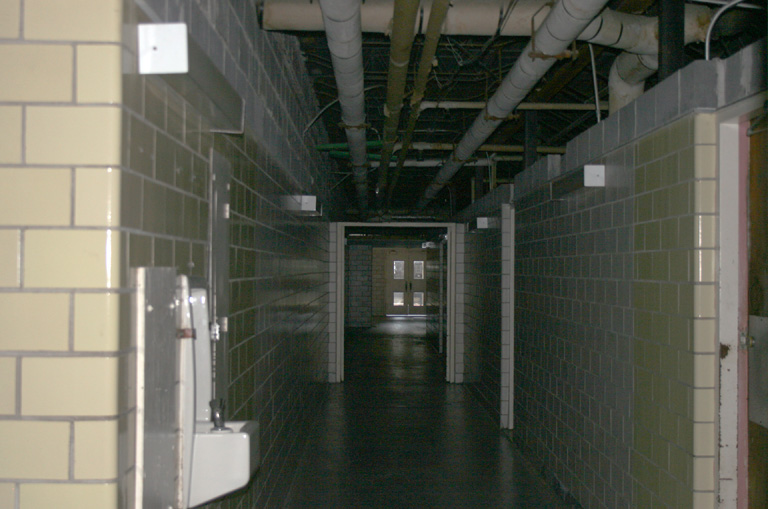 Looking down the hall, the Old Gym is on the left, Boys Locker Room on right, and the Pool is at the far end of the hall. When I was there the ceiling tiles were in place, however the ceiling was low and kids would often reach up and "bash" them. Low ceilings = not a good design for any building to be occupied by kids. Photo by Paul Goewey.
---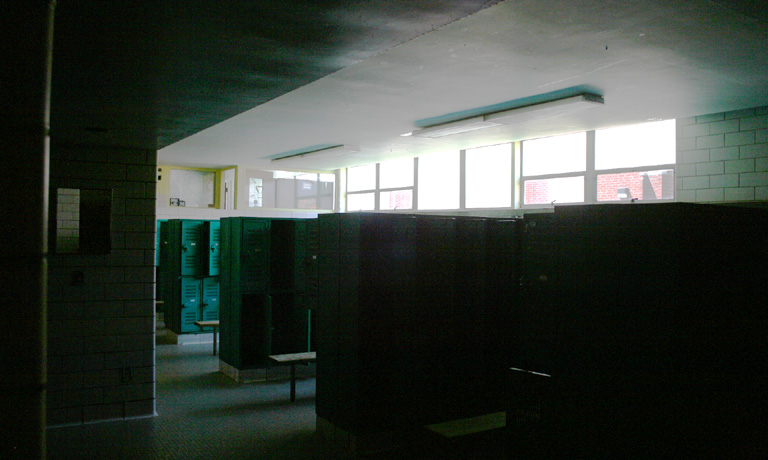 A view inside the Boys Locker Room. Flash was not used to I did the best I could to coax some detail out of this image. Photo by Paul Goewey.
---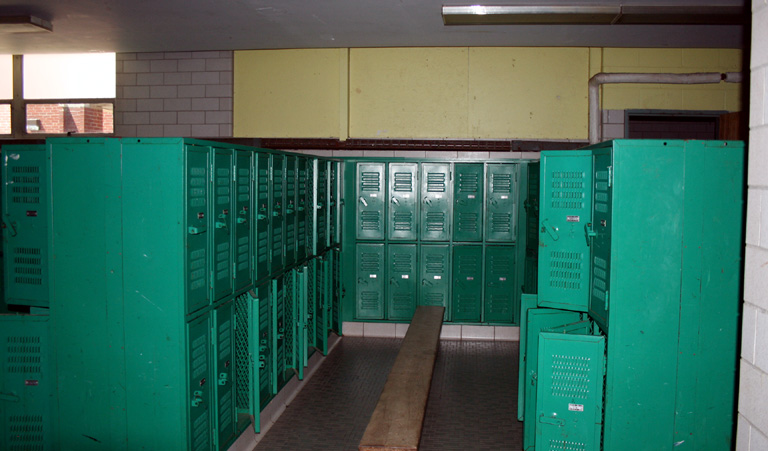 A shot inside the Boys Locker Room. Locker rooms always seem to have "that smell". I remember one time someone took a #2 in the shower. Can't recall who the gym teacher was (I think Mr. Whalen) but I recall they were pretty pissed. Not sure who got stuck cleaning up that mess. The shower was kind of like a maze. Whenever I was in there (after the shit on the floor) I was always wondering where it was and hoped not to step in any remnants (no matter how miniscule they might be). Photo by Paul Goewey.
---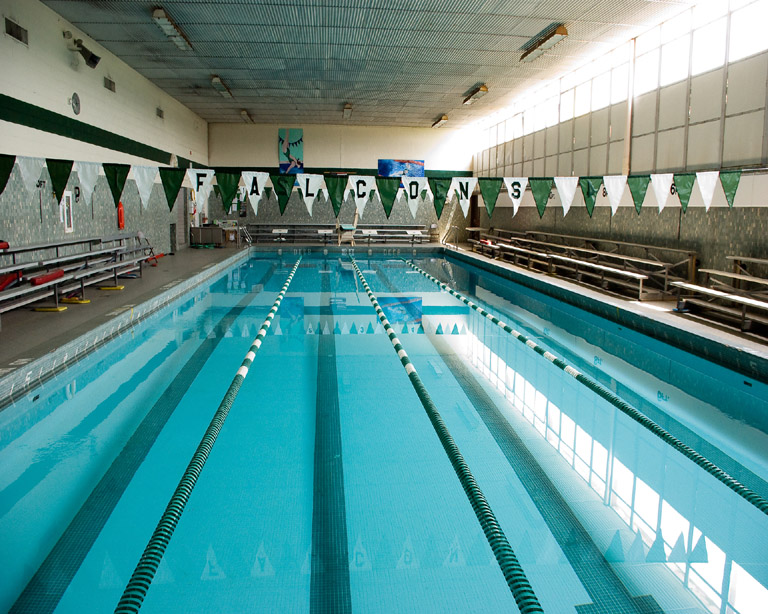 The pool as it looked in 2010 (before any moving activities). Initially this was a place I feared. I was one of the rare kids who did not know how to swim. We had to sign up for the "NS" version (non-swimmer) of gym. There were maybe 20 kids in this class (all guys, girls had a separate class). I felt a bit of relief during the first class (swimming in gym was held February-April) as there was this big kid that was kind of a bully in the same class as me (at least on one level we were equal). Mr. Whalen was my gym teacher. I really liked him as a teacher as he appeared to really understand what it was like to not know how to swim. I remember him teaching us the sidestroke. I could not do it, it would not work. He kept showing me (and others) how to do it. Finally it DID work! I was able to swim the length of the pool. When I got to the end Mr. Whalen motioned me to turn around and swim to the other end. I thought to myself "not sure I can go that far...". I did. When I got to that end he motioned me to turn around and go back AGAIN! I was able to do it! I could sense he was pleased. Also, another kid who was sometimes mean to me saw that I finally got it, and he hadn't, and he was getting all worked up. Even though I generally sucked in gym Mr. Whalen was cool about it. Mr. Whalen, if you happen to stumble onto this page, THANK YOU for your help. Photo by John Bedard of New England Photos.
---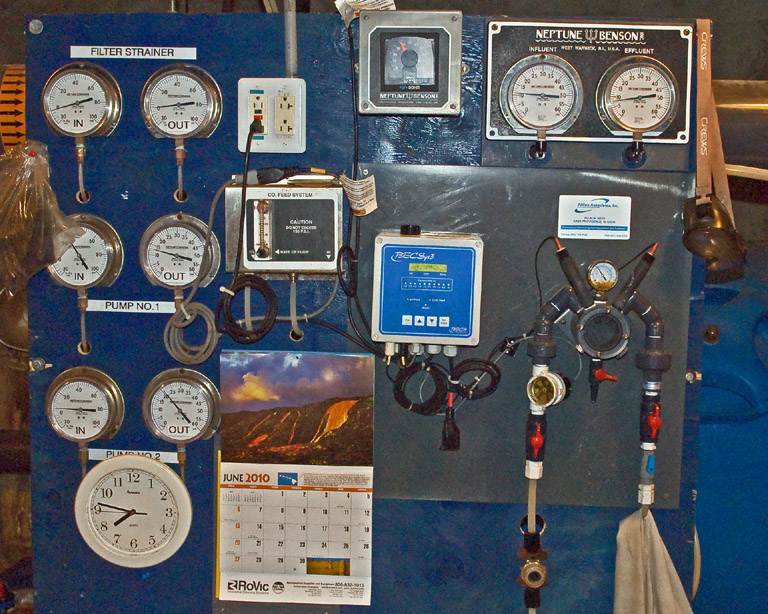 Pool control panel as seen in 2010 (before any moving activities). John notes that he was "one of the few" to have ever seen this!" Photo by John Bedard of New England Photos.
---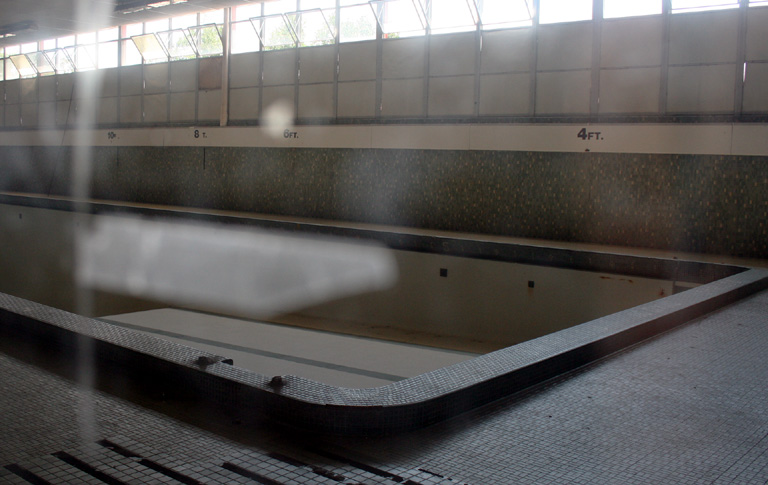 A view of the pool from 2 July 2012. The doors were locked so this had to be shot through the window glass (resulting in "not the greatest" photo). More memories from swimming: during one class we got the "no peeing in the pool" lecture at the start of the session. The teacher said "I don't want to see anyone surrounded by a yellow cloud". We were supposed to take showers before going into the pool, and we did, if you call running under a shower for 3 seconds a "shower". I remember at the deep end of the pool there was some kind of jelly like "goo" down at the bottom. Not sure what it was but I was happy to not come in contact with it. During Sophomore year we had lifesaving class as part of swimming. One of the things we had to do was jump into the pool fully clothed, then disrobe (not all the way naked) and use clothes to make floats. I still remember these skills today. We used pants to make a float by tying off the legs and then blowing into them to inflate them. I could do that today if I needed to. Another very good thing we learned. We also learned about NEVER jumping in to save someone unless it's the last possible resort. I still have the Red Cross Lifesaving book from that class. In my early days of swim class I feared it, but once I learned to swim it was much less of a worry for me. Photo by Paul Goewey.
---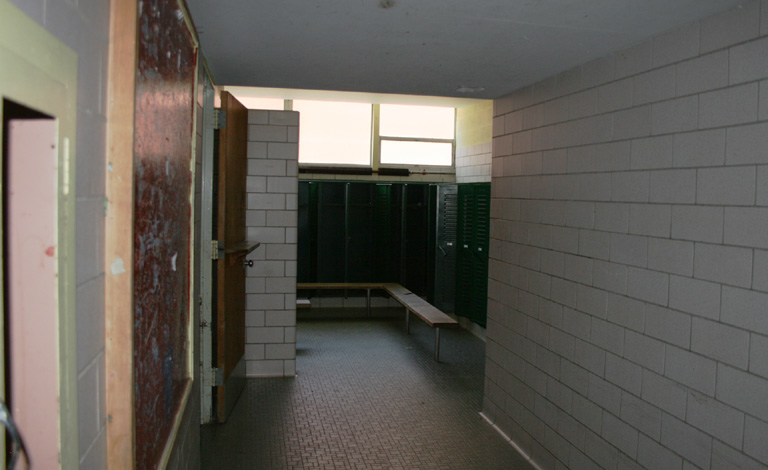 One other shot inside the Boys Locker Room. Photo by Paul Goewey.
---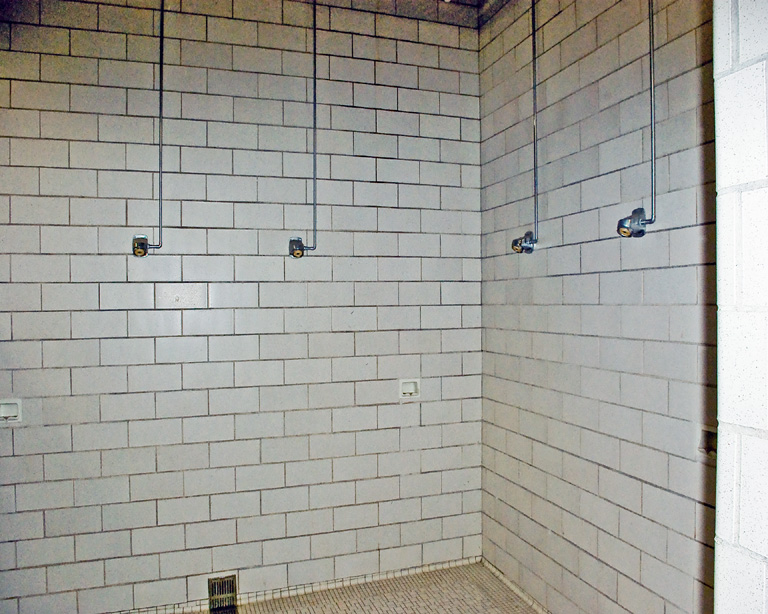 A place most of the guys would loved to have gotten into, the girl's shower! Photo by John Bedard of New England Photos.
---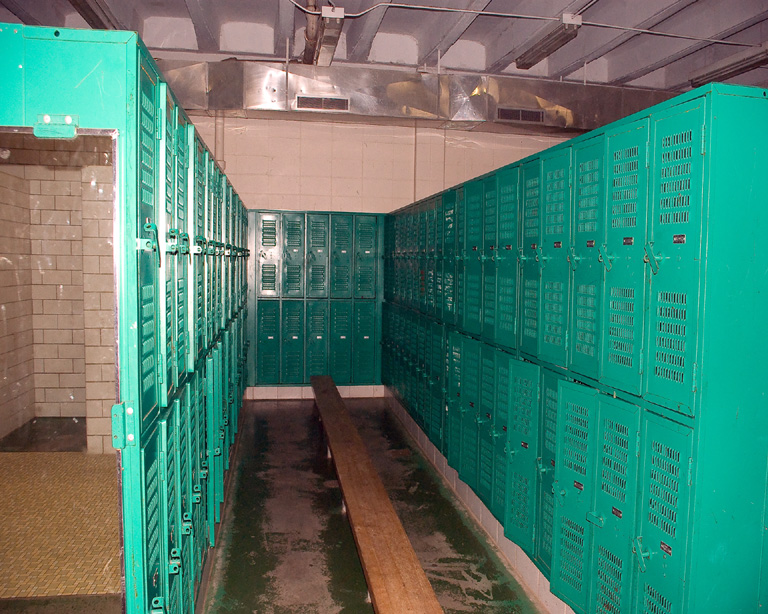 Another room the guys probably have never been in: the girl's locker room. Photo by John Bedard of New England Photos.
---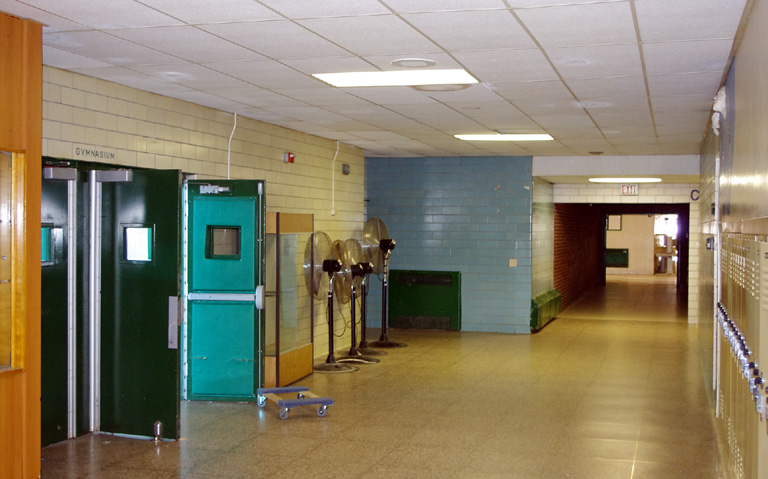 B Hall. One of the doors to the Old Gym is visible, also the junction of C Hall is visible on the right.
---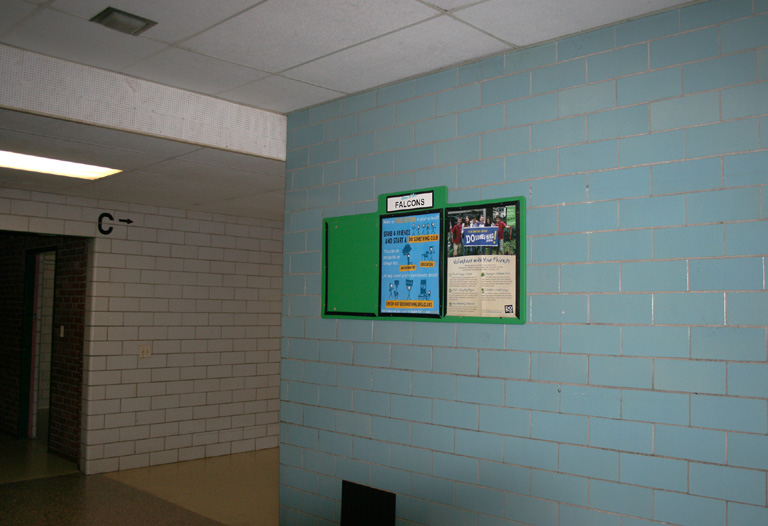 A shot of where B and C halls intersect near the Old Gym. Photo by Paul Goewey.
---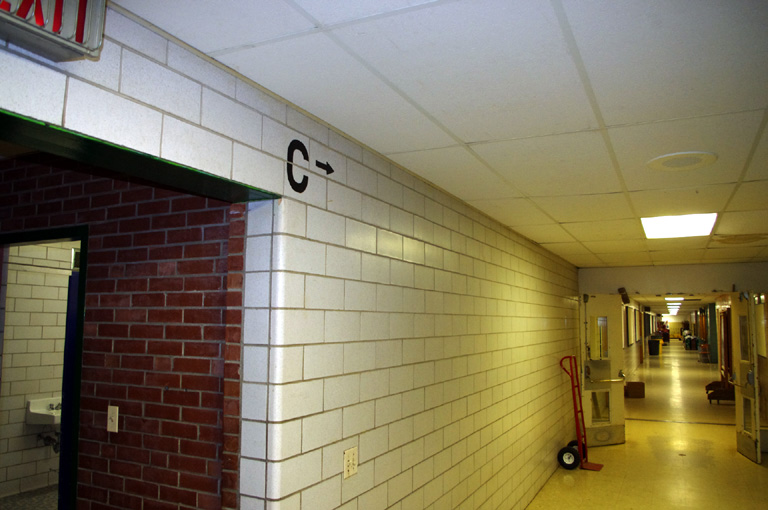 Looking down C Hall.
---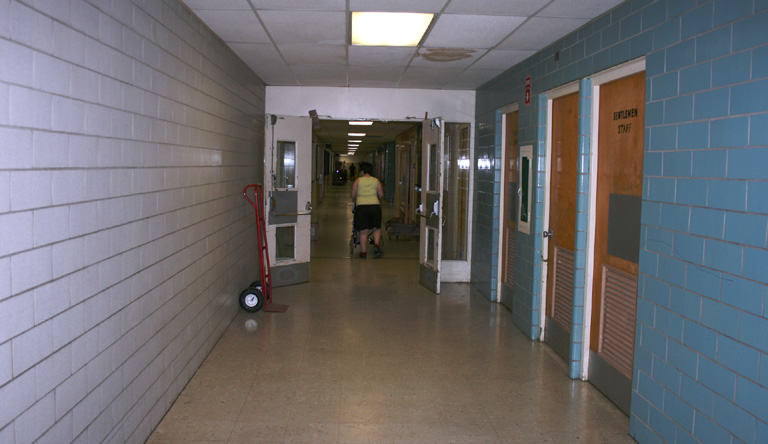 Looking down C Hall again. Photo by Paul Goewey.
---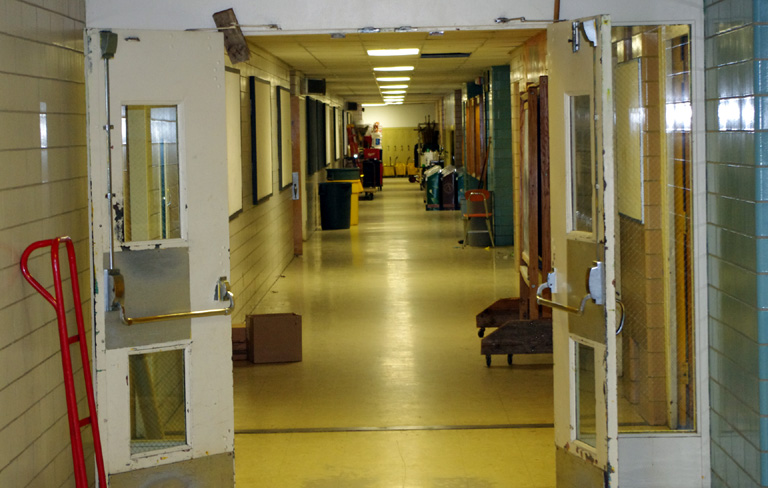 Another shot looking down C Hall. We'll come back to this hall from the other end later on in the photos.
---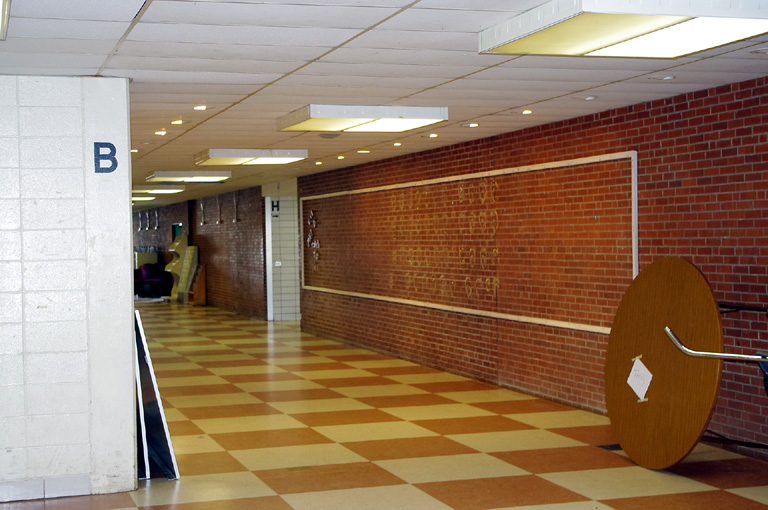 Looking down B hall (in the newer section), H Hall is visible. You can see on the wall where a number of plaques used to be.
---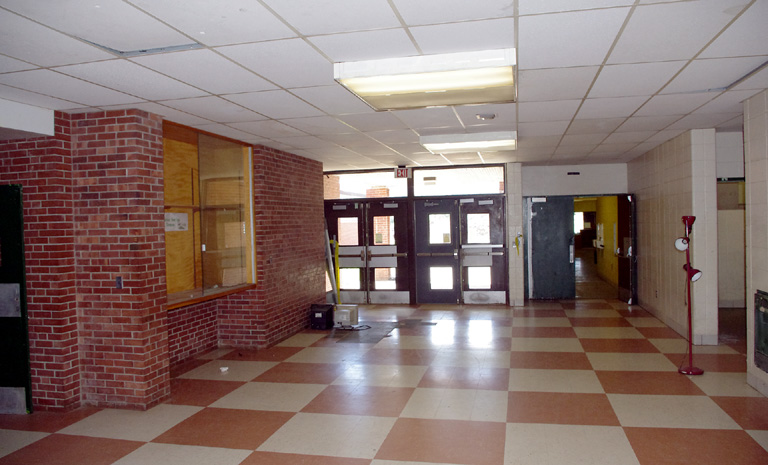 B Hall, just to the left of the New Gym, the doors lead out to the walkway between the Boy's Locker Room and the New Gym.
---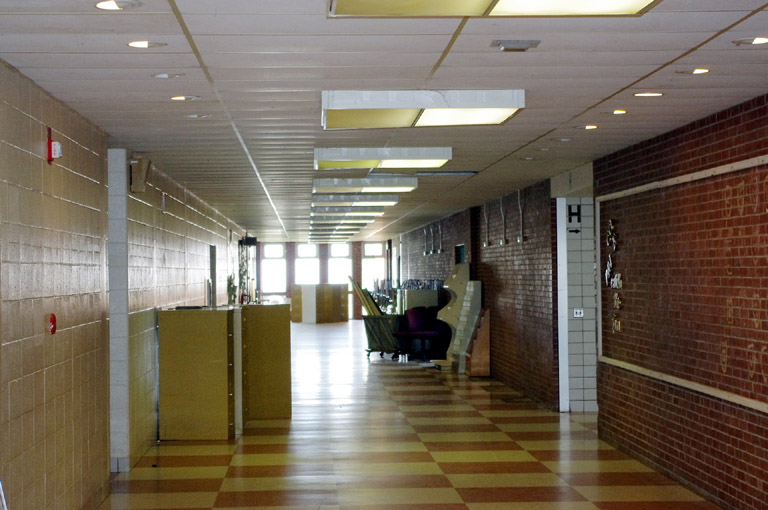 Looking down B hall again, H Hall is visible, the New Gym is off to the left. J Hall is all the way down on the right.
---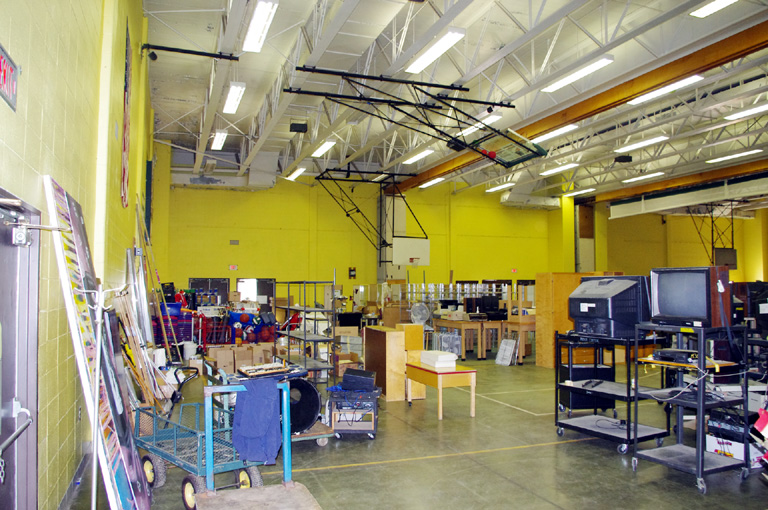 A view inside the New Gym, it is being used as a staging area for the move. Due to Arena Scheduling conflicts, I remember being in wresting class and GIRLS were in it too. Apparently it was the only class they could get. What a sight to see two girls wresting on the mat! I could sense they really did NOT want to be in this class. I also remember feeling good one day in wrestling. I was picked to wrestle with another kid (first name was Tim, can't recall his last name). Anyway, I sucked at gym (that was well known), and just about everyone in the class thought "this will be a 20 second match". Mr. Whalen was the teacher. The match proceeded, and to my surprise (and the kids watching) I was able to hold my own against my competitor. The match ended in a draw after 3 or 4 minutes. I think some of the kids were thinking "Holy shit, that kid is not as weak as he looks!" A good feeling.
---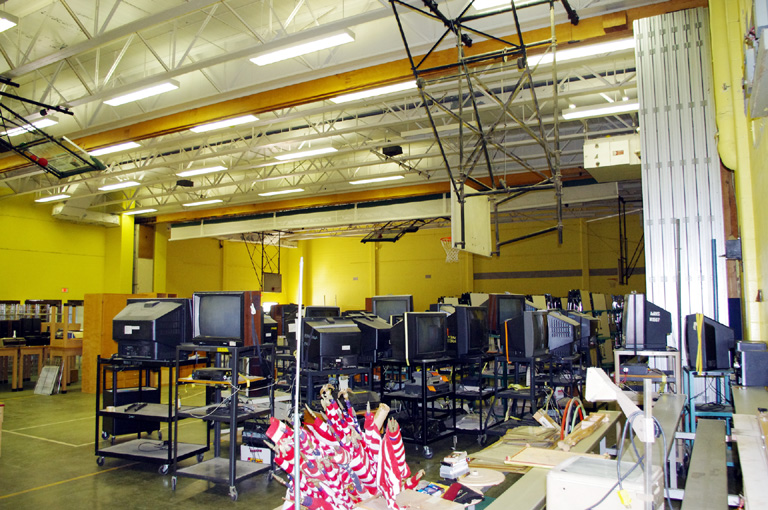 Another shot of the New Gym. Lots of memories from gym class. One was square dancing. Before high school I never knew this was taught as part of gym. The music was provided by old record players (I did notice they had a 12" speaker with a 1.5" voice coil). There was also a mic that could be used for the teacher to make the calls. Sometimes there were not enough people to make even "boy-girl" pairs, one time I remember having to have another guy as a partner (I was NOT happy about that). On another occasion, the teacher picked some of the people and then told certain others to go and pick a partner among that particular group. In that group was Chris Messer ('79), I had a big crush on her. I went over and picked her for my partner! She was quite pissed as I recall, I sensed she really did not want to do square dancing with me. Dancing with her kind of evened out dancing with another guy that other time. It was most fun when people did not really know where to go and a confused mess ended up. I remember one time Cindy Brehaut danced with someone who apparently had clammy hands as she called out "Eeeew, CLAMMY HANDS!".
---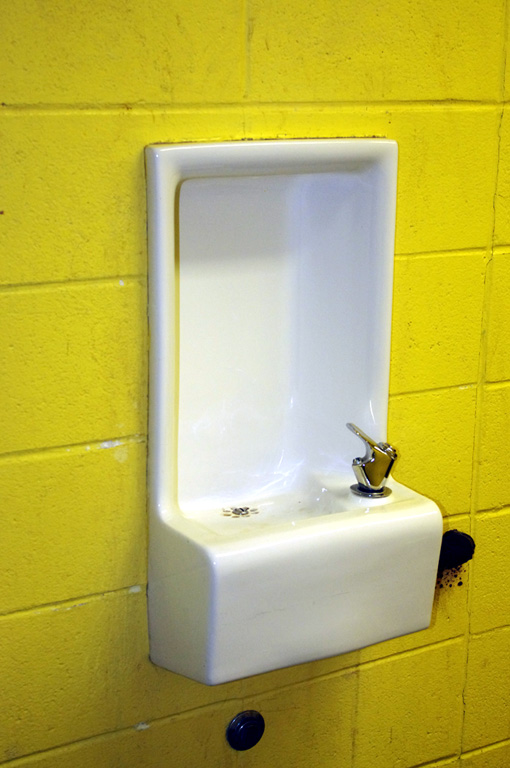 A drinking fountain in B Hall. I never used to care to drink from these as there were kids who would intentionally spit on the part where the water comes out. On some fountains there was some kind of "goo" also associated with the part where the water comes out. On this older model the water was warm (no chiller) so that kind of sucked too.
---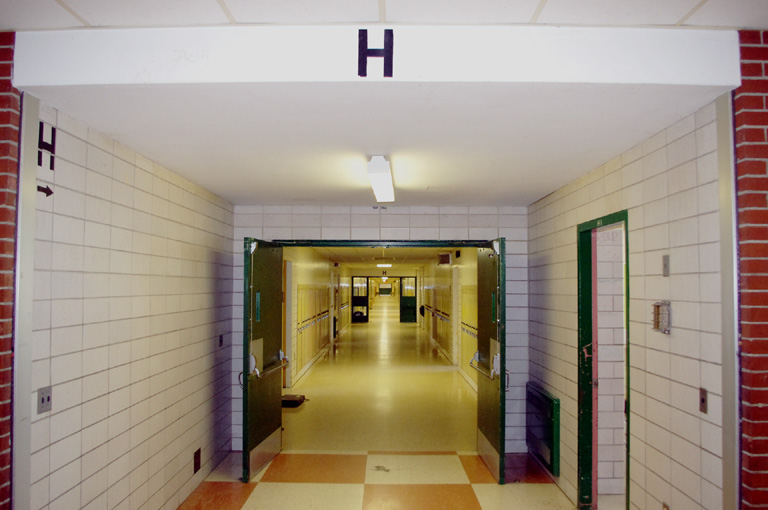 Looking down H Hall from the New Gym end. Room H-1 is on the right.
---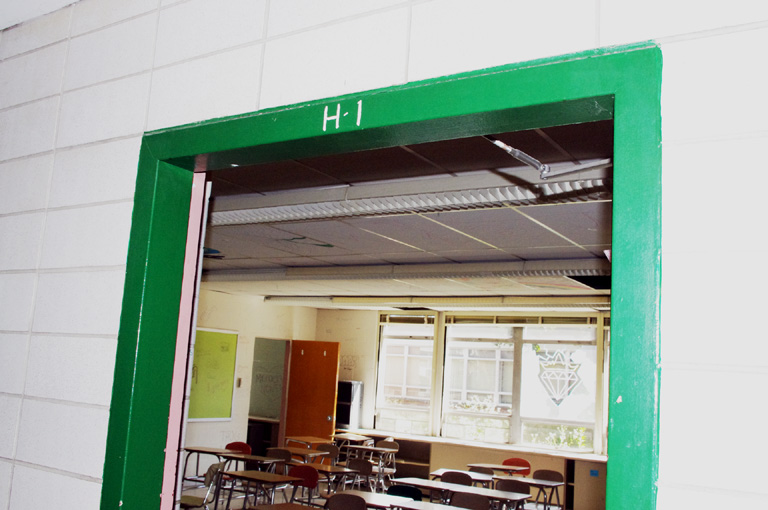 Classroom H-1.
---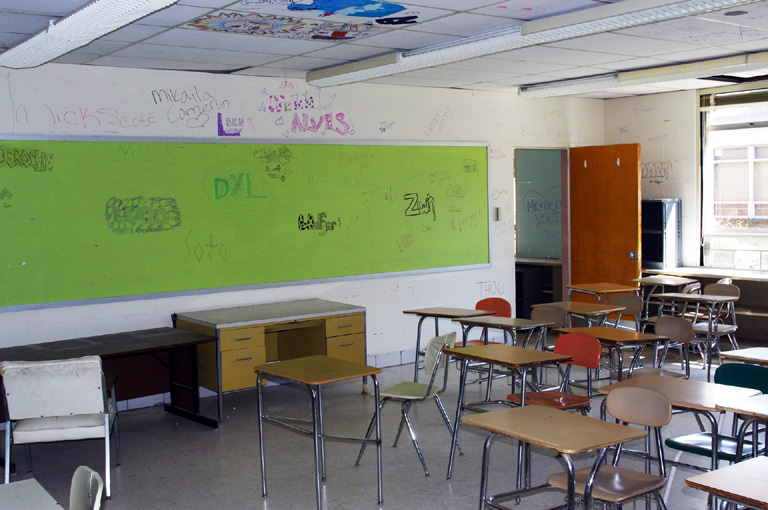 A shot of the back part of room H-1.
---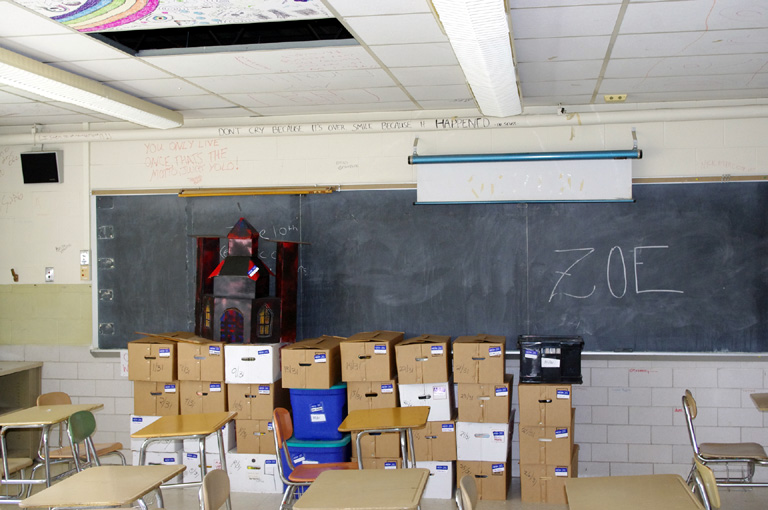 The front part of room H-1.
---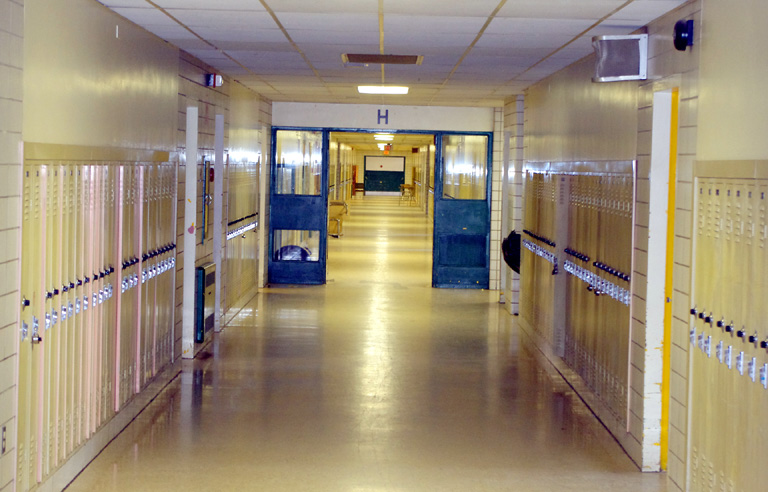 A little farther down H Hall, room H-3 is on the right.
---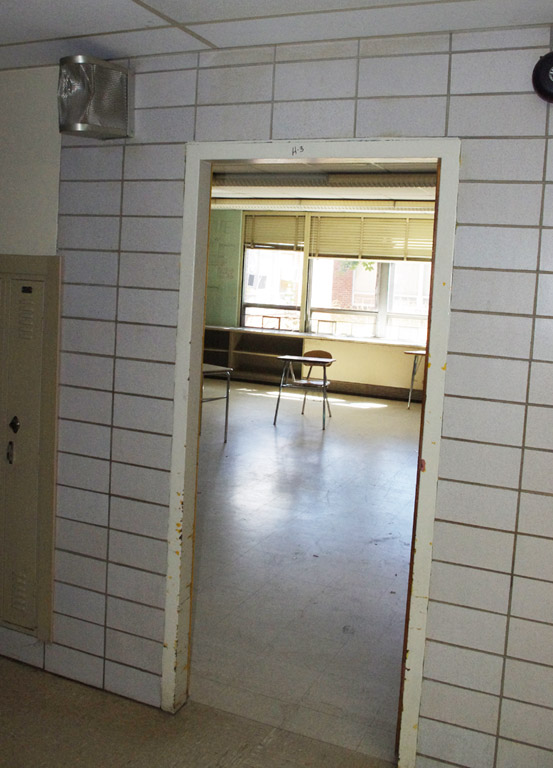 The entrance of room H-3.
---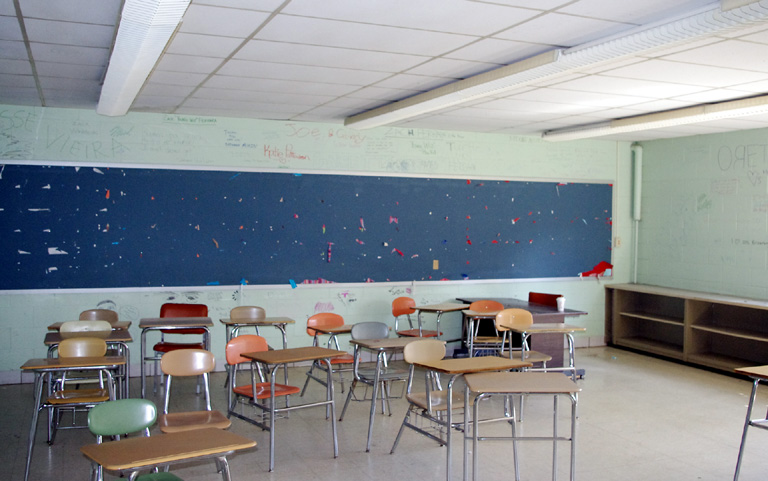 Inside room H-3. I had "Survey of American Literature" in here with Mr. Tipaldi my senior year. A good class. We spent quite a bit of time on Moby Dick (we started watched that movie in class on Tuesday 06 December 1977 and finished it on Thursday 08 December), and there was also a Whale Watch trip to Provincetown around May of 1978. Some of the kids I remember being in this class: Gordie Clark, Jeff Burland, Kim Croteau, Paul Bateson, Sue _____ (she sat right next to Kim Croteau), Cindy Hartan, Carol Dizer. When I was there the desks were set up in a horse shoe arrangement. I sat in the back center.
---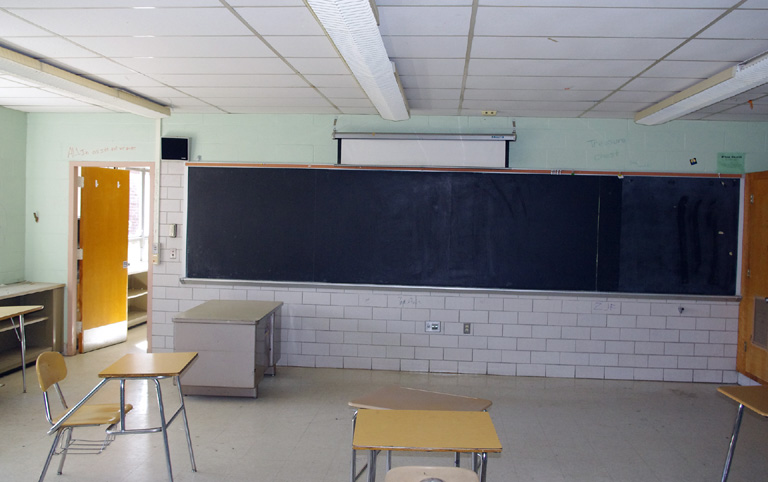 Looking towards the front of the room (B Hall is on the other side of the wall). Mr. Tipaldi had his desk here, however during class he often walked about the middle of the room as he gave the class. I don't recall him spending too much time sitting at the desk.
---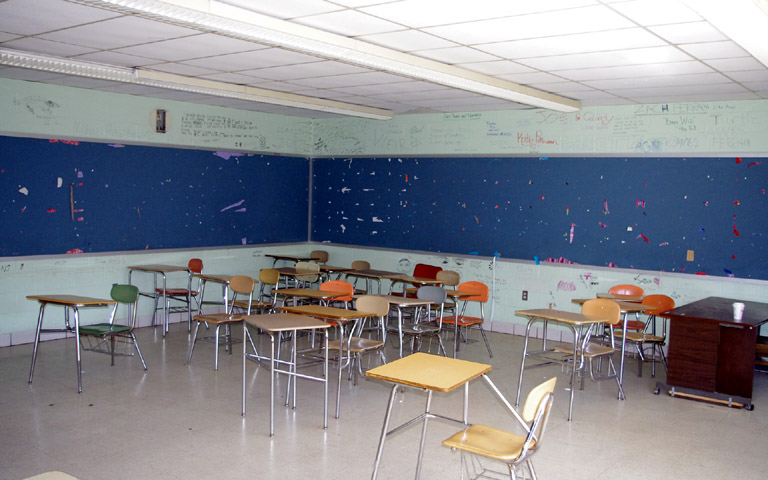 Another shot inside room H-3.
---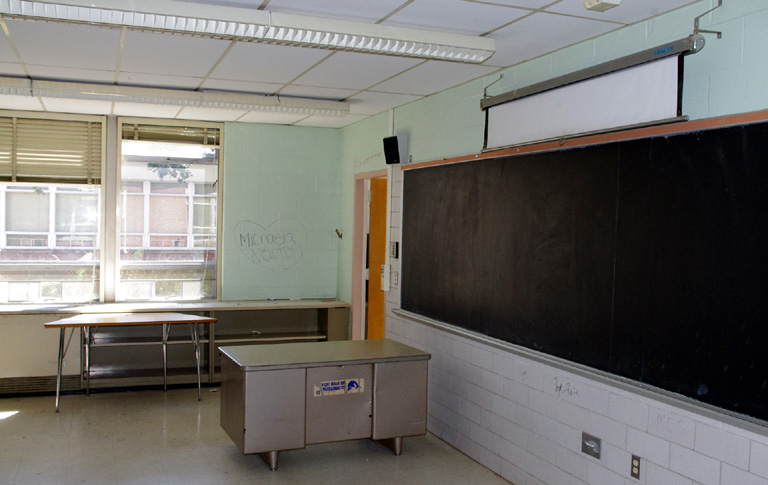 The front part of room H-3. Note the "whale" bumper sticker on the desk. Almost certainly this was from Mr. Tipaldi!
---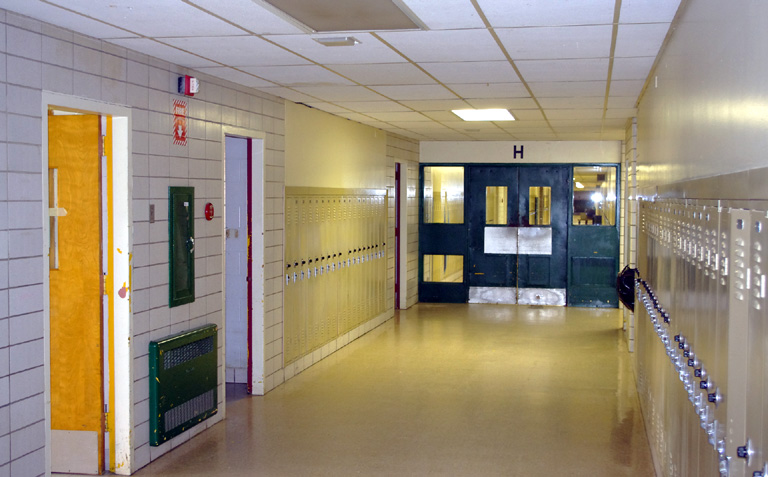 Looking down H Hall as seen from the H-3 doorway.
---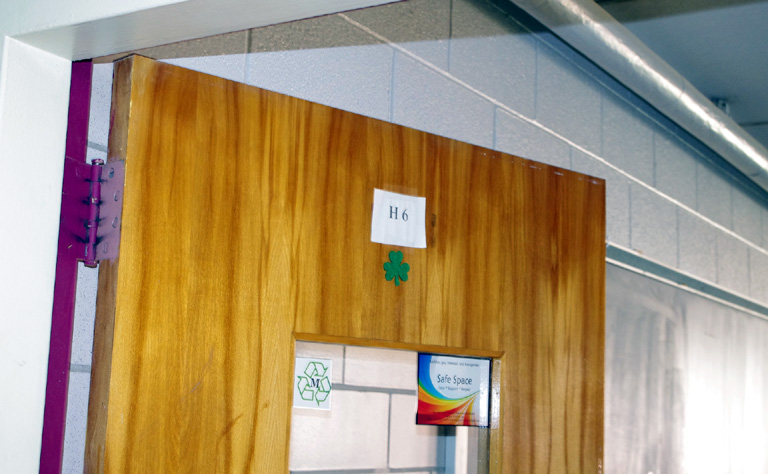 The door to room H-6.
---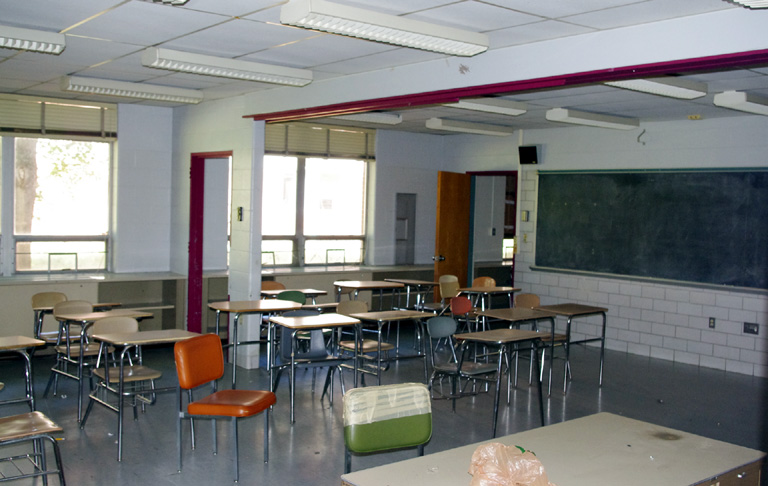 A view inside room H-6.
---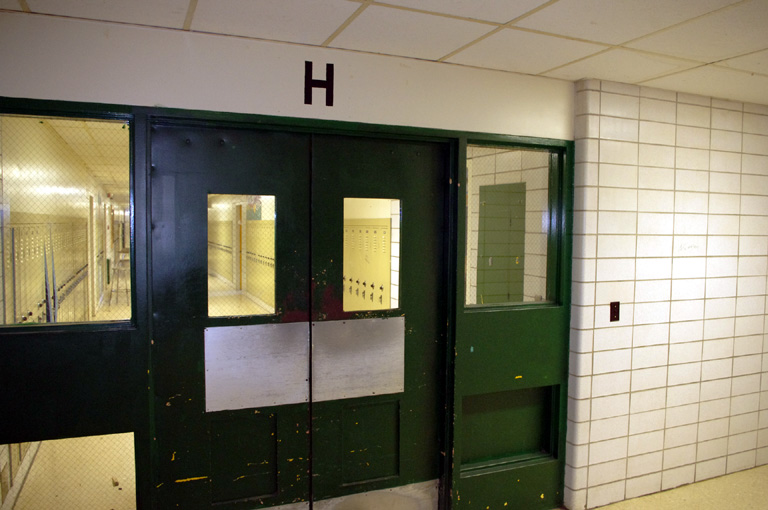 The fire doors in H Hall, right at the junction of the narrow hallway that leads to C Hall.
---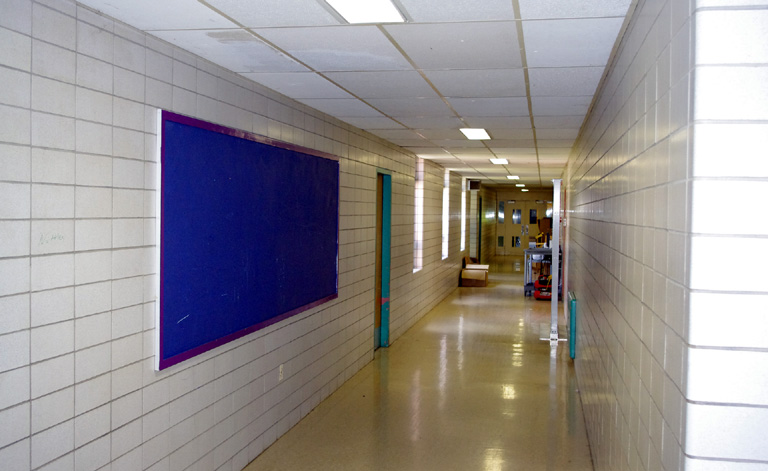 The narrow hallway that connects H and C Halls (between B and D halls) looking down from the H Hall end. I'm not sure if this hall had a letter name.
---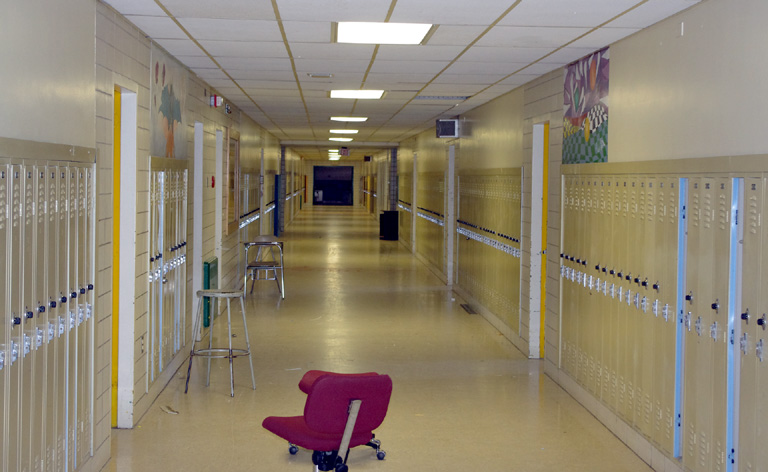 Looking down H Hall, past the fire doors, the Large Cafeteria is at the end of this hallway.
---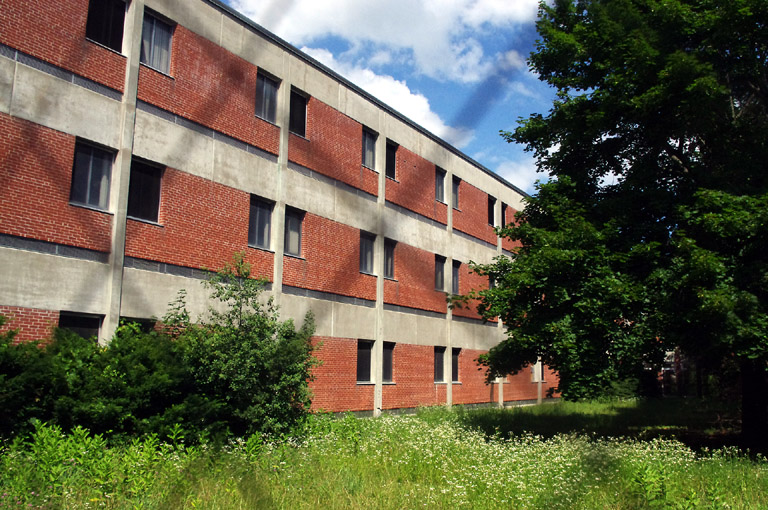 A view from B Hall, looking out one of the doors that leads to the courtyard. J, K and M Halls are in this new (1973) section of the building. Had to shoot through glass with wires in it due to doors being locked.
---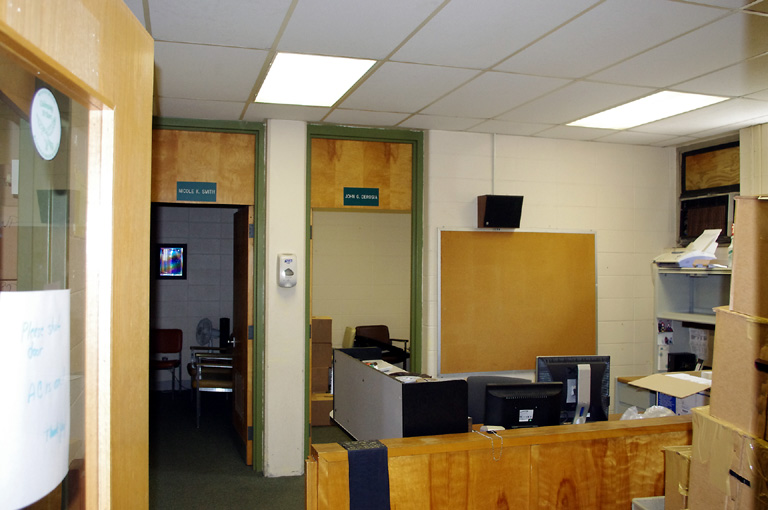 This is the office in B Hall (between J and H Halls) where (when I was there) Mr. Schenk and Mrs. Walinski sat. If you were in here it usually meant you got into some kind of trouble. I was only in here maybe once.
---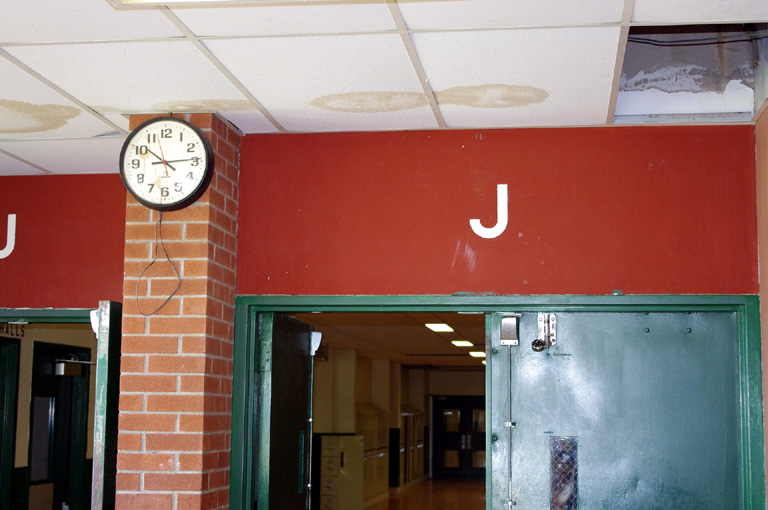 At the end of B Hall looking into J Hall.
---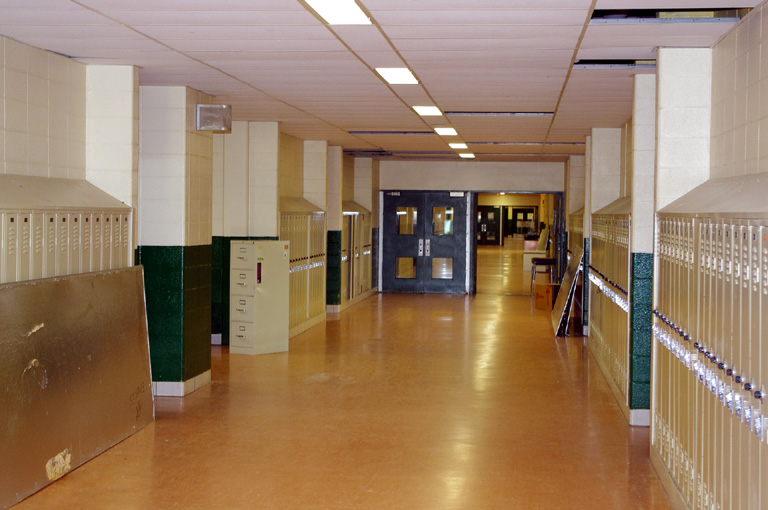 Looking down J Hall. My locker was on the right.
---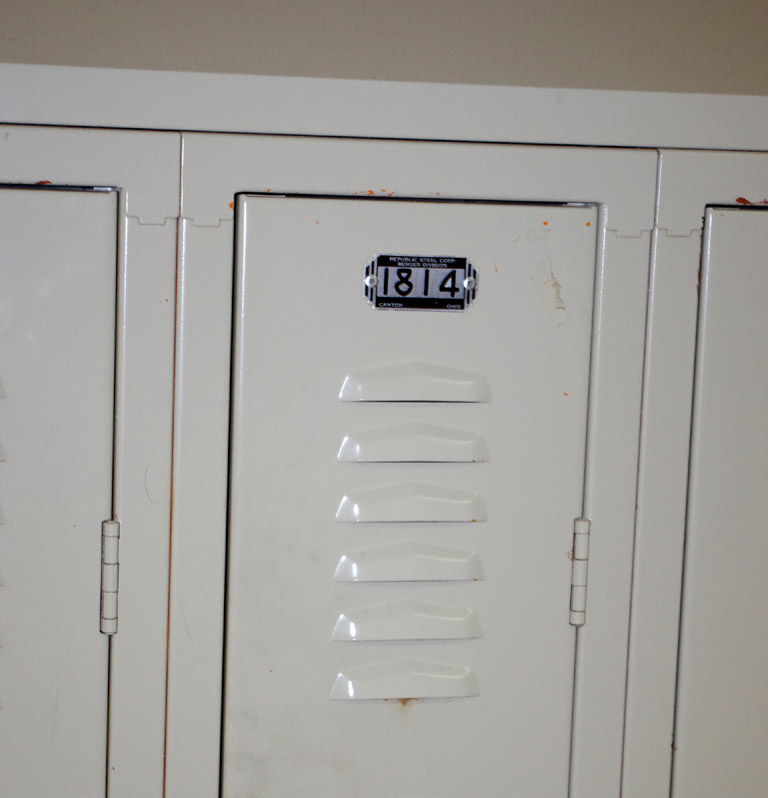 My Locker, # 1814, combo 39-3-33. I wonder how many thousand times I opened this locker. Debbie Roberts had the locker just to my left and Don Robinson had the one to my right. These are not the original colors, they used to be orange and brown (see the 1979 photo below).
---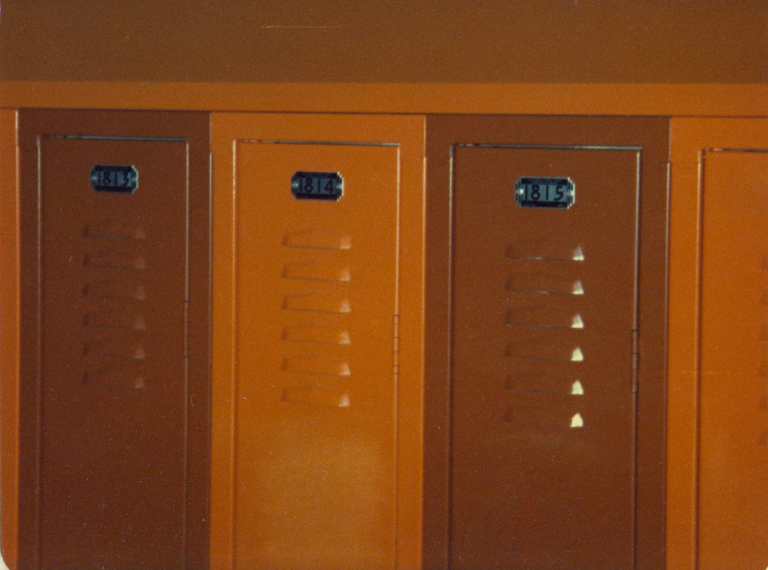 Here is a shot of my locker from 1979. I liked these colors better than the repainted ones above! NOTE: This was taken with a 110 camera (remember those?) so the quality is not good enough to blow up, this particular photo cannot be clicked on to show a high res version.
---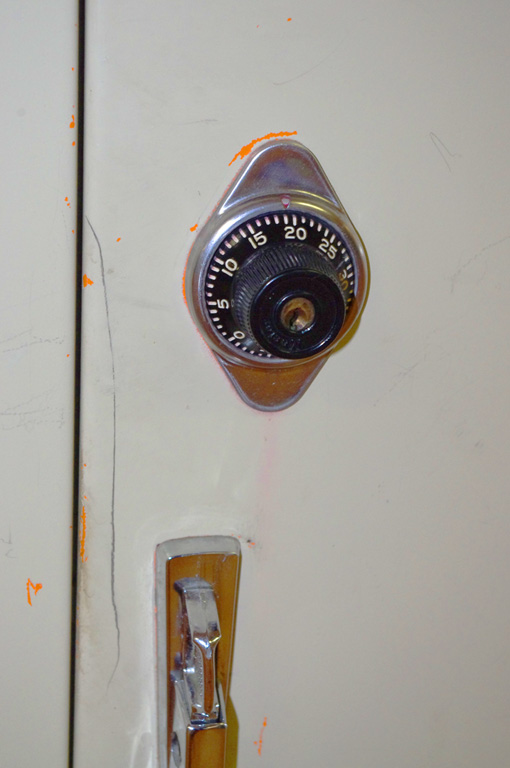 The lock on my locker. I was glad to have a locker in the new section of the school. Many of the lockers in the old section had separate combination locks (not built in ones) and they were more of a pain in the ass as there was more crap to try and deal with while working the locker.
---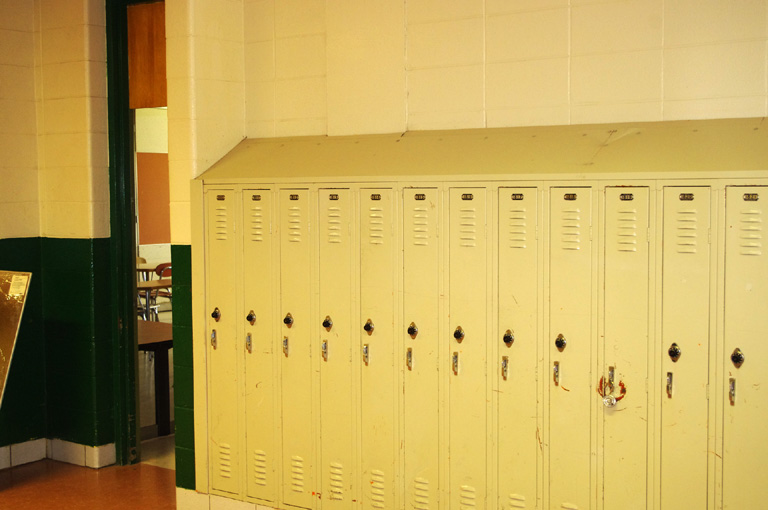 A shot of the bank of lockers in J Hall where my locker was. One thing that kind of baffled me when I first got to Minnechaug was why my locker was so far from my home room (J-8). In all the other schools I'd been to my locker was right outside the same classroom as my home room. Took a little getting used to this in high school (having a locker several hundred feet away from home room).
---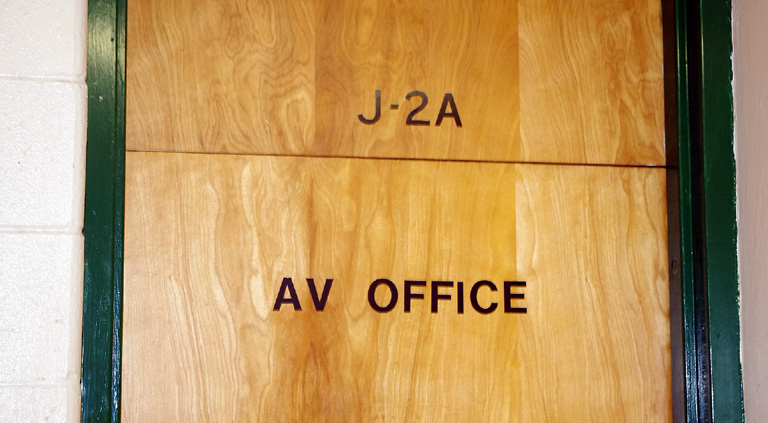 Door to the A-V office. Mr. Scharl was in charge of this when I was there (I never did anything with A-V while in school).
---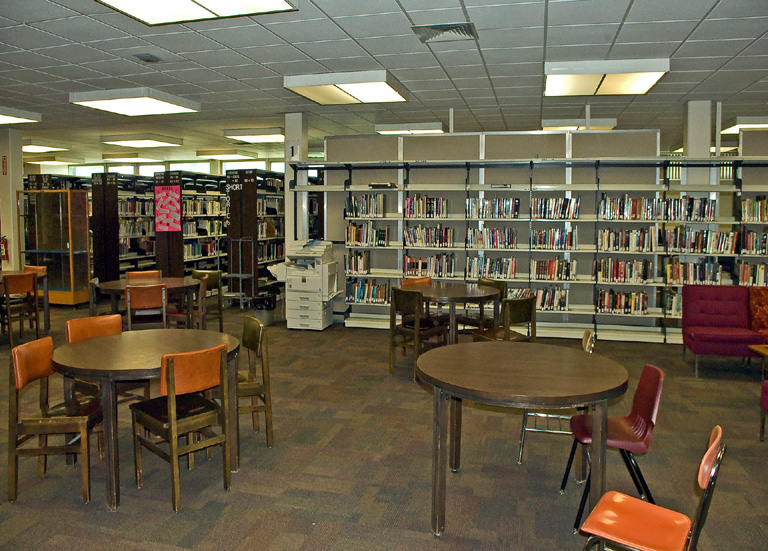 A view inside the Library lockers from 2010 (I was not able to get into the Library in July 2012). Photo by John Bedard of New England Photos.
---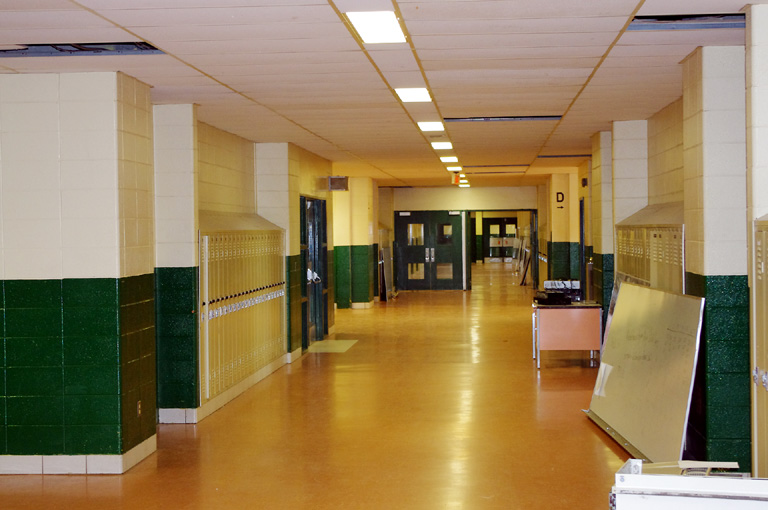 A little farther down J Hall, you can see the entrance to D Hall on the right.
---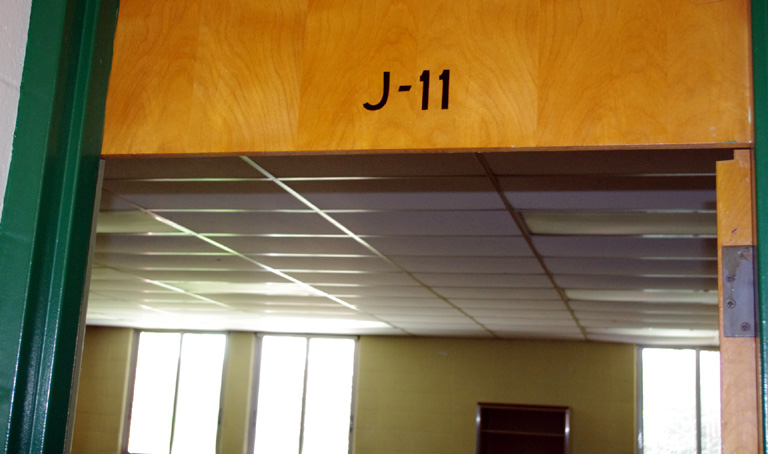 Classroom J-11. I had English in here sophomore year with Mrs. Kimberly. One time (for reasons we never found out) Mrs. Kimberly did not show up. All the kids were in the class, getting restless, finally some started leaving. Once this started, a mass exodus started and pretty much everyone dispersed out to wherever it was they went. I was in a real dilemma... I knew for FACT that if I were to walk out and then later got caught it would be VERY bad at home for me. However, if I stayed and then a teacher asked about where everyone else was (and I told them) I'd be in bad with all the kids. I ended up staying near the classroom, and fortunately no one asked any questions.
---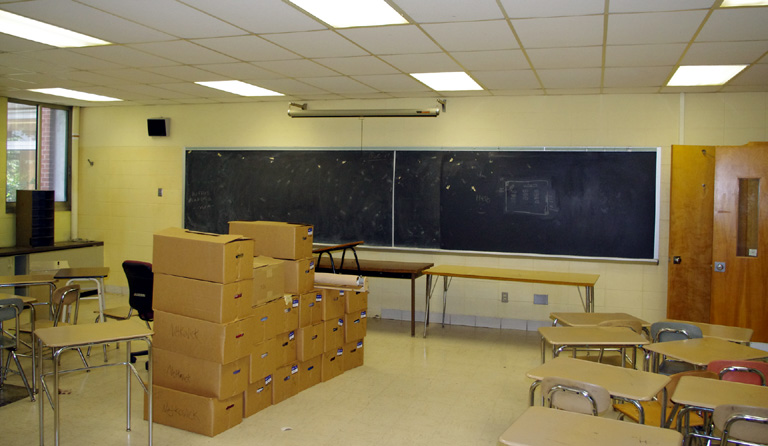 Inside J-11. Mrs. Kimberly had the seats arranged alphabetically by last name. As luck would have it (of course), I was at the end of the row in the back and my good friend Mike Schmidt was at the very FRONT of the next row. I remember when we got our assigned seats, we were both pissed. What are the odds of us (being sequential in the alphabet) and yet sitting about as far away as one could get?
---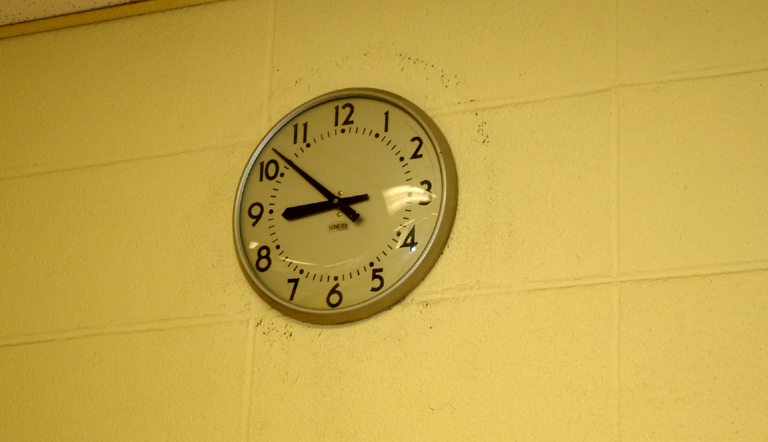 The clock in J-11. As kids, how we wished the clock would speed up so we could get out of class and go home.
---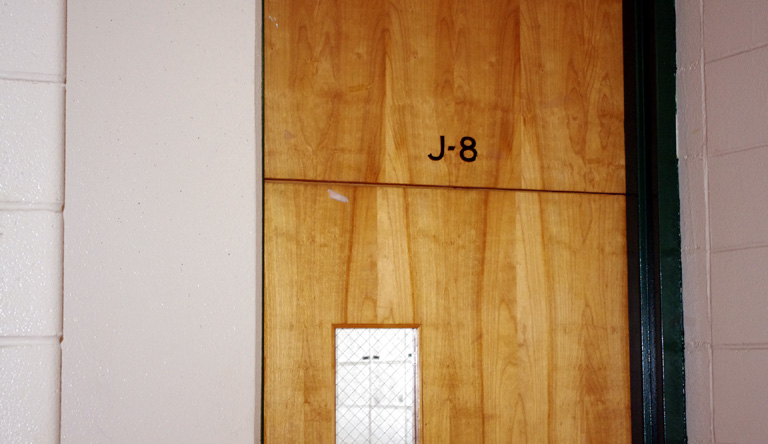 My home room, J-8.
---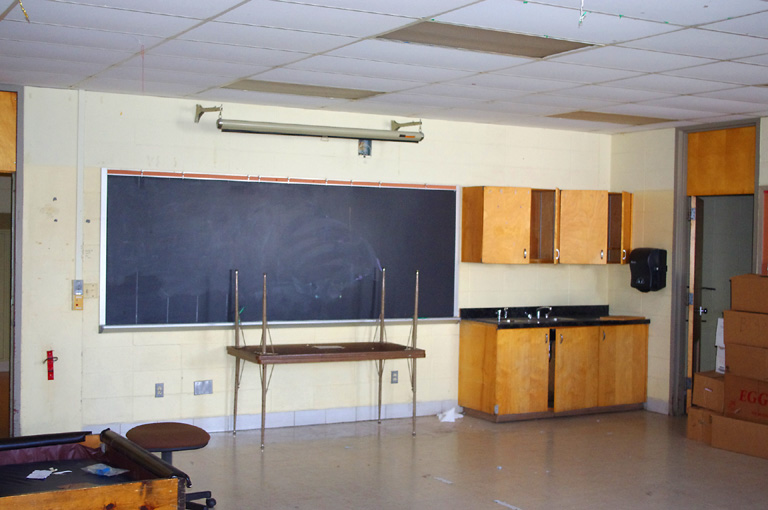 Inside room J-8. Kids that were in this homeroom: Diane Ort, Jeff Ouellette, Gary Ouimet, Lydie Pain, Greg Palm, John Panaia, Dave Parker, Jennifer Pauly, Kathy Peczka, Howard Person, Chris Pierce, Leyland Pierce, Noel Pixley, Jeff Pokorny, Sue Potter, Lynn Powell, Craig Powers, John Przybycien, Mike Quigley, Joe Read, Patty Reidy, Kim Reynolds, Debbie Roberts, Joe Roberts, Don Robinson, Laurie Roulier and Donna Rustin. Freakin' luck of the draw killed me on this one too. My good friends Mike Schmidt and Tim Rymasz were right near my in the alphabet, but due to the way things divided up I ended up NOT being in the same home room as them! I was not happy but nothing I could do about it. There were some cool kids in J-8 however so in the end it worked out. Mr. Mitchell was the teacher in this room. There was also a teacher named Mr. Newsome too. He was older and one kid told him he looked like a ship captain (it was a good description of him)! I never had class in J-8, I think it was where work-study class was given.
---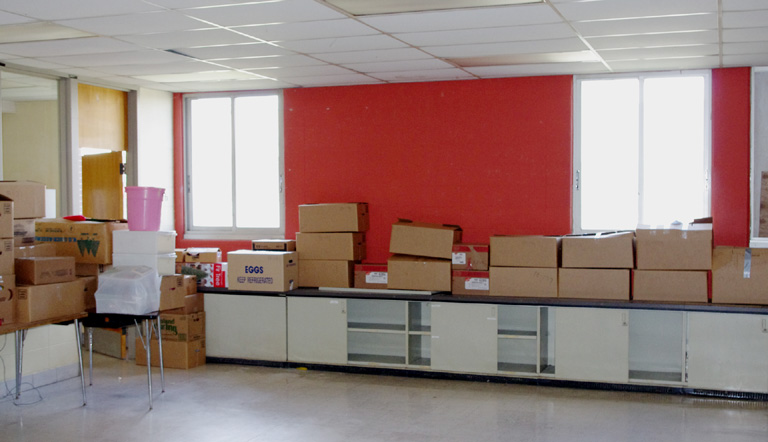 The back wall of J-8. Mr. Mitchell was kind of cool, he did not demand that kids sit at desks for homeroom. Many kids (me included) instead sat on the back wall on top of the radiators. One thing about J-8 is that it had a larger (than statistics would otherwise suggest) population of kids from Hampden. In freshmen year when Hampden and Wilbraham kids first got to meet, I remember seeing a lot of new faces. Buses would arrive at different times, some kids hung out in the hall with friends and others simply went to home room. While in home room the morning announcements would come over the PA system. Kids would be called to report to the office (where they presumably were going to be dealt some kind of punishment). I remember one very sad announcement in 1974 when Mr. Badger had to tell the school of the death of Robert LaValley. He was struck by an out of control car near Variety Shoppe on Boston Road. I remember everyone being very quiet and serious when this was announced. I don't recall any major grief counseling being announced (as is often the case when things like that happen today).
---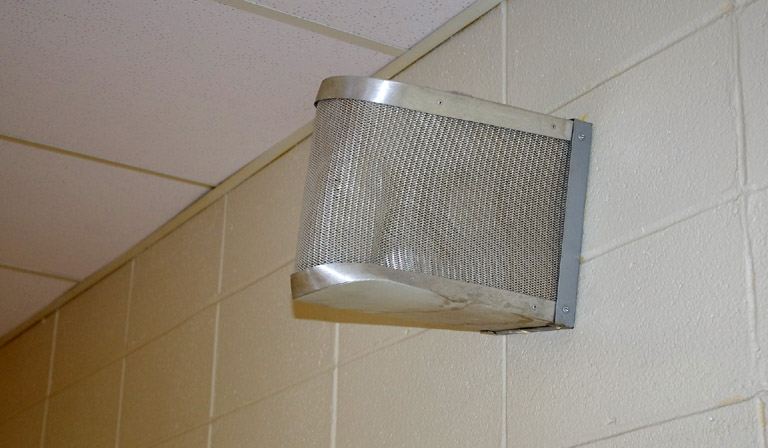 A PA speaker in J Hall. How many kids got called to the "office" over the years on this speaker?
---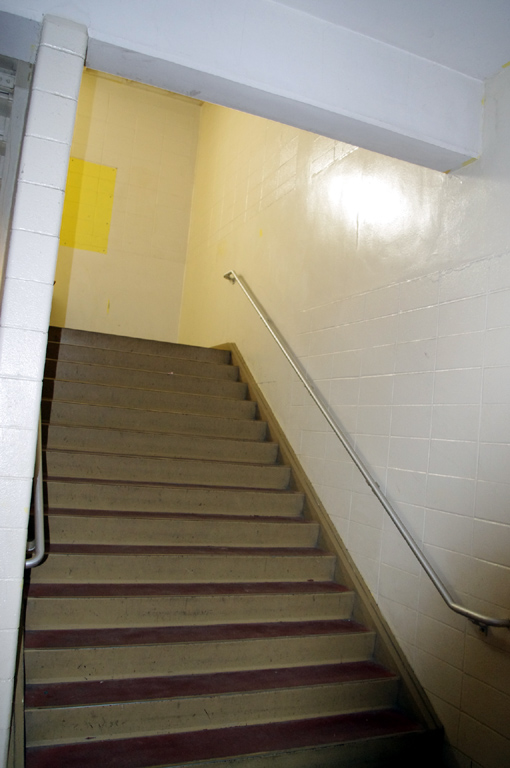 The stairwell from J to H and M Halls (this is at the cafeteria end of J Hall.
---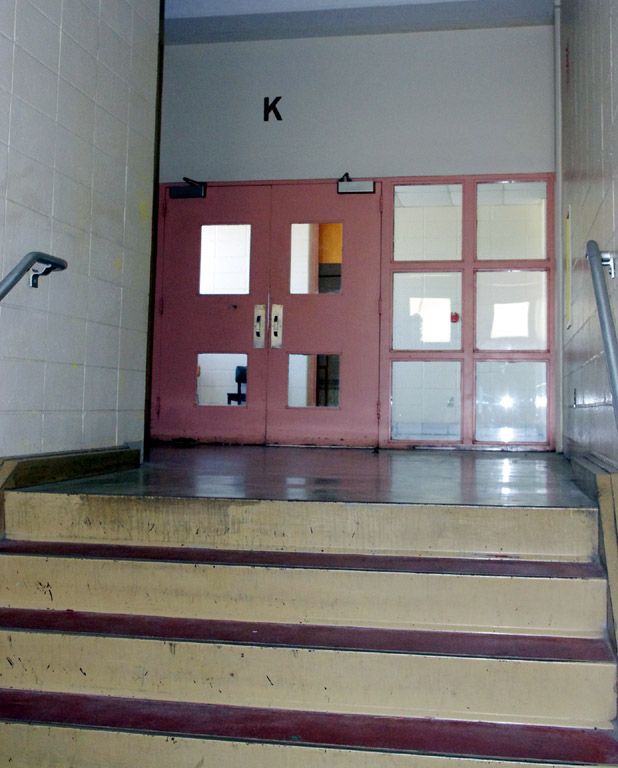 Heading up the stairs to K Hall.
---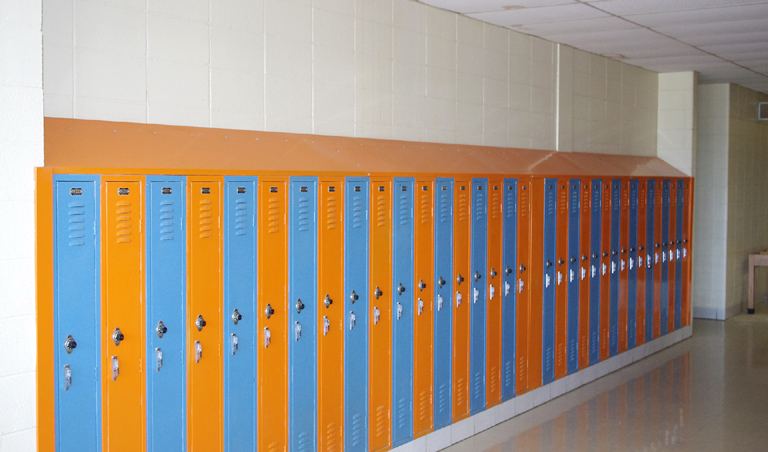 Lockers in M Hall.
---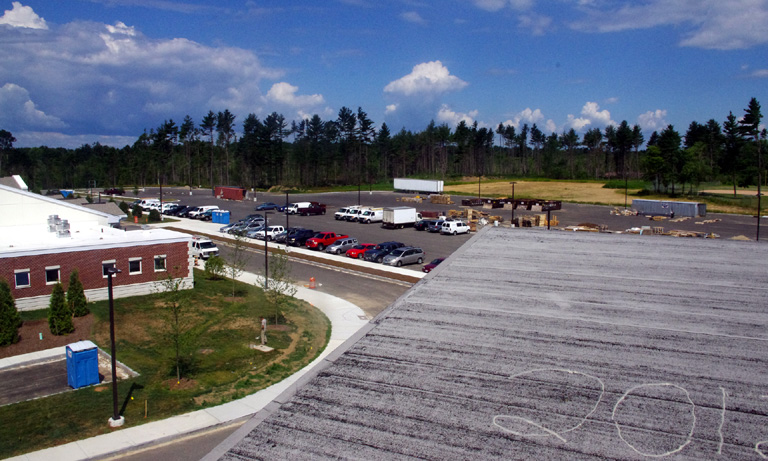 Looking out from the Cafeteria end of M Hall (the roof of the small cafeteria is in the foreground). The parking lot in the back used to be playing fields. Years ago this is where the "Project Adventure" area was located (I also heard it referred to as "Outward Bound"). It was part of gym class. There were many challenging (and rather dangerous) activities associated with this program. Among other things there was a log that was resting between 2 trees at about 25 feet up. The object was to walk across without falling (there were safety lines rigged as for sure someone would end up dead sooner or later). There was another large log leaning up against a tree; the object was to walk up the rather steep incline (again, without falling). There was also a high wall to climb over, and a platform on a tree from which people had to jump from (and land on another platform). I had a gym class that was A block... at that time much of the "apparatus" was still quite wet with dew (and hence very slippery). I had seen several people slip and fall off of various logs from the dew. Not wanting to fall into the category of looking like a fool (landing on my butt in front of the whole class), I began to think of what I could do to prevent (or greatly minimize) the risk of being embarrassed. Eventually I came up with a plan: install sharp "spikes" on the bottom of my sneakers... the spikes would dig into and grip the wet logs much better than ordinary sneakers. To make the "spiked" sneakers, I took my gym sneakers and installed about eight or nine 5/8 inch sheet metal screws through the bottom of each one (from the inside). I tried them out in the woods at home and they worked pretty well (but were slightly uncomfortable due to the screw heads digging into the bottom of my feet). I soon found out (the first time I wore them at school) that they were very painful to wear on a hard surface (like the hallways in school). They also made a bit of a "clacking" sound as the screws dug into the tile floor. On the long walk down J hall, my feet were killing me! I was just trying to not make so much noise as to attract attention. Finally the day came to put them to the test on the Project adventure apparatus. But... I wasn't selected to go up or across a high log... today the class activity was to get everyone over the high wall (about 10 feet tall)! Most people got over the wall by having two or three of the larger guys lift them up to the top. Seeing this procedure (and knowing what would happen to their hands if they grabbed the bottom of my sneakers to lift me up) I hesitated and stayed towards the back of the group. Finally I was the only one left... I was going to be forced to warn them to prevent badly cut hands. I began to explain to the guys (can't remember who they were) about the screws sticking out of the bottom of my sneakers. Mr. Whalen sensed the delay and came over to find out what the problem was. Finally I just lifted up one of my feet so people could see for themselves... Mr. Whalen had a look on his face like "I've seen everything now...". No one wanted to lift me up to the top of the wall with those sneakers, so the activity was considered "complete". I was pretty embarrassed about having to "disqualify" myself from the wall, but not as embarrassed as I would have been had I fallen out of a tree! After my "cover" was blown, several people started calling me "Spike". Eventually I did get to use the spiked sneakers on the "balance beam walk"... at no time did I slip and fall!
---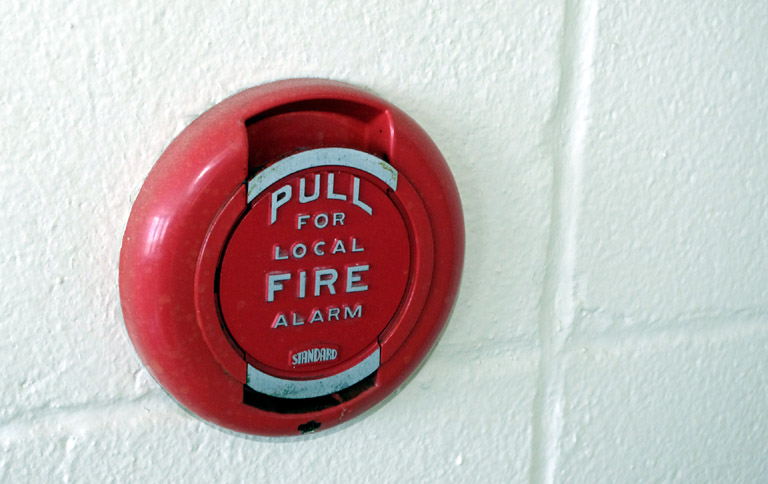 Fire Alarm unit... one day in 1976 the fire alarm went off THREE times in one day. I remember seeing the faces of a few administrators and they were very pissed.
---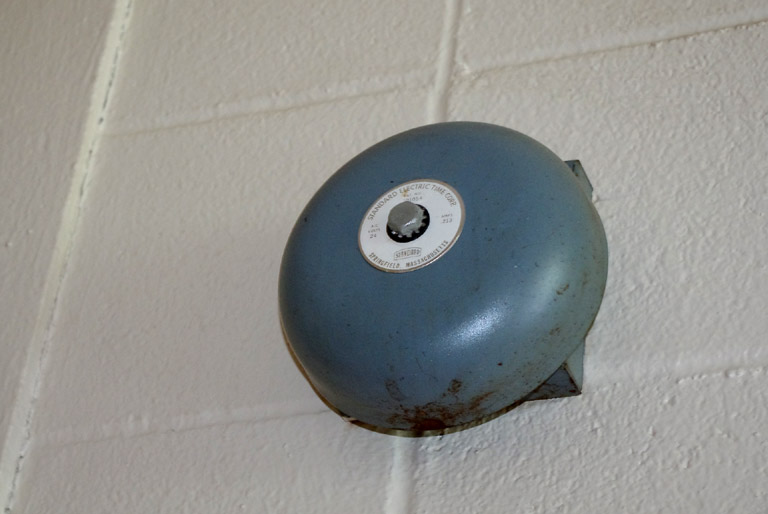 Bell in M Hall.
---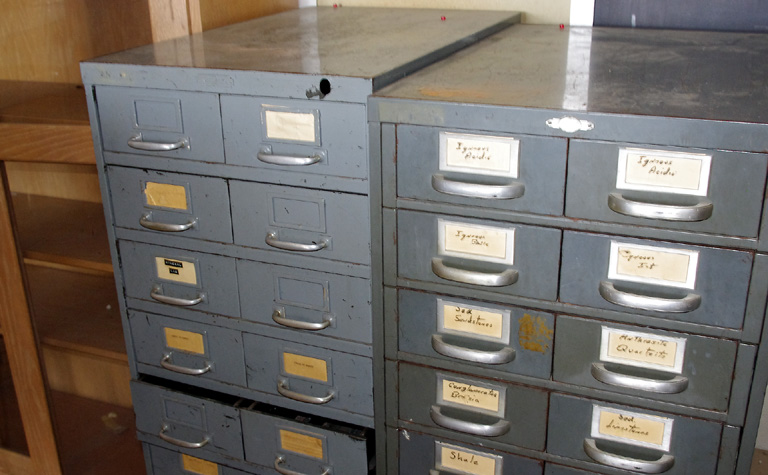 Storage cabinets in a classroom in M Hall
---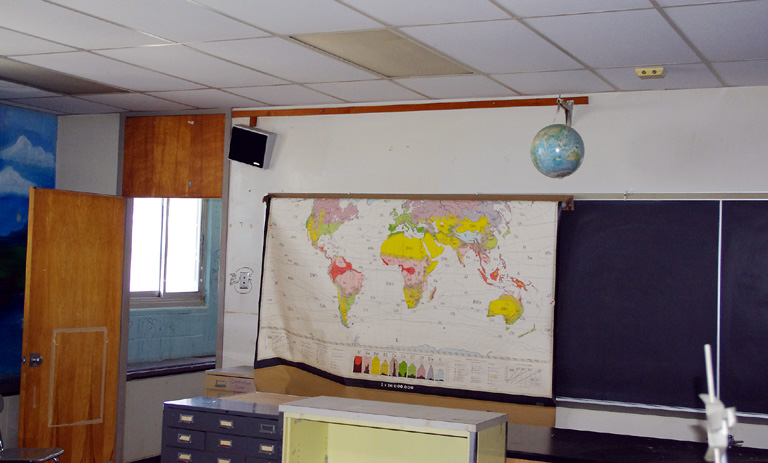 A classroom in M Hall.
---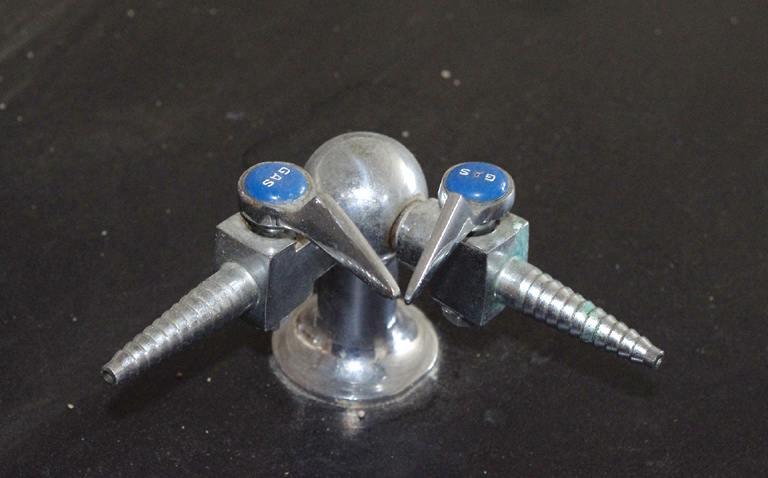 Gas jets in a classroom in M Hall.
---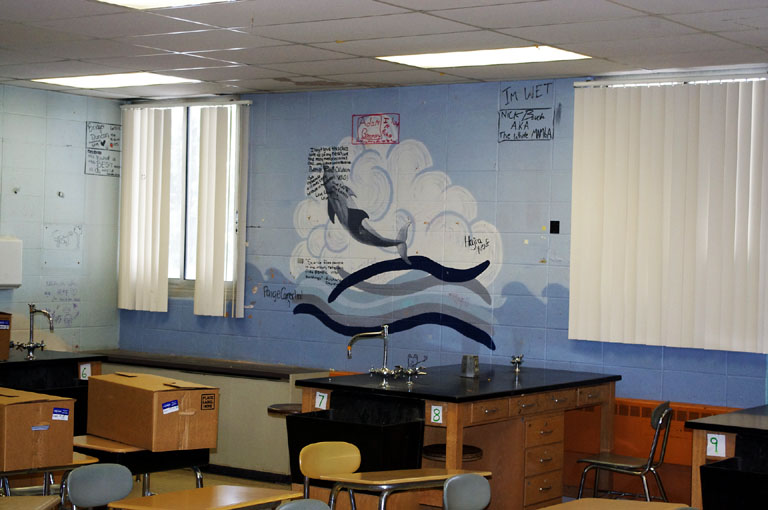 A classroom in M Hall.
---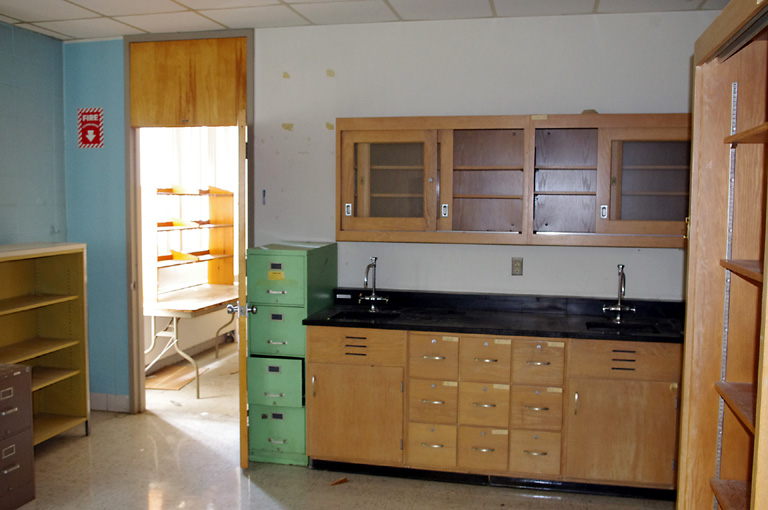 Small room in M Hall.
---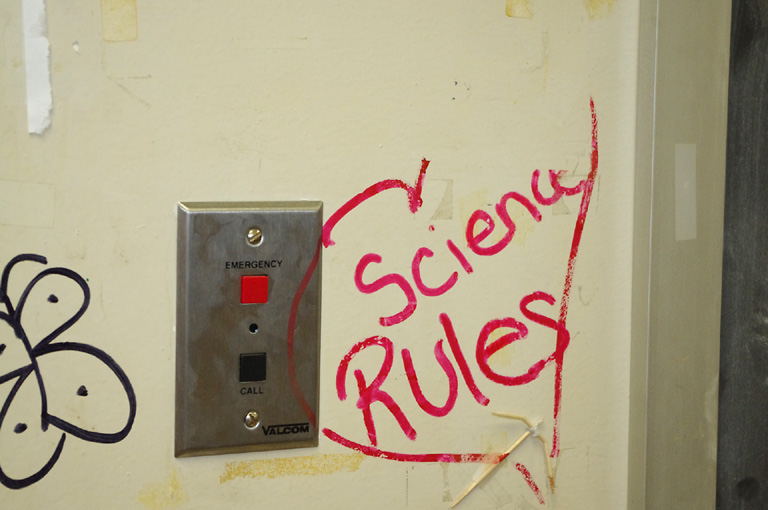 Call button in one of the classrooms in M Hall.
---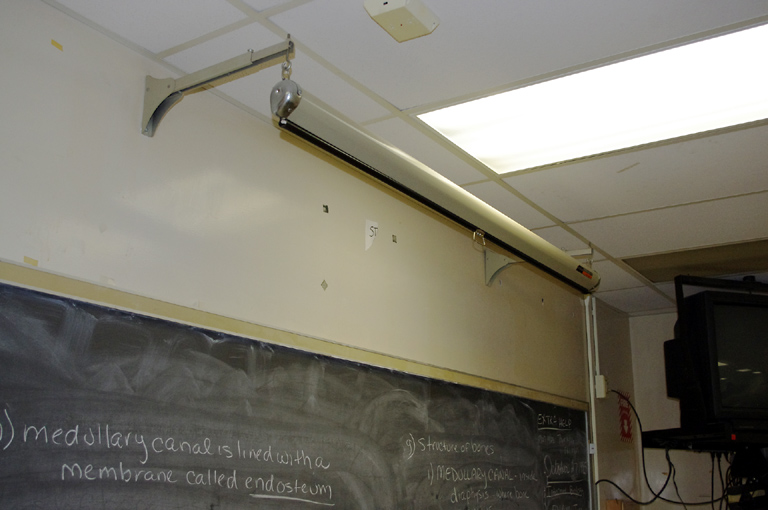 Movie/overhead projector screen in one of the classrooms in M Hall.
---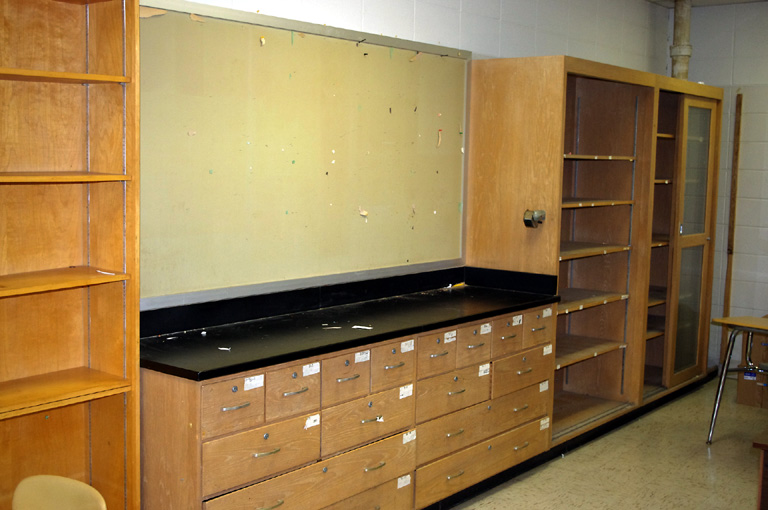 Storage areas in one of the M Hall classrooms.
---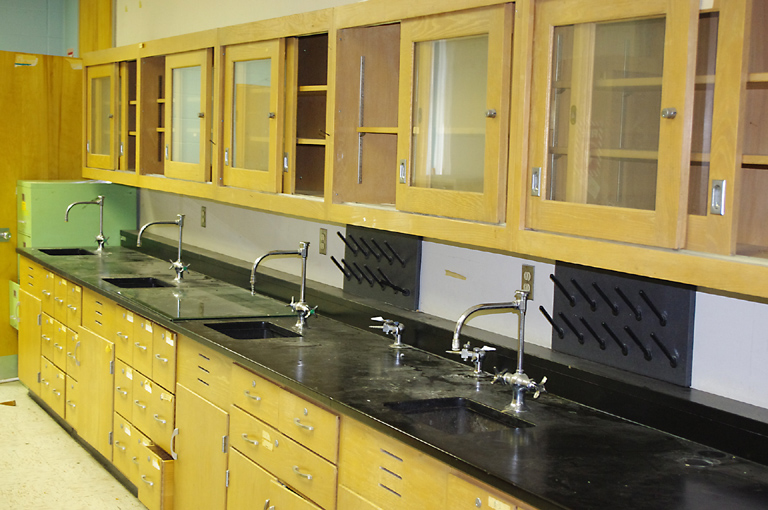 Lab area in one of the M Hall classrooms.
---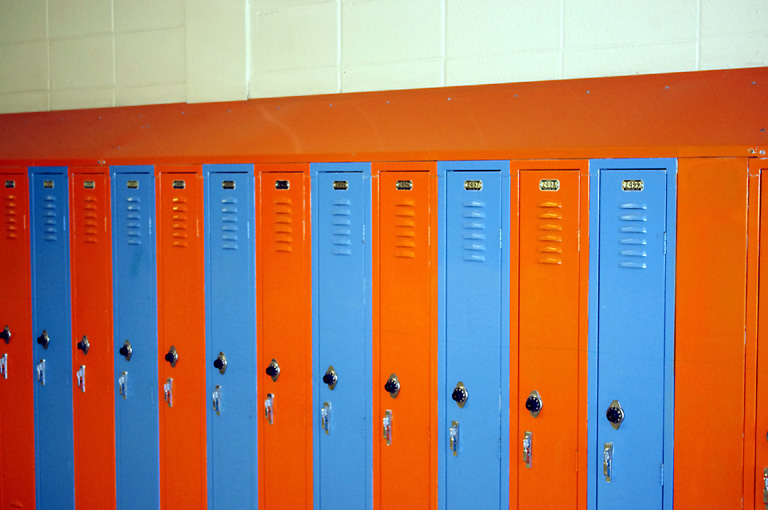 Lockers in M Hall.
---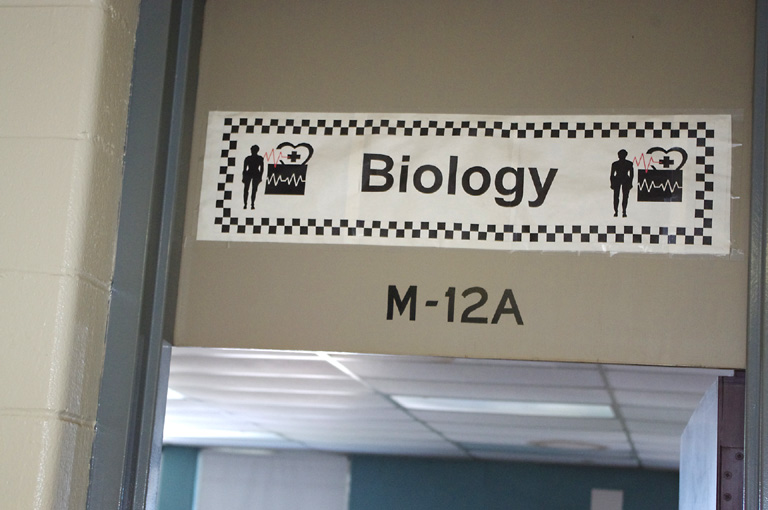 Room M-12A. I had Biology in here sophomore year (75-76) with Mr. Sternberg. During the second semester Mr. Lagunowich started taking over the class. I did not know it at the time but I suspect he was just starting his career in teaching.
---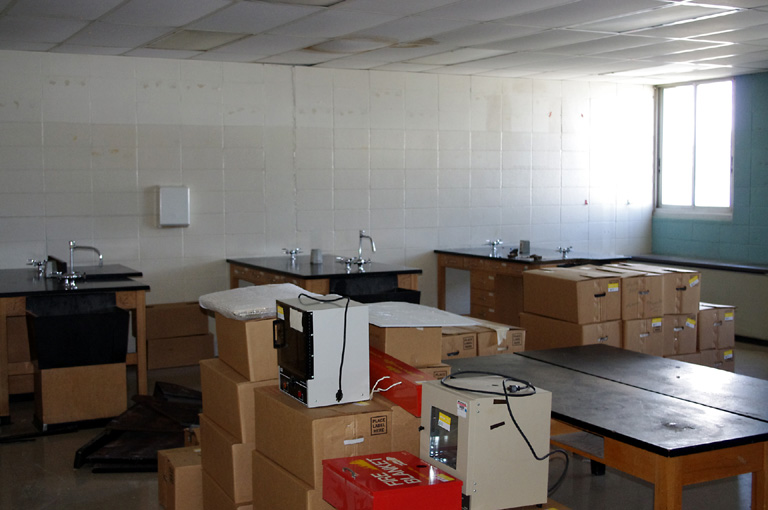 The lab area of the biology room. This room and the classroom part used to be divided by a partition of storage cases, these are no longer present.
---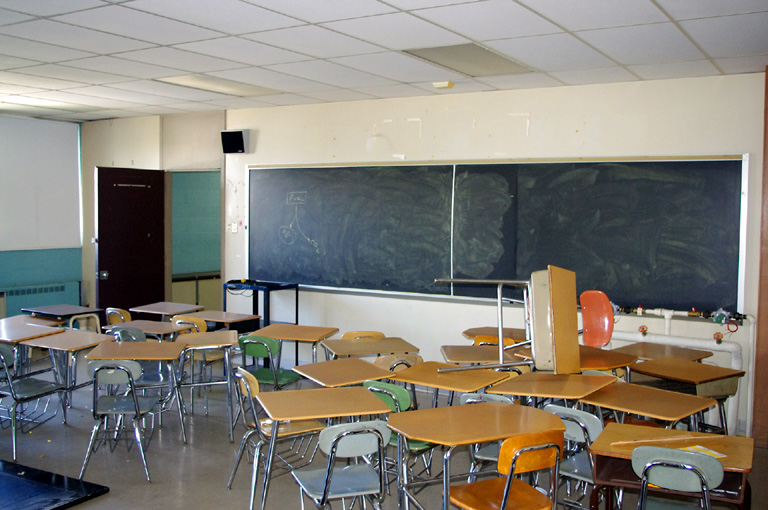 The classroom part of M-12A. Mr. Sternberg used to have a desk right at the front of the room. Like most teachers he rarely sat there, most of the time the lecture was being given from the blackboard. One time in early 1976 I smuggled a portable tape recorder into class. Back in those days they were fairly big items, it barely fit in a lunch bag. To as to not attract attention I actually did have the unit on my desk disguised as a lunch. I remember having to reach into the bag to activate the recording. I had to slightly delay the start of the tape as it was only 45 minutes long, and if it ran out during class everyone would have been tipped off by the fairly loud "click" sound that would have occurred. I do have portions of this recording to this day, including some of Mr. Lagunowich's very first times in front of the class. The quality is "ok" but not great. I do have a good portion of Mr. Sternberg's lecture from that day. You can listen to it here: Mr. Sternberg's Biology class (14 MB mp3 file).
---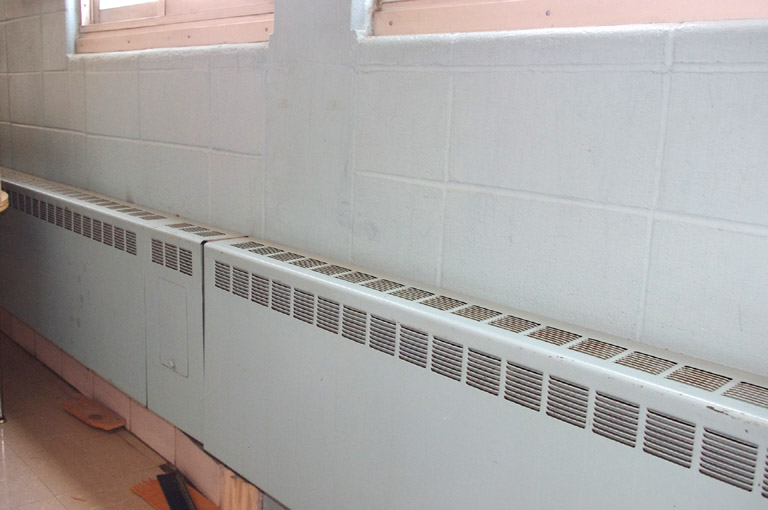 Radiators along the wall in M12.
---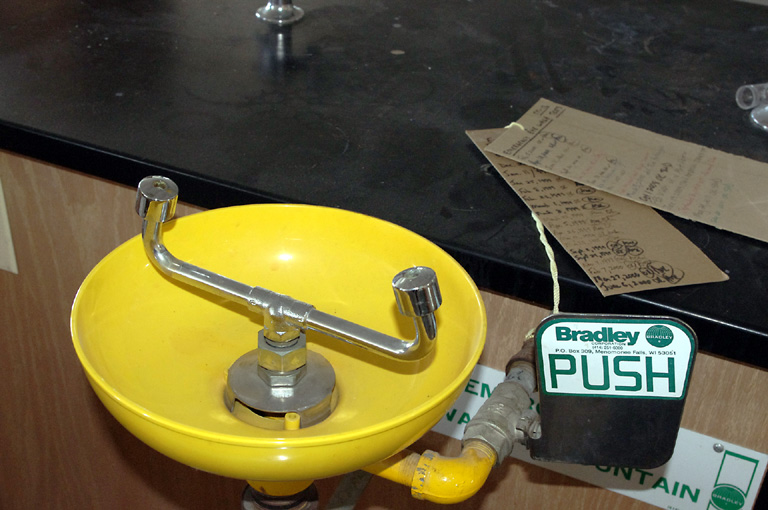 An eyewash station. I never recall seeing anyone ever wash their eyes in one of these, however I do recall a few kids using it as a drinking fountain (when the teacher was not looking of course). It probably wasn't the greatest tasting water as it likely sat in the lines for extended periods.
---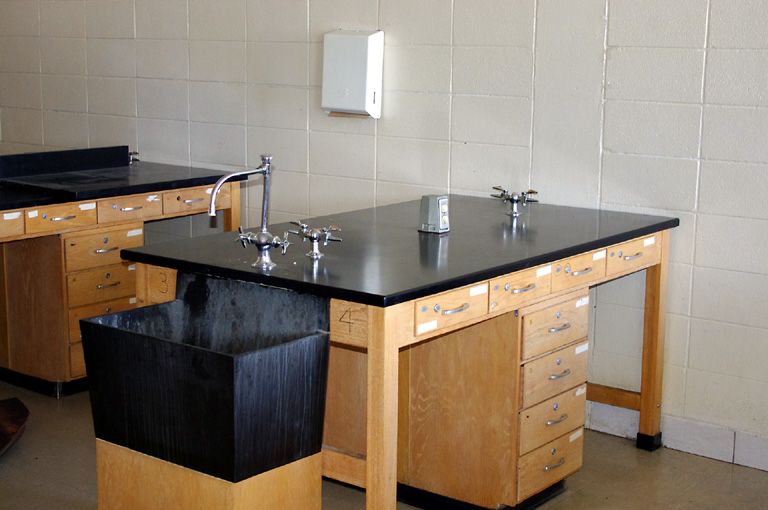 The lab bench I sat at during the lab part of biology. I sat on the right against the wall. Mike Schmidt sat next to me. Across from me was Greg Zirakian and (I think) Mark Conley. We did quite a few experiments here. One I remember had something to do with potato slices (basically uncooked French fries) in a test tube with some kind of liquid. Another time the lab lesson was to learn your blood type. To do this of course require pricking one's finger to get blood to analyze. I was not fond of pricking myself intentionally, so instead I found an existing wound with a scab and then ripped the scab off to get blood (Mr. Sternberg of course was not aware of this alternate method). I remember a lot of kids being squeamish about stabbing themselves to get blood. In another lab we were doing something with the genetics of fruit flies. Apparently during the course of the experiment (which had to be tightly controlled) someone messed up and mixed up the data and/or the specimens. This basically botched the entire lab (it was a classroom wide experiment). Mr. Sternberg was quite pissed and started talking to the class in a pissed and kid of loud voice, culminating in the sentence "You RUINED the experiment!" I was a bit miffed at this as I had nothing to do with the botching of the lab (I think it was the people at the tables towards the wall with the windows). Some of the kids in this class: Marty Sydlowski, Ken Delargy, Sue Engels, Jennifer Pauly, Mike Schmidt, and Bill Dangleis. There were others but those are the ones that come to mind. There were also study halls in this room. It was a lunchtime study as I recall; there was a TV in the room and kids used to turn on "Happy Days" and watch that (instead of studying). Kids who wanted to study hung out in the classroom portion of the room. "Happy Days" was on Channel 22 at 11:30 as I recall.
---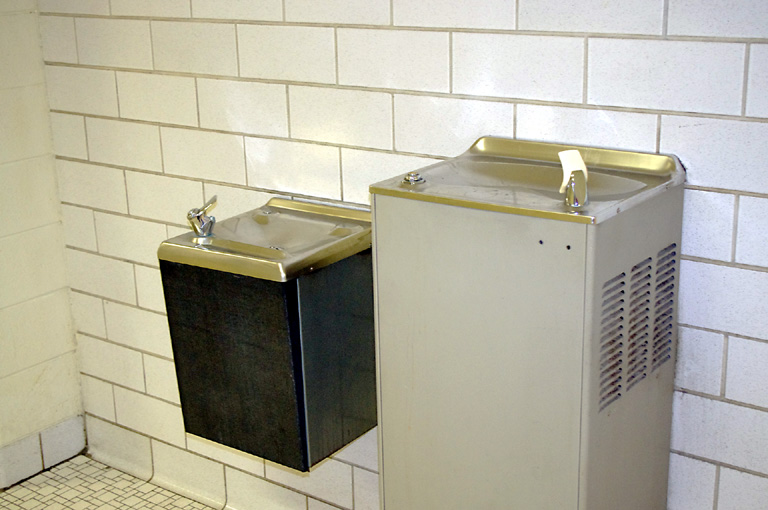 Drinking fountains in M Hall.
---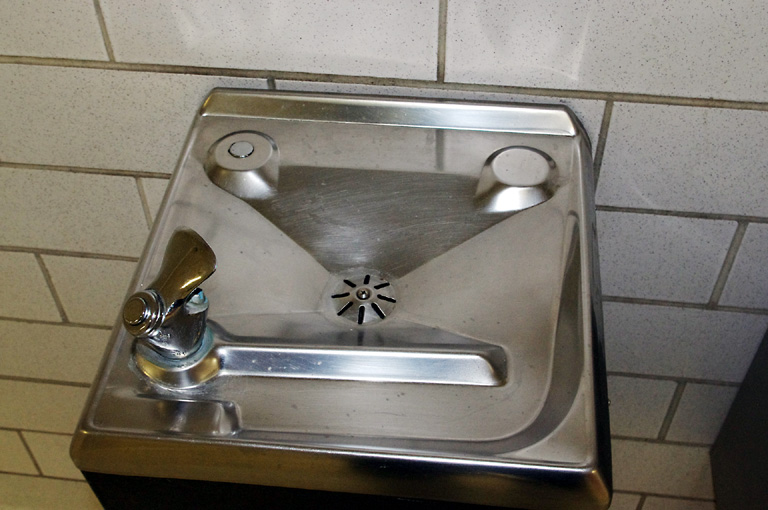 Close up of a drinking fountain in M Hall.
---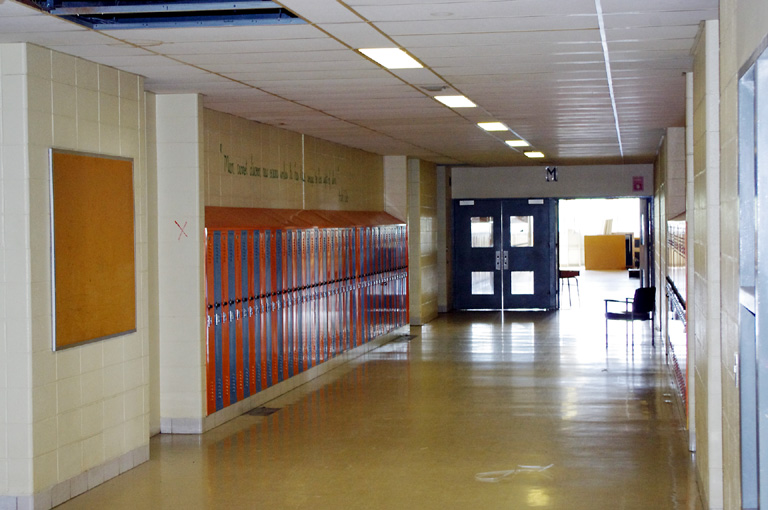 Looking down M Hall.
---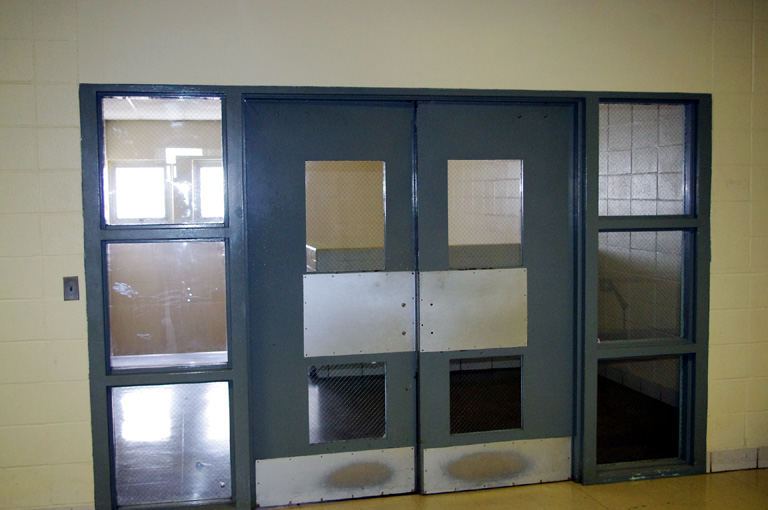 The doors to the central stairway in M Hall leading to K and J Halls.
---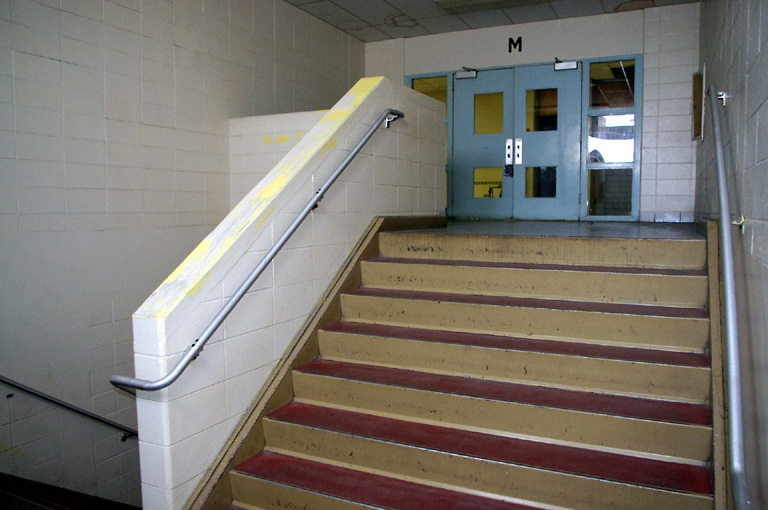 The central stairway between M and K Halls.
---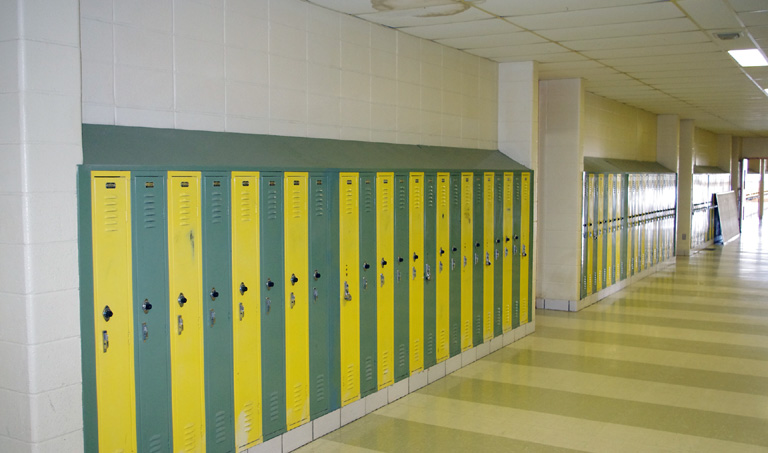 Lockers in H Hall (looking to the east).
---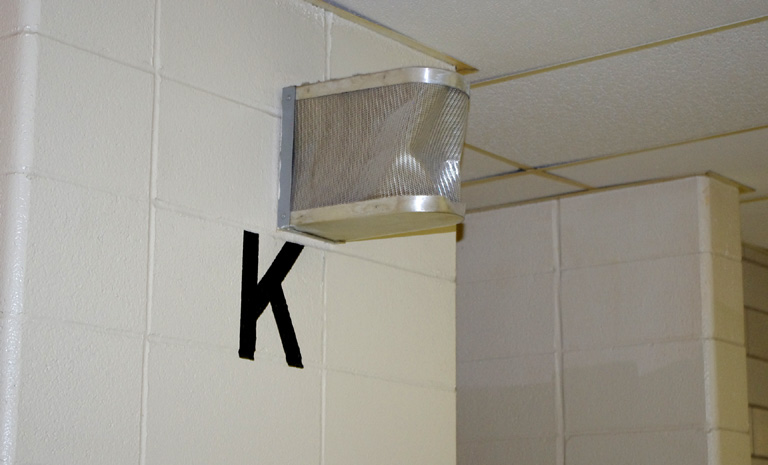 PA speaker in K Hall.
---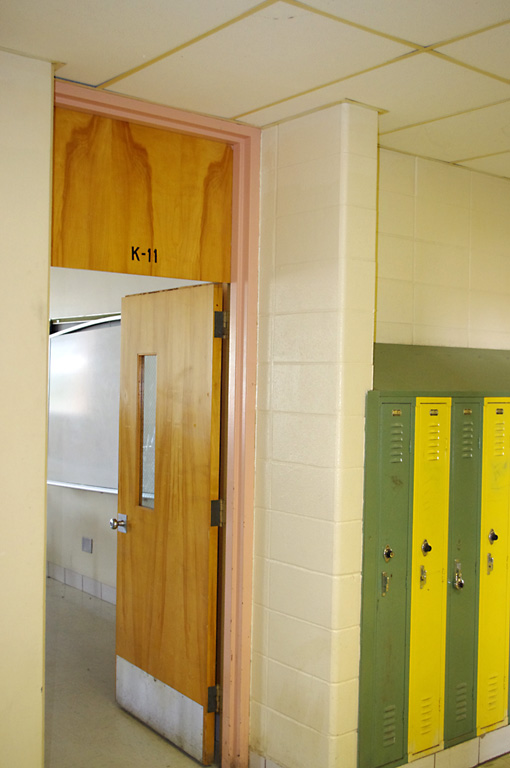 K-11. I used to try to walk by this area (even though I did not have a class here) as there was this girl I really liked and she seemed to be around this spot fairly often.
---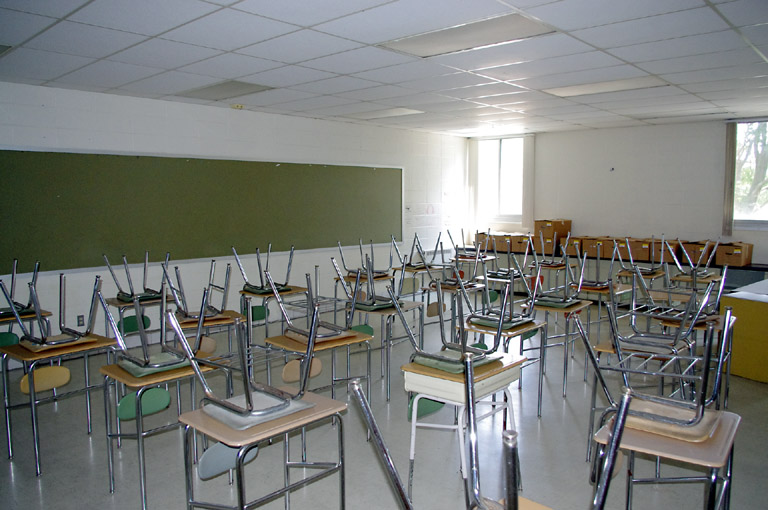 Inside room K-11. I had Algebra 1a in K Hall (freshmen year), I think the room was actually K-7. The teacher was Mr. Salk. A number of things happened in here that I remember. For one, Tim Rymasz one day said "Mr. Salk, you've got pigeon shit on your window". Mr. Salk gave him a look like "is that really necessary?". There was a kid in this class named Bob Pianowski. Tim Rymasz referred to him as "Pee". During a class exercise, Tim Rymasz called Mr. Salk over for help. The equation he was working on had the variable "P" in it. Tim knew how to work the equation; he called Mr. Salk over, pretending he did not know how to do it. Every time Tim used the letter "P" in the discussion with Mr. Salk he would but obvious emphasis on it, all the time basically bugging Bob Pianowski with the teacher standing right there! Mr. Salk never caught on. I kind of felt bad for Mr. Salk at times. I liked him and he obviously took interest in helping kids who really wanted the help. Some did give him a hard time. Another kid in this class was Nate Twining. One day in class he raised his hand and asked "Mr. Salk, can I go uriNATE?" (with emphasis on the "nate" part of the word urinate). Another time I was sitting at my desk, and suddenly a pencil came whizzing by my face at great speed, just missing me (damn lucky I did not get that in the eye). Turns out it was Dennis Costello out in the hall, he whipped the pencil into the classroom while walking by (not sure what he was doing out in the hall during class). I really should not have been in this class at all (this was Algebra 1a, where they cover Algebra 1 in two years). In Junior High Mr. Koslowski told advisors I should be in this class. It was too easy for me, taking 2 full years to get Algebra 1. However it was too late to turn back. Because I took this course I had to take the lower level geometry course in Junior year and then algebra 2 in senior year. I ended up going to college for engineering not ever haven taken trig, not a good match (somehow I managed to get through).
---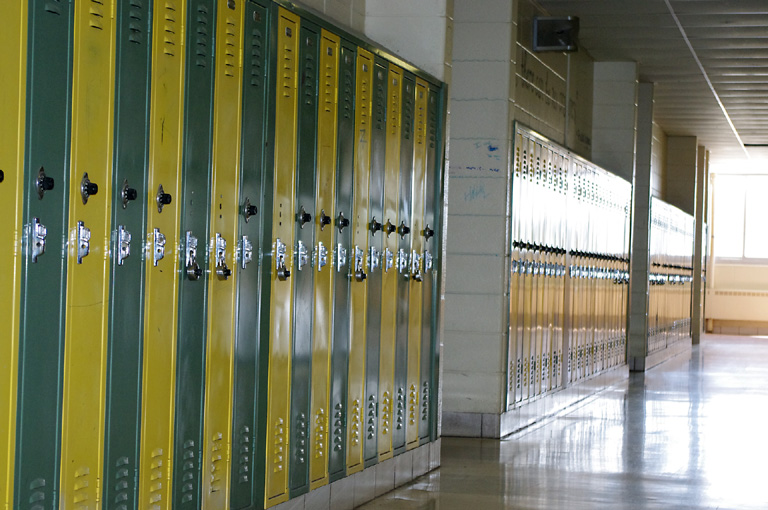 K Hall lockers, right outside K-11.
---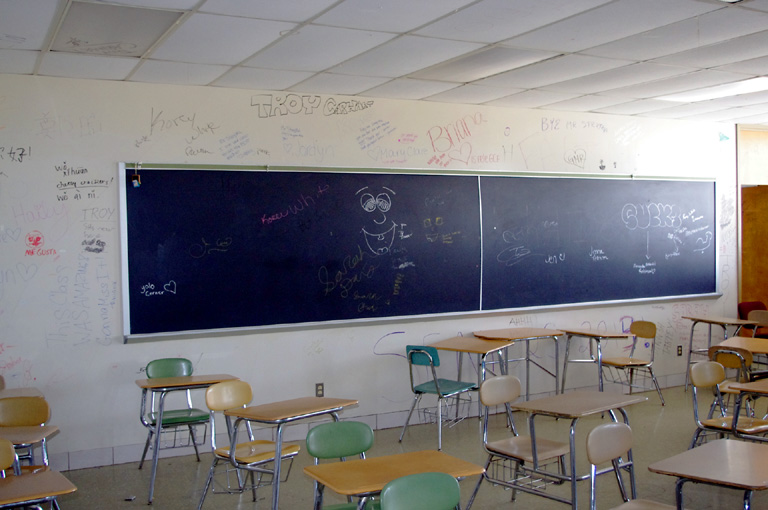 Inside K-11, one of the many math classrooms. I had Mrs. Ligarski for Plane Geometry (not in this room though, I remember it being in M hall). I really liked the class. It was too easy for me, I should have been in regular geometry. In this class (among other things) we had to "prove" things, and sometimes you got called to put your work on the blackboard. One day I was asked to do a proof on the board, it ended up being 19 steps total, and some kids called me a "show off". It was all logical stuff to me. I have quite a few test and quiz papers from this class (hope to post some when I get time).
---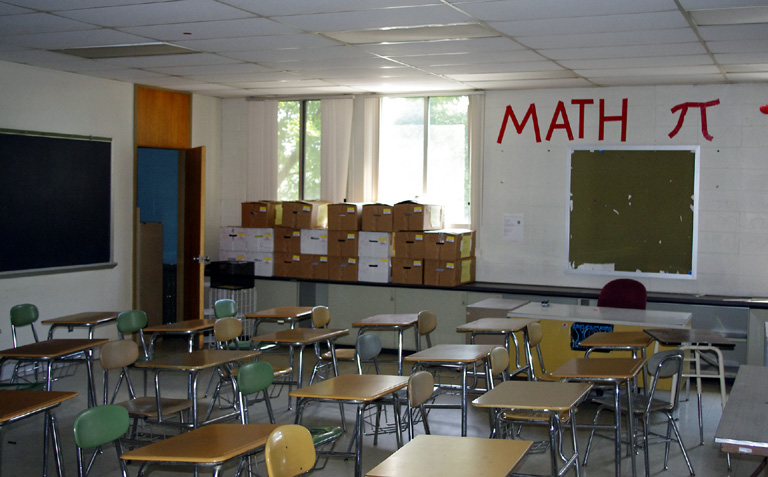 A view of the courtyard side of K-11. I had a study at one point on the field side of K Hall, can't recall what room it was. In any case it was Candy Sale time. Kids were filing into study hall. Paul Bateson sat down and noticed a bag in the storage area under the seat. He looked inside and found a good number (maybe 2 dozen?) candy bars that someone had left by mistake (obviously part of the candy sale). A big smile came over his face. I thought to myself "Someone is going to have a panic attack when they discover they lost all those candy bars" (whoever it was probably ended up having to pay for them). I can't recall what Paul did with them.
---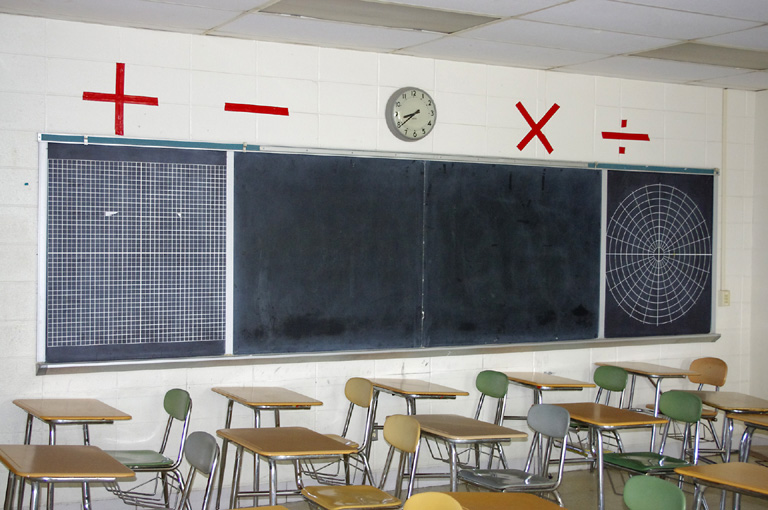 The hallway side of K-11. I had Algebra 2 with Mr. Silva during senior year, not in this room, pretty sure it was M Hall (but could have been K Hall, on the side where the fields were). I really liked Mr. Silva. He was a good teacher, nice to the kids but did not tolerate bullshit from those that were jerks (he'd abruptly raise his voice and tell whoever was acting up to basically cut the shit (not in those words though). I remember Mr. Silva plotting many graphs on the blackboard (the one that had the graph lines permanently marked. There were a few seniors in this class but quite a few juniors. Kids I remember being in this class are Maureen Munsell, Bob Schnepp, Don Robinson and Joan Tobia.
---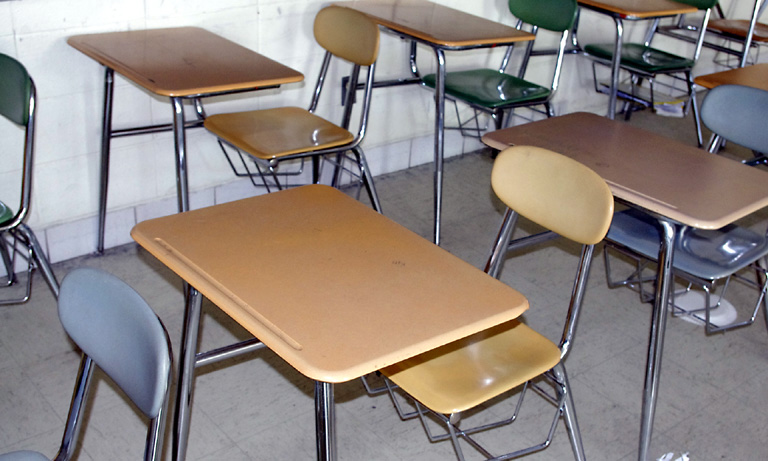 Desks in K-11.
---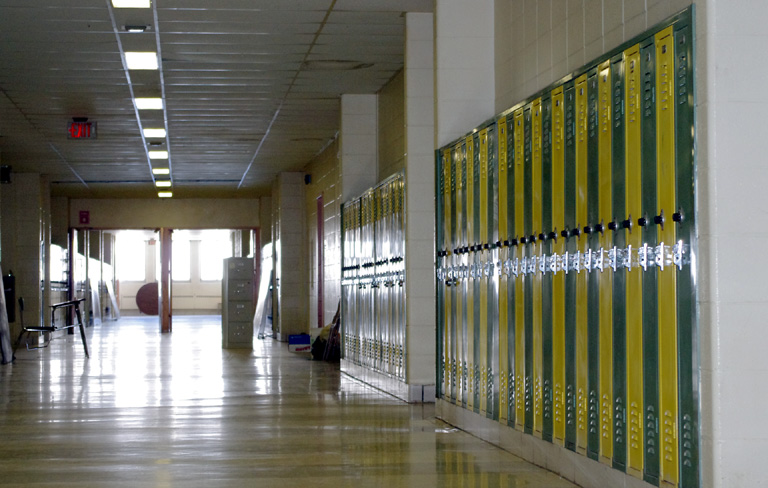 Looking west in K Hall.
---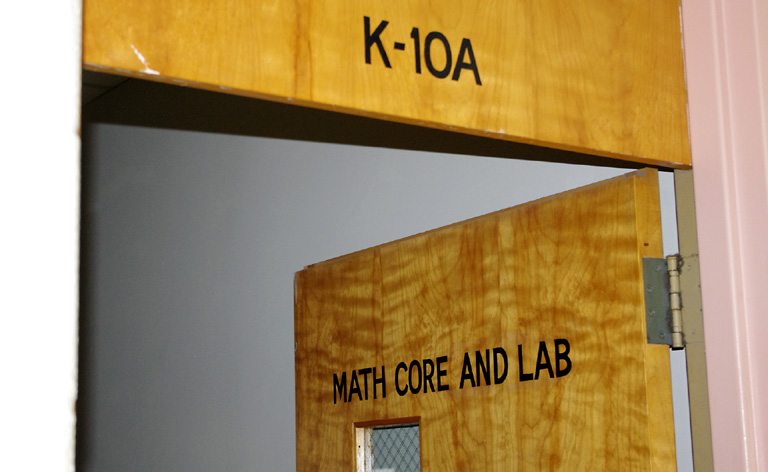 The Math Core room. I was never smart enough to be in here. I remember kids like Pete Chapin, Mark Davis and Dave Leonard being in here a lot. There were a number of other kids too, did not know all of their names however. I believe they had a very primitive computer in here at the time also.
---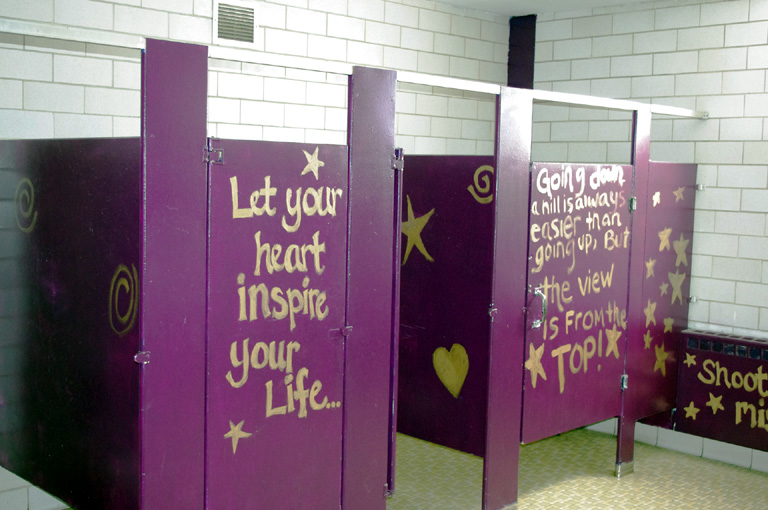 Here's one room I never got into during school: the ladies room!
---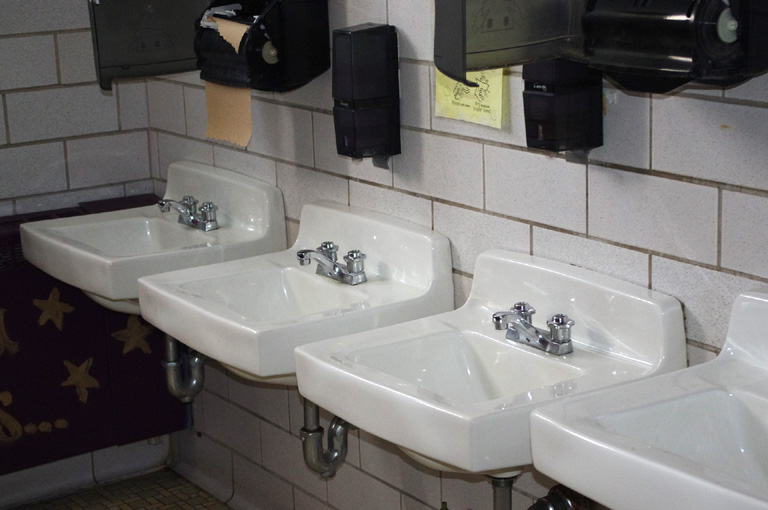 Sinks in the K Hall ladies room.
---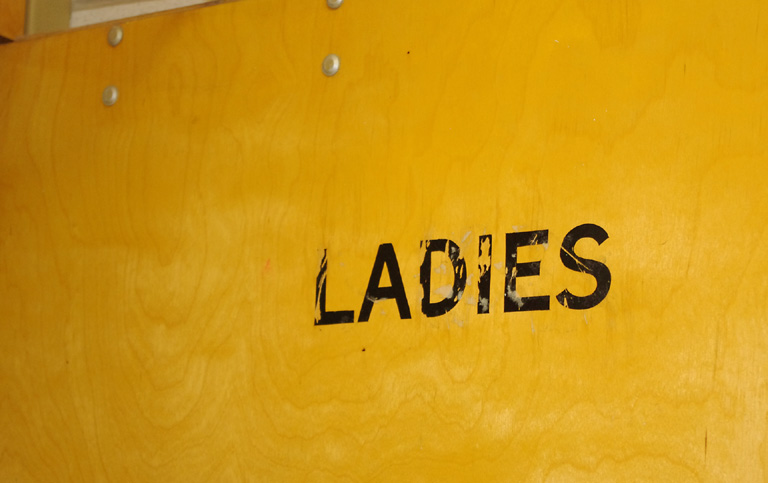 Door to the K Hall ladies room.
---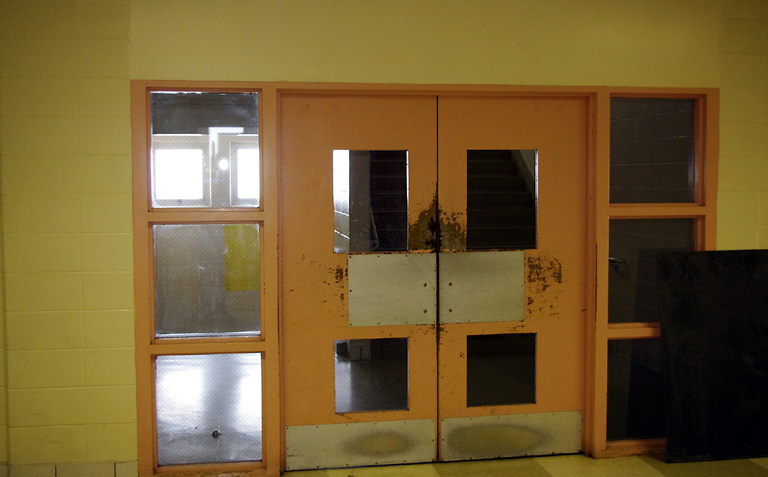 The central stairway doors in K Hall.
---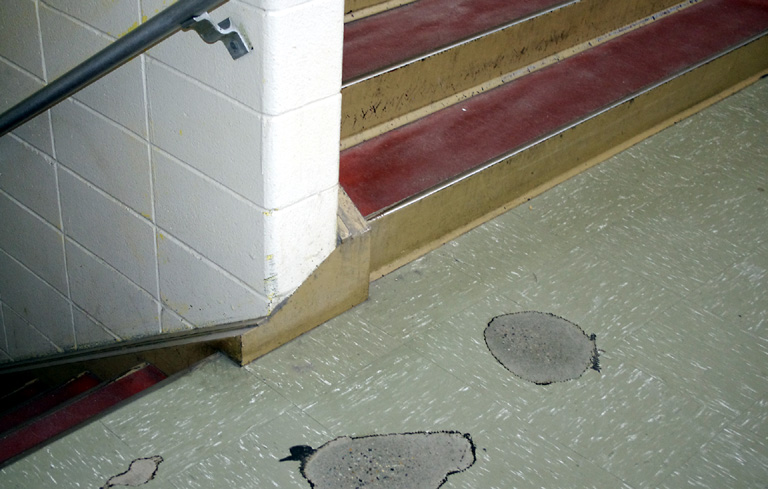 Spots on the K to J hall stairway landing where the tile has worn clean down to the concrete. I wonder how many million steps it took to do this?
---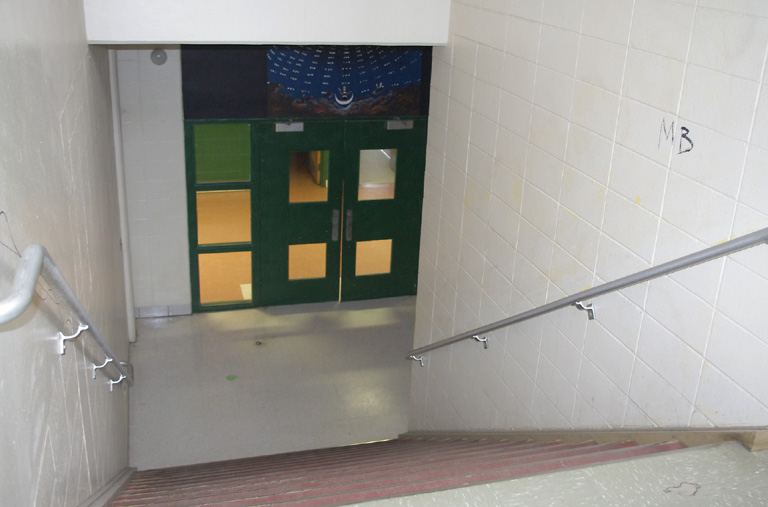 Looking down the central stairway to J Hall.
---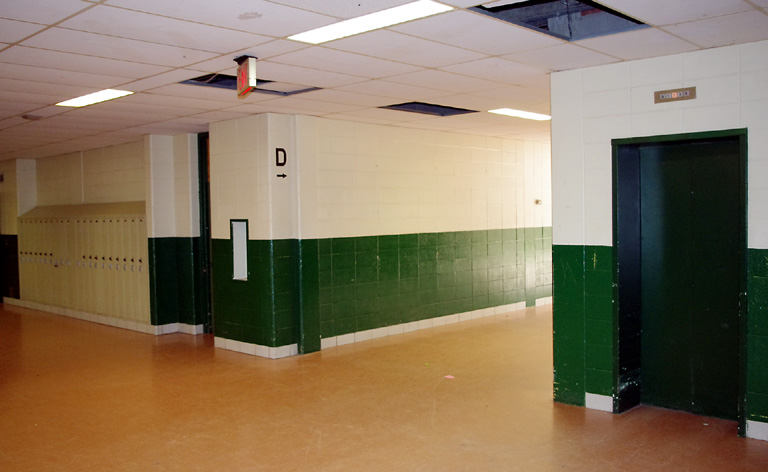 The intersection of D and J hall. There were often major traffic jams here, due to the feed from the central stairway to K and M, but mainly due to kids stopping (right in the middle of the lane of course) to gab with friends instead of going to their next class. I'd sometimes walk with Tim Rymasz. He was around 6 foot 4 inches, towering over most of the kids. One time he got so pissed about the densely packed kids (blocking the whole area while gabbing) he placed his arms in a "V" shape (like a double snowplow) in front of him and then just started plowing through the mass! Kids were pushed aside and I followed in the wake. Maybe some kids got the message with that! Also note the elevator. I never used it once. In the summer of 1974 (right before I was to attend Minnechaug for the first time) some older kids warned me to stay away from the elevator. They told me that seniors would grab kids, often freshmen, and drag them into the elevator and then beat the shit out of them while they kept the elevator going up and down. Being young and unknowing this made me pretty fearful of what could happen. For quite a while when I first went to Minnechaug I carried a fairly substantial Craftsman screwdriver (in my pocket) so I'd have some sort of defense should something like this ever happen to me. After I while I sensed that it was not needed so I stopped carrying such items. I considered what other defense items I could have used against older, bigger and stronger kids. The Radio Shack catalog listed a small butane torch that would fit in a pocket and claimed it had a 1000 degree flame. I figured that would certainly stop someone, but later scratched it from being feasible as it would take too long to get out and ignite (a screwdriver was ready for use instantly). Fortunately I never had to make use of any of the weapons I did carry!
---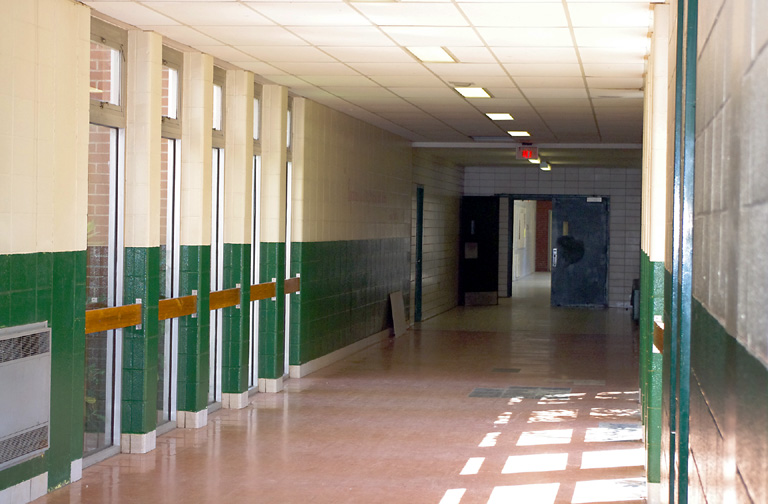 Looking down D Hall from where J and D halls meet.
---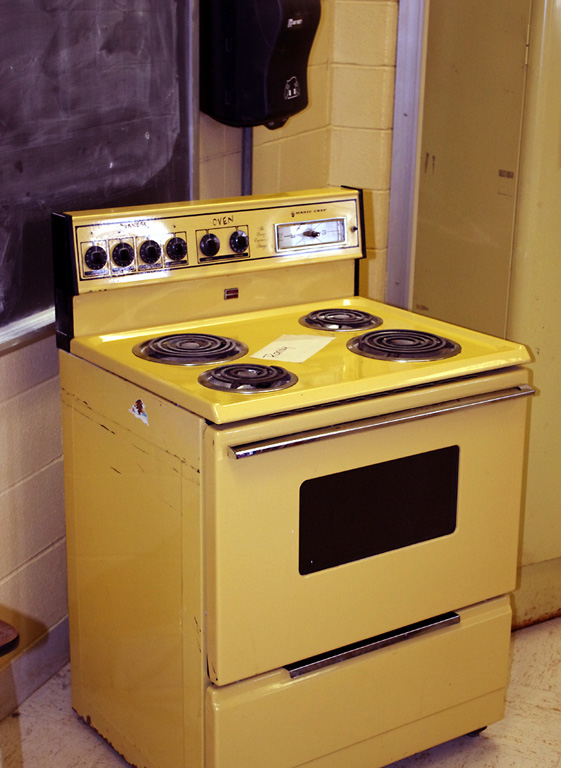 A Harvest Gold electric range in a room in J Hall (not sure why this was here, I recall Home Economics rooms were down in E hall back in the day).
---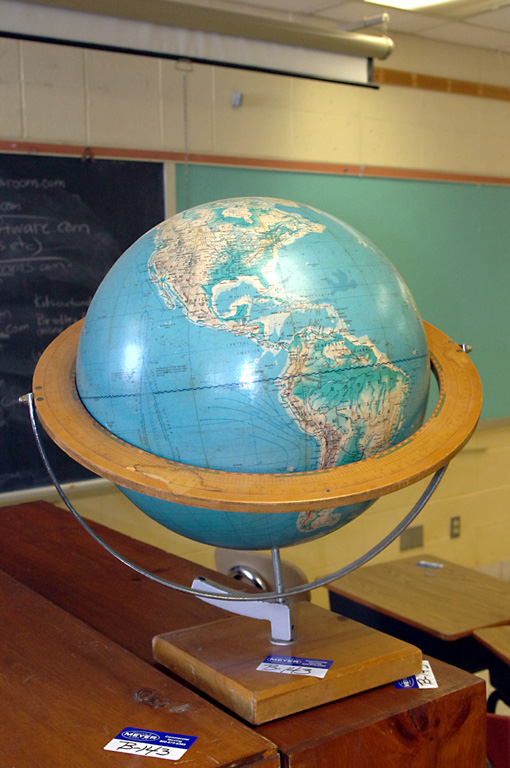 A globe sits in a classroom in J Hall.
---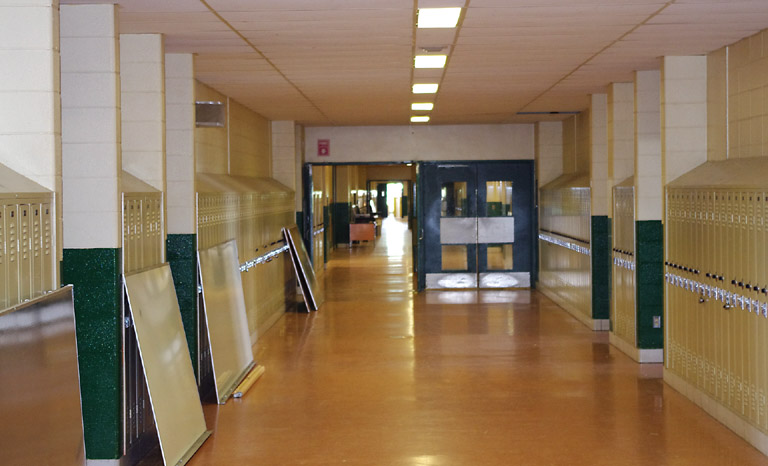 Looking down J Hall from the Small Cafeteria end. A fire alarm is pulled in this hall on Wednesday 30 November.
---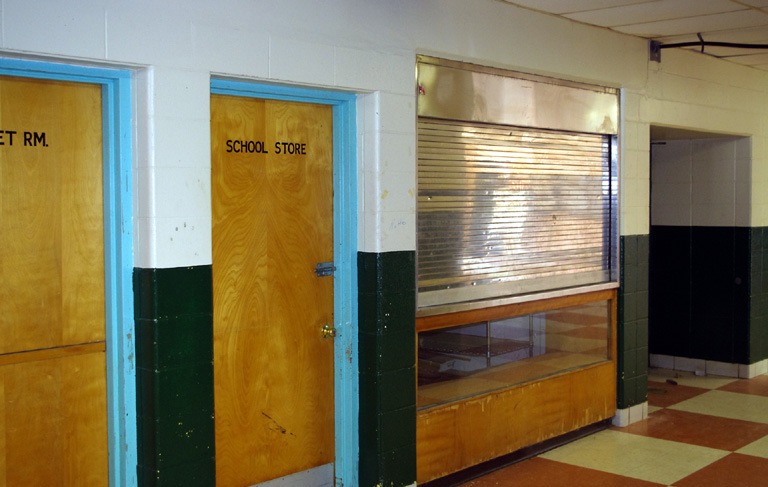 The School Store.
---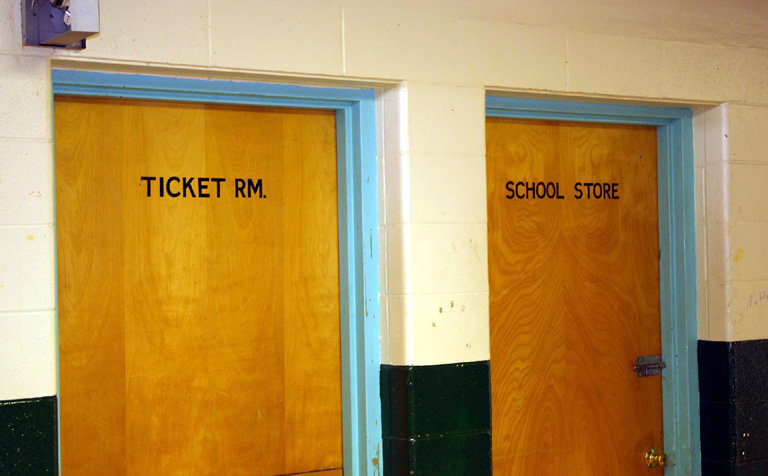 Doors to the Ticket Room and the School Store.
---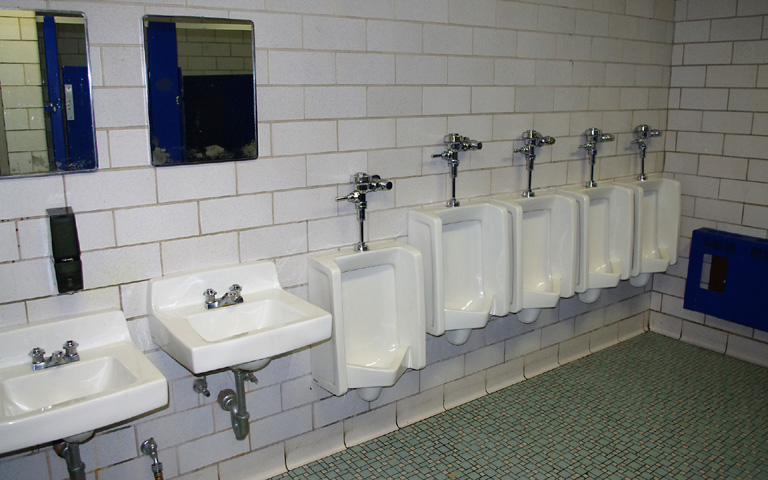 Inside the Boy's rest room just outside the cafeterias.
---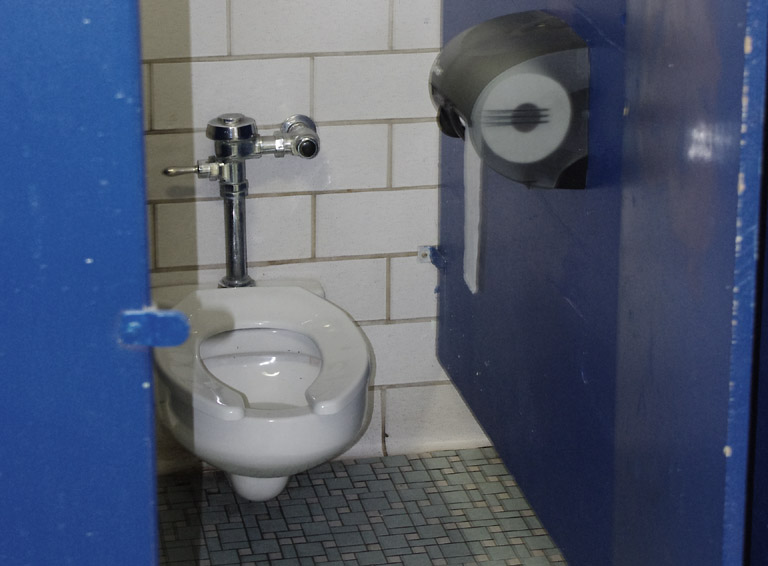 A stall in the Boy's rest room.
---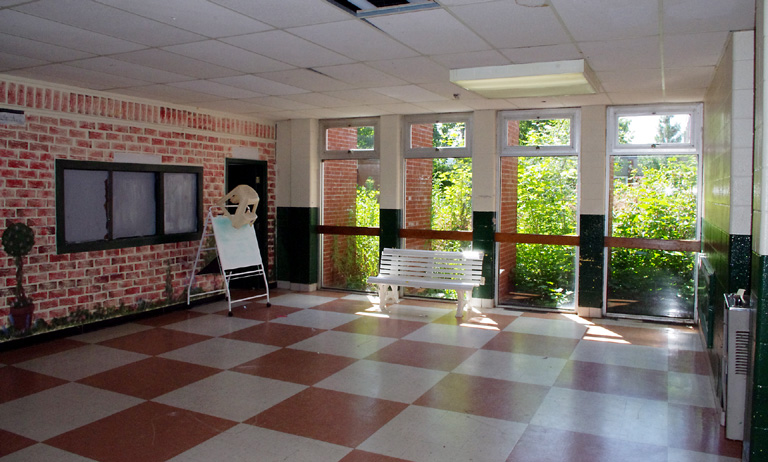 The lobby just outside the large cafeteria. I don't have any photos of the cafeteria so this story will go here. Back in Freshmen year we as kids were SO happy to learn that they sold ice cream sandwiches in the cafeteria. I used to eat lunch (first lunch) with Pete Chapin, Mike Schmidt, Tim Rymasz and Steve Weatherbee. We all liked to eat ice cream sandwiches. One day we decided to buy a CASE of them and have an ice cream sandwich eating contest (there were 36 ice cream sandwiches per case). To my somewhat surprise the lunch lady let us do this (I remember the look on her face like "what the hell are these nuts up to?"). They sold for 15 cents each, $5.40 for the entire case. I managed to eat 14 ice cream sandwiches that day, the first 4 or 5 went down easy, the last several were tough. I remember being EXTREMELY stuffed. It's a good thing I was young as this was probably a 2000 calorie intake for just ONE meal (not to mention probably 3 times the daily limit for fat intake). I think the closest competitor came in at around 10 sandwiches. It was quite the day for us "new" freshmen!
---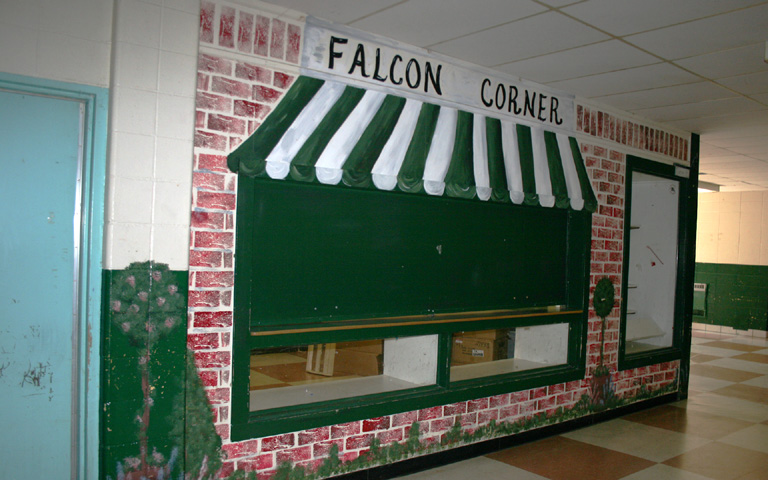 This is just outside the large cafeteria. Photo by Paul Goewey.
---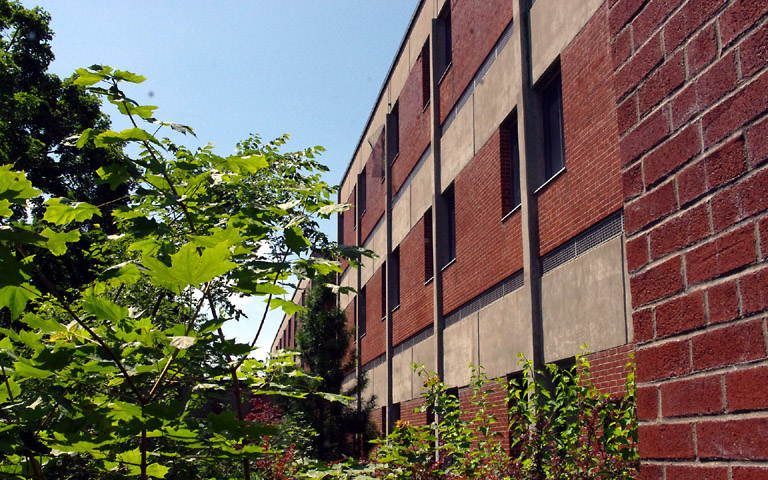 Looking out the windows of the cafeteria lobby, into the courtyard. The J-K-M Hall building is to the right. On Thursday 01 December 1977 a second fire was set in the school, near the small cafeteria. Privileges are revoked as a result (no snack break). Kids are pissed. Privileges reinstated on Monday 05 December. Kids are happy again.
---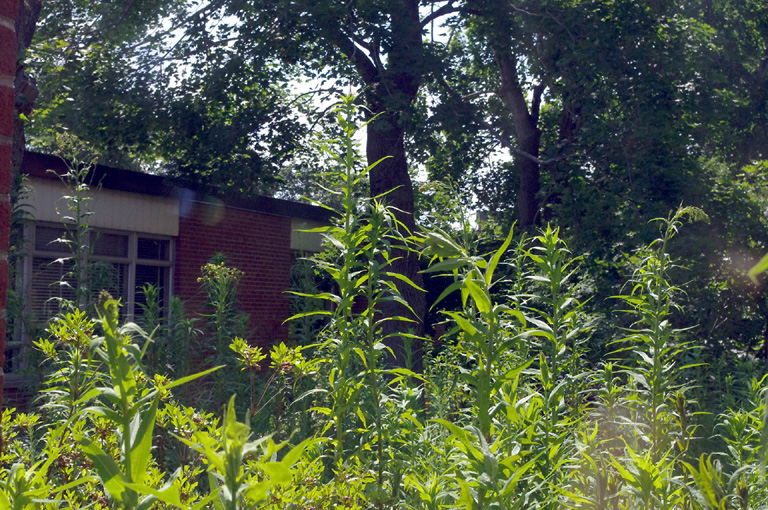 Looking out the windows of the cafeteria lobby, into the courtyard looking towards H Hall. The courtyard has gone wild due to lack of maintenance. Back in the fall of 1977 a jukebox was put into the small cafeteria. I forget how much it cost per song, I think it was like 50 cents for 10 songs. Girls used to like to play "You Light Up My Life" by Debbie Boone, the guys did not like that song. Sometimes one of them would go up and rock the jukebox to make the song skip (they were 45 rpm records in there). Another time someone found out where the volume control was (hidden on the back) and CRANKED it all the way up (I think "Cat Scratch Fever" was playing), it got pretty loud (WAY louder than the administration would allow). Laurie Buoniconti found out that the jukebox was in the cafeteria on Thursday 15 December 1977.
---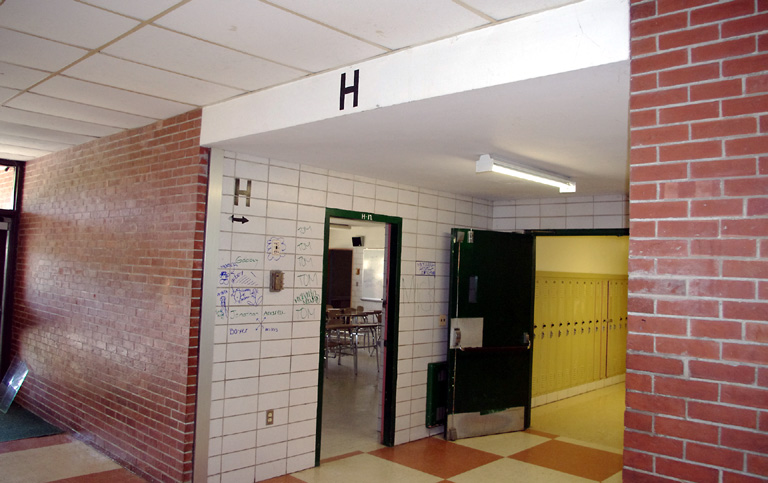 H Hall, as seen from just outside the Large Cafeteria.
---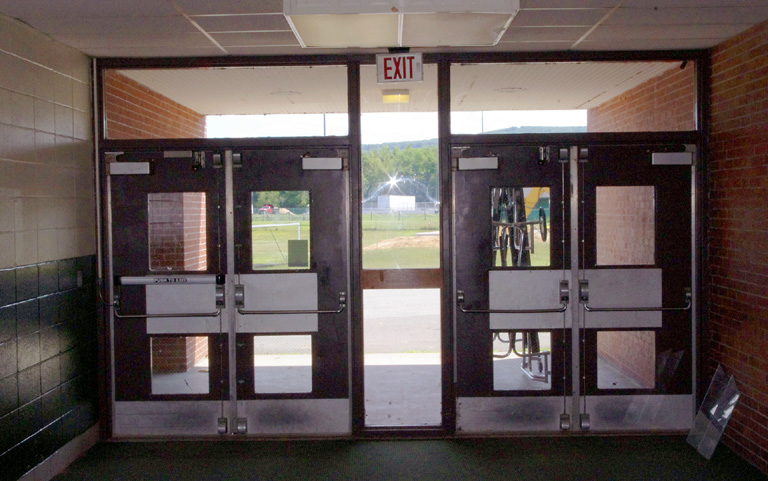 The doors just outside the large cafeteria, H Hall is just to the right. This was one of the smoking areas (smoking WAS allowed back in 1974-78). This area was often crowded with kids who smoked. Unfortunately I was not able to get any photos of the cafeterias. I do remember being in the large cafeteria one day (it was 18 March 1977), and a snowball came flying in from someone hanging out around the smoking area. It must have hit Pete Langone as he charged out there like a wild bull VERY pissed, and he was not a kid to mess with. Whoever tossed that snowball was probably pretty sorry if Pete got ahold of him.
---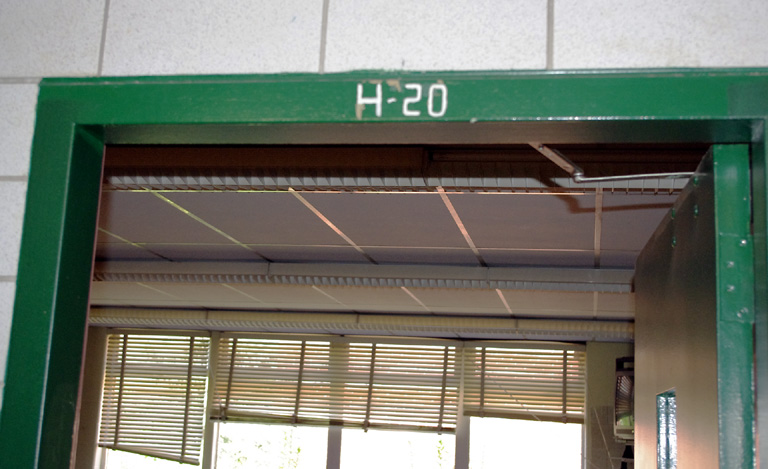 Room H-20. I had Spanish in this room with Miss Overgaard during freshmen year
---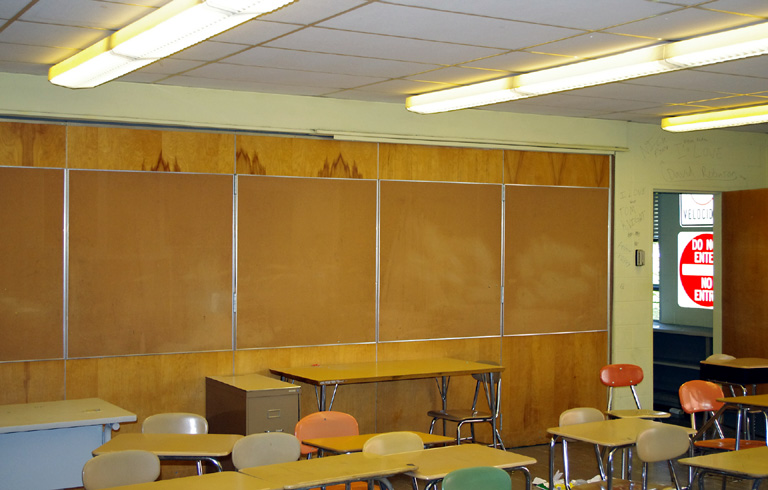 Looking into H-20, the back part of the room is visible. I remember some of the stuff we used to have to practice saying. A common one was being in a restaurant and ordering meals. We would have to order the "special" (Aroz con Pollo), but then the waiter would say "sorry it's all out for today" (I thought to myself "Why the hell is it still on the menu then?"). We'd then have to make another choice. Yet another was talking about our friend Paco. Did you hear about Paco? The poor boy had an automobile accident... he hit his head".
---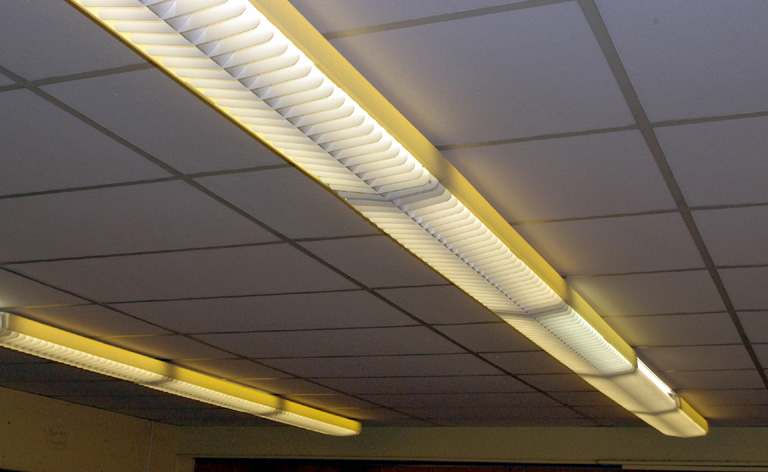 The overhead lights in H-20. These always seemed so bright on dark rainy mornings.
---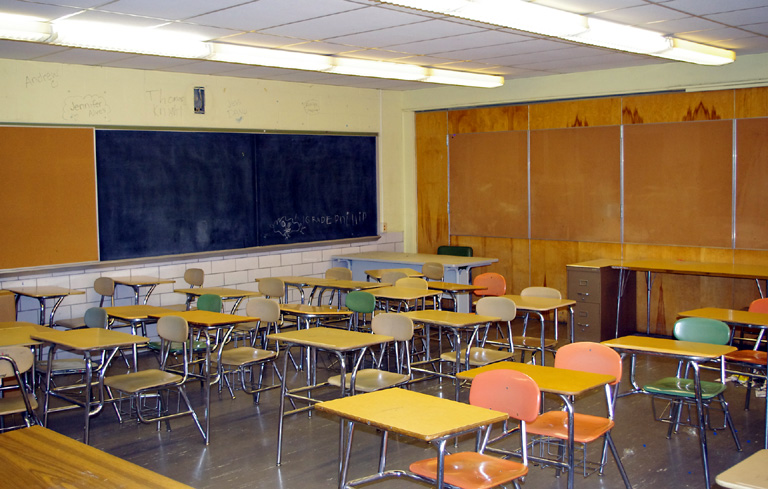 H-20, the side of the room that borders H Hall. I sat about in the middle of the room. Jim Ziemba (he was a Sophomore) sat right in front of me his Spanish name was "Mario"). My name was "Pepe" (I should have been Jose but there was already a Jose in the class). I did OK in Spanish and Miss Overgaard encouraged me to continue on in my Sophomore year, but I did not want to. I sensed she was disappointed. In retrospect I really should have learned Spanish more thoroughly in High School as it is so widely used today. Most of the Spanish I learn today comes from reading labels on products in Home Depot.
---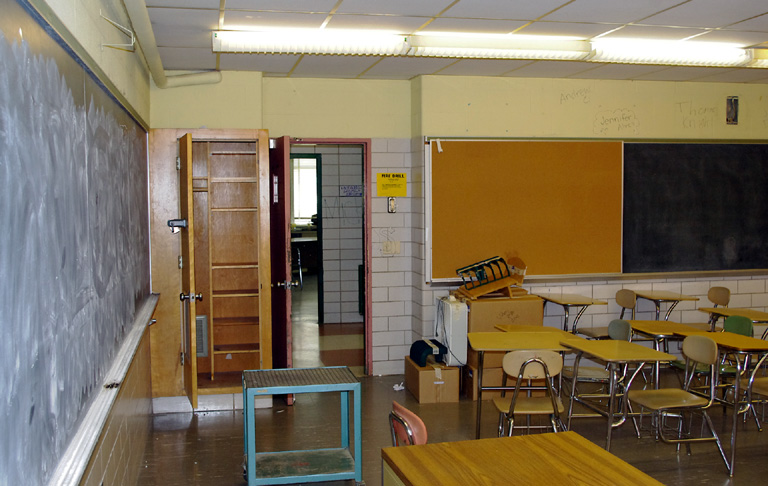 Looking out into the hallway from inside room H-20. It was nice having class in this room. It was VERY close to the cafeteria and I could be in there nearly instantly after the bell rang (class ended at 11:27AM). I remember being one of the very first kids in there after bolting out of this class into first lunch!
---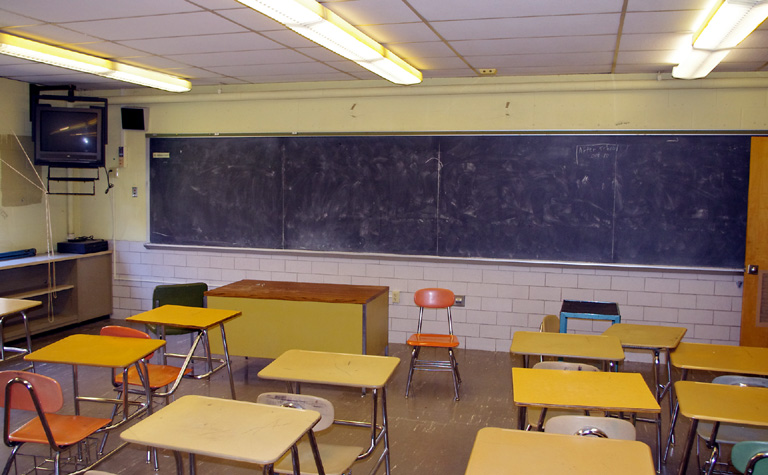 The front of classroom H-20. I remember Miss Overgaard conjugating MANY verbs on this blackboard!
---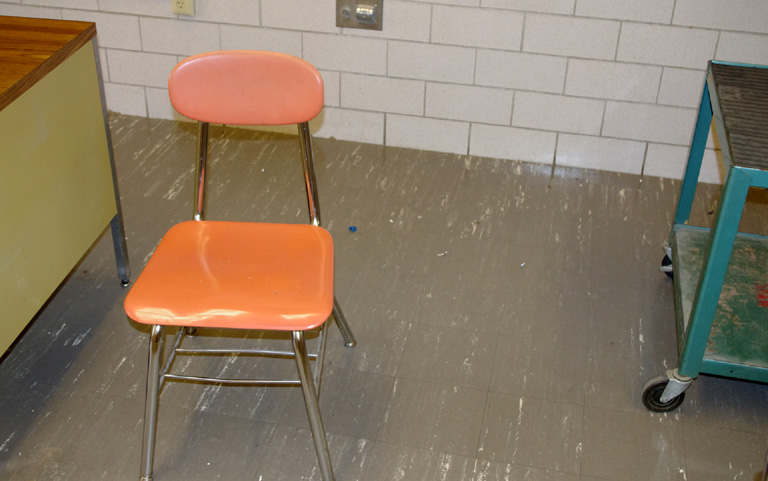 A chair sits at the front of H-20.
---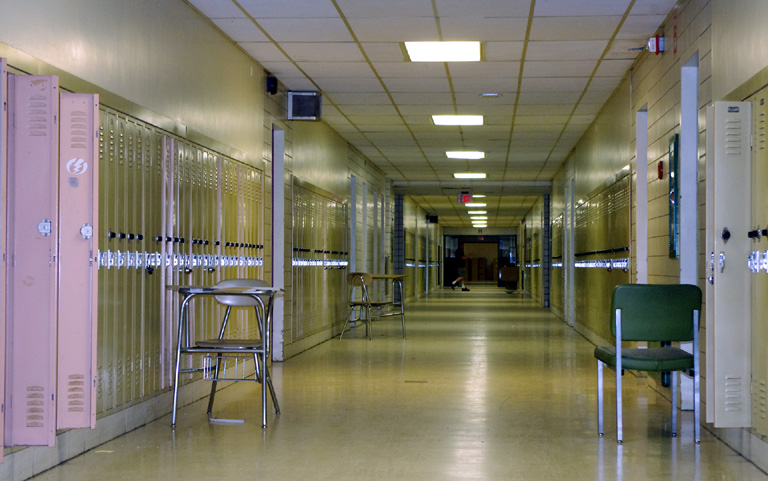 Looking down H Hall from outside room H-20.
---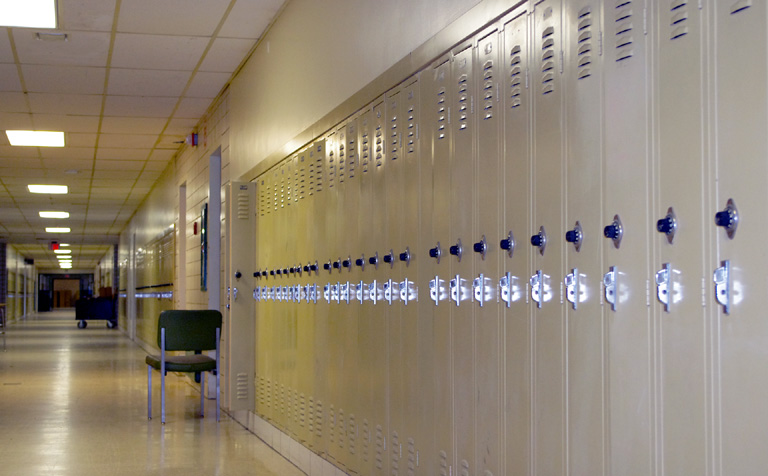 Another shot down H Hall.
---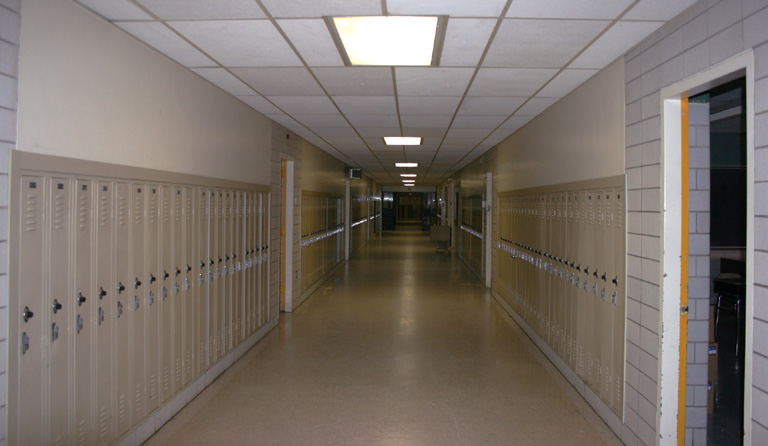 Farther down H Hall. Photo by Paul Goewey.
---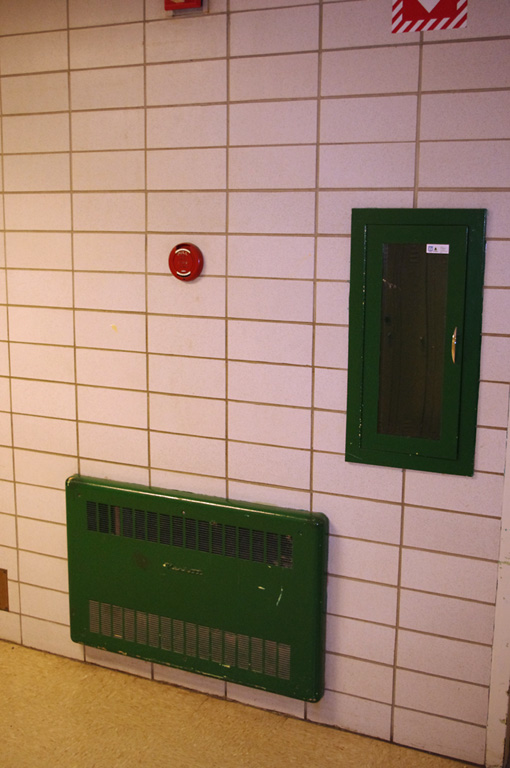 A fire extinguisher cabinet and radiator in H Hall.
---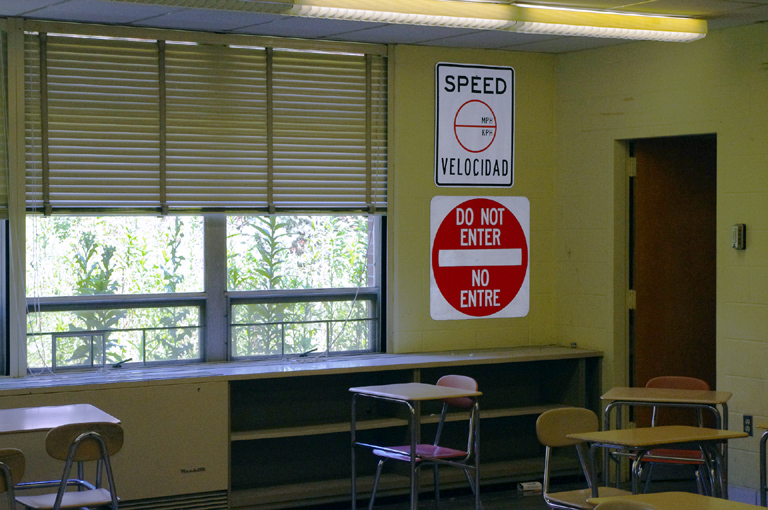 The room right next to H-20 (probably H-18).
---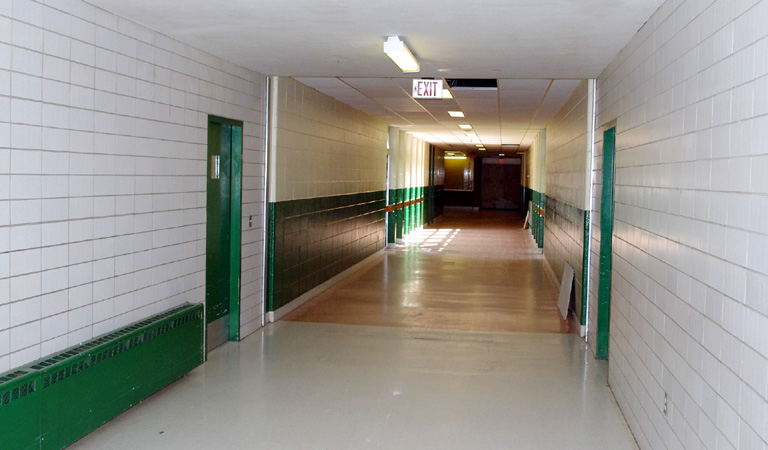 A shot of D Hall as seen from the junction of H and D Halls, looking towards J Hall. The doors to the library are visible at the far end (they were boarded up however when I was taking these photos).
---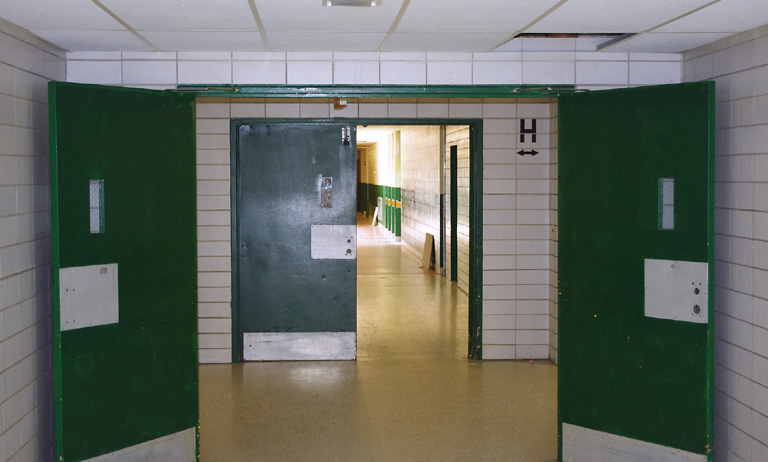 Looking down D Hall (in the opposite direction from J Hall). The pipe bomb that was detonated on Thursday, 17 June 1976 went off under lockers just past the door that is closed. No one was hurt, it could have been bad if anyone was in the area at that time. Channel 22 covered it on the news. The 1976-77 school year was the "year of the bomb scares". We also had bomb scares on Wednesday 01 December 1976, Monday 06 December 1976, Thursday 09 December 1976, Wednesday 02 February 1977, and Monday 07 February 1977. Each time the school had to be evacuated and the Minnechaug administration was getting VERY pissed.
---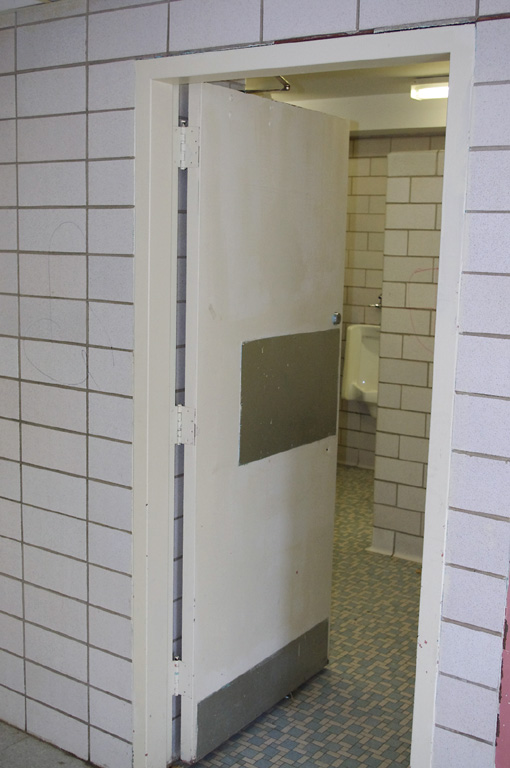 The door to the Boy's restroom in D Hall (the segment between H and C Halls). I used to use this one fairly often as D Hall was where I often hung out with friends.
---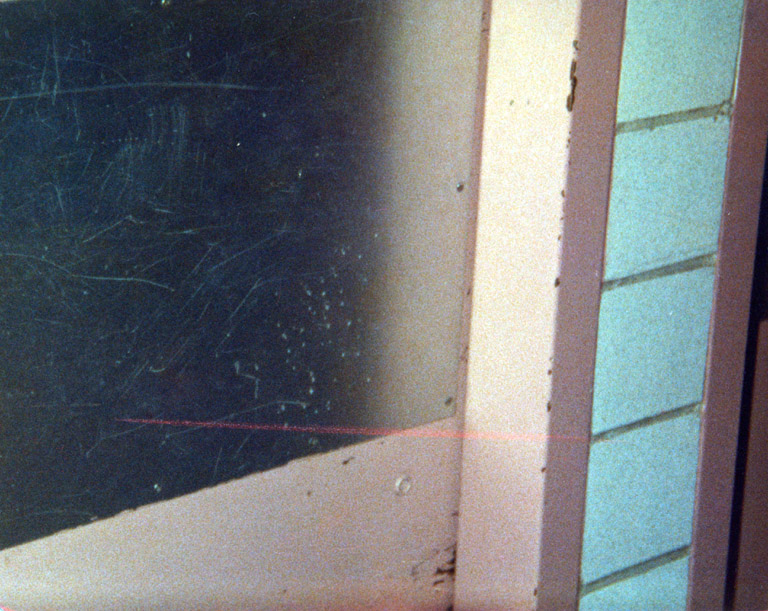 This is a close up of the door panel (on the door above), this shot is from 1979. Notice all the dents in the door. These are all from me slamming the "Steel Notebook" into the door (using the mass momentum of the notebook to assist with opening the door). What is a "Steel Notebook"? See the story that goes with the photo about 4 down from here. NOTE: This was taken with a 110 camera (remember those?) so the quality is not good enough to blow up, this particular photo cannot be clicked on to show a high res version.
---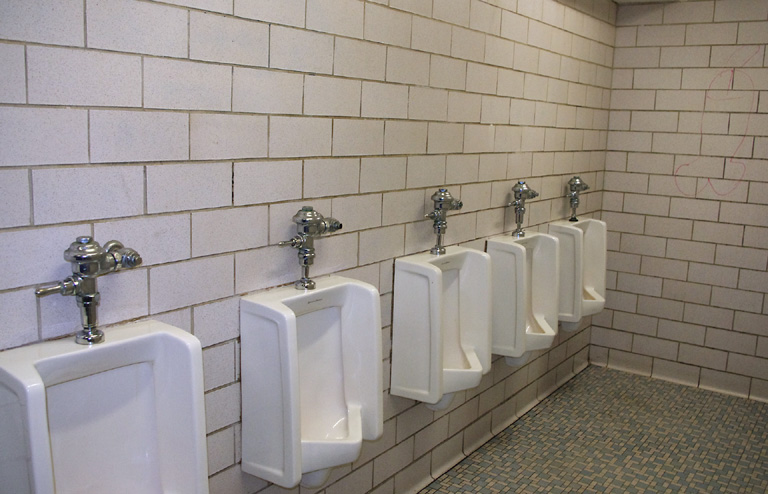 Inside the Boy's room in D Hall. Note the "artwork" on the wall.
---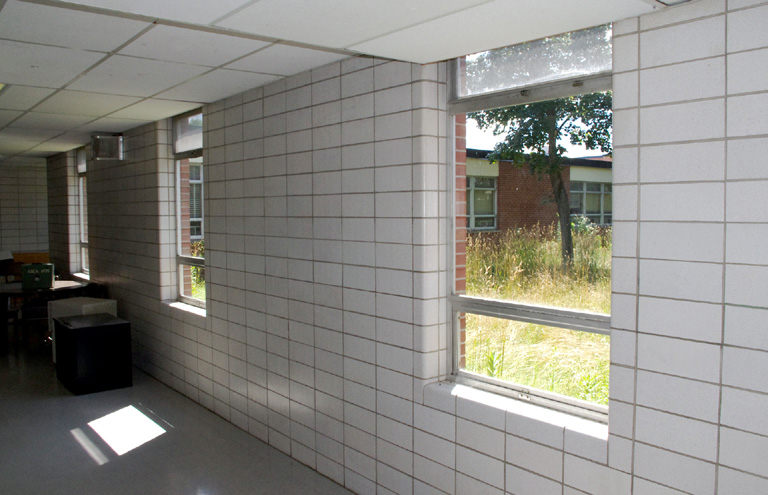 D Hall between C and H Halls. This window is where I used to hang out. I'd go here in the morning and wait for my friends to show up. We picked this place as the meeting spot during freshmen year as it was kind of central to where everyone's homeroom was. Here I hung out with Pete Chapin, Tim Rymasz and Mike Schmidt. Steve Weatherbee also hung out here at times. Pete and Mike were in an H Hall homeroom right near here, Pete's homeroom was in C hall as I recall. I was probably the farthest away in J Hall. We'd also meet here during Snack Break (that ran from 9:39am - 9:49am). Sometimes the school administration would suspend snack break, most often because someone (or group) did something really stupid (vandalism, etc). This of course pissed off all the kids, but I doubt it caused the "bad guys" to get turned in.
---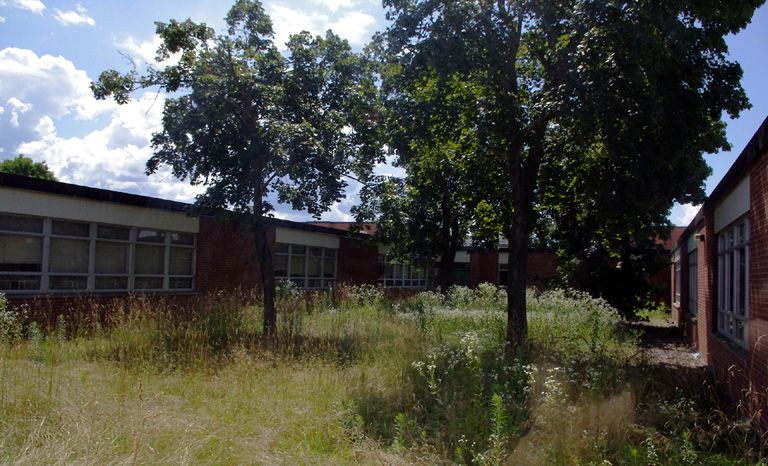 Looking out into the courtyard between H and C Halls from D Hall. I remember one day in early winter (maybe December) looking out this window. It was snowing ever so lightly, maybe one flake every few seconds was visible. I remember asking Pete how long he thought it would take to accumulate a foot of snow at this rate. I don't remember the exact response but it was something in the order of a hundred years.
---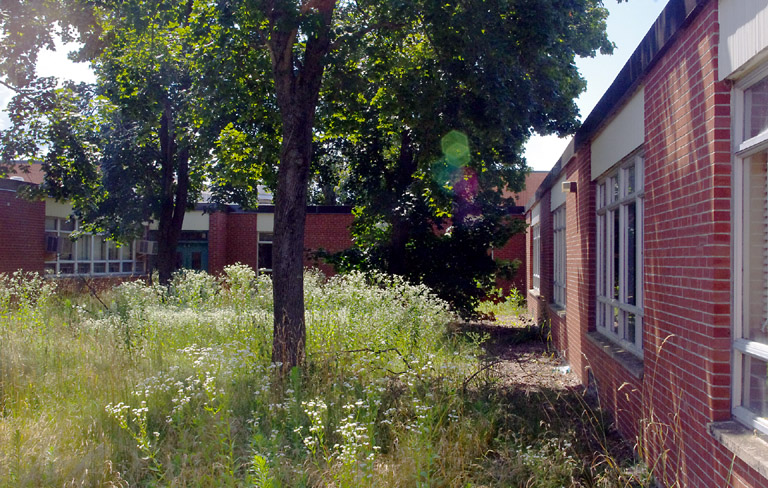 Another view out into the courtyard. The place has gone wild due to lack of maintenance. Another story that fits here (the story of the "Steel Notebook"). When I was a freshmen I used to carry a 3 ring binder to hold my notes. My friends, being wise guys would fold over the cover diagonally, putting a huge crease in the cover. The contour of the area of the fold looked like a mountain range on a relief map, and so the term "mountain range" was coined. I got a replacement binder and they did it to me AGAIN! I was kind of pissed about having to replace these binders so often. I came up with a plan to prevent this: I'd MAKE a binder and it would be so strong NO kid could fold the cover over. I am sure my friends thought I was not serious, however I was determined. In the latter days of the summer of 1975 my father got me some metal. I wanted steel but he brought me aluminum (he said steel would be too heavy). The aluminum was 1/8" thick, there were 3 pieces to make a binder (front, back and spine). Using basic tools, I installed piano hinge sections to connect the covers to the spine, these were all fastened together with rivets. I drilled holes for the 3 ring assembly (this was taken from an old binder) and secured it was 1/4"-20 bolts. Clearly I had to disguise this notebook, I did not want people to know it was "steel" (it was really aluminum as mentioned but the term "steel notebook" stuck). I took bed sheets, cut them to size, and glued it to the skin of the notebook using contact cement. One this was dried I spray painted the cover a light blue to match a typical binder. I also installed some nice wood laminate on the inside spine. All in all it looked REALLY good. My only worry: the rivets did show up as bumps beneath the cloth covering. It was all set to go. The first day of sophomore year arrived. I remember getting on the school bus carrying this notebook. I was very nervous that someone would spot the bumps and suspect something. I remember seeing Steven Bennett look at me and wonder if he was suspicious about it. Turns out I was worried for nothing... no one seemed to notice that my notebook was "unusual". Except for a few times when I plunked it down on a desktop and it make a VERY loud clacking sound, enough to turn heads. Now that I had this notebook, my friends were anxious to try and fold the cover over, but no one could do so, it was simply too strong. Despite only being aluminum (I had really wanted steel) it did the job. This notebook could take some abuse. I remember once or twice tossing it down the stairs. The first time papers came out (due to the shock the 3 ring mechanism opened). I fixed this by adding a bolt to keep things closed. As a result of normal wear and tear, some of the cloth corners started to wear away and you could see the shiny aluminum. I was in English (Mrs. Kimberly as I recall) and Lori Skinner somehow spotted the metal.. I remember her giving me a look and saying "you are weird"! A lot of kids thought that anyway so it did not impact me much, and maybe so, but my notebook stood up to the abuse that people could give it! Despite some metal showing through in a few places few kids seemed to notice anything. At some point the covering got so bad I removed it completely (Junior year). It was plainly obvious now that this was no ordinary notebook. I remember walking down the hall and hearing kids say to their friends "there's the kid with the metal notebook!" I don't have any photos of this notebook... other than this vintage photo of me carrying it (it's kind of hard to see), not sure who took this photo!
---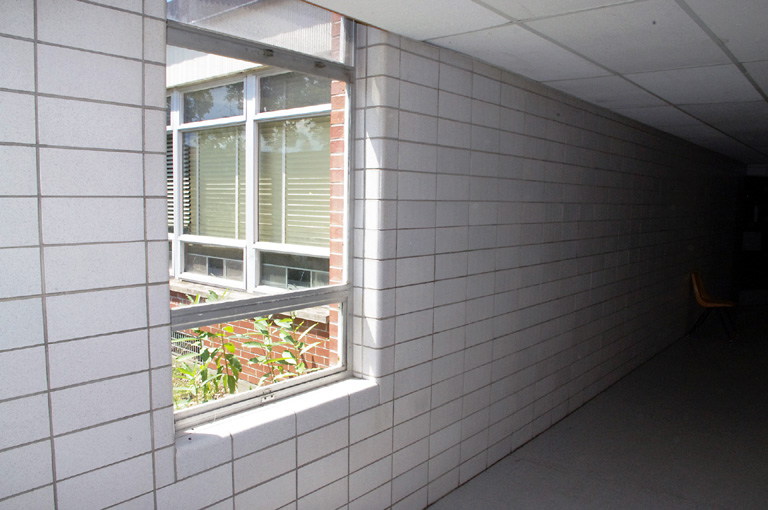 D Hall, between C and H Halls, looking towards H Hall. Lots of stories for this spot. In the morning I used to get here before any of my friends (my bus dropped off on the early side). During my sophomore year there were 3 girls that used to walk by here in the morning (heading towards J Hall). One of them I had a BIG crush on (Chris Messer, she was class of 79). I was way to freakin' shy to ever say anything to her, but it was sure convenient that they used to walk by here! There used to be lockers in this hall, running from just past this window to pretty close to the H Hall doors. Not sure when they were taken out. One day during senior year, Tim Rymasz was fooling around... he grabbed at the door to a locker and pulled like hell, the locker rack was visibly moving away from the wall. Without warning freshmen Jeri Boucher comes out of nowhere and kicks Tim right in the ass! It must have been her locker (or possibly one she was allowed to share). Lots of girls shared lockers back in those days (against the rules). The windows here used to be able to be opened, there was a handle and latch for doing this. On Wednesday, 12 January 1977, Pete Chapin decided to open the window. It was cold outside, I do remember that. He released the latch, but then instead of pushing the latch to open the window he administered a powerful blow right to the center of the glass! It cracked severely in a highly visible manner (possibly the cold contributed to this). I was very surprised that such a smart kid would think this would NOT break the glass! We were then like "oh shit", lots of people knew we hung out there and it was probably obvious who busted the window. The window got fixed and no one ever came to investigate us.
---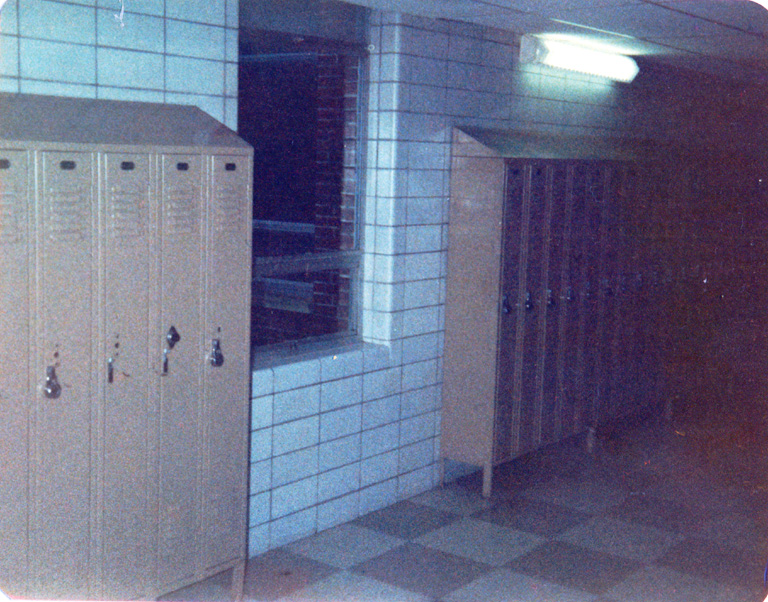 Here is the same basic shot as above, but this one is from 1979. Note the lockers in this photo (and the light) are gone in the modern photos. Every morning, while waiting for my other friends to arrive, I'd stand in the corner (wall and lockers) just to the right of the window. The locker that Tim was pulling on (the one where Jeri Boucher kicked him square in the ass) was 5 or 6 down to the right of the window. NOTE: This was taken with a 110 camera (remember those?) so the quality is not good enough to blow up, this particular photo cannot be clicked on to show a high res version.
---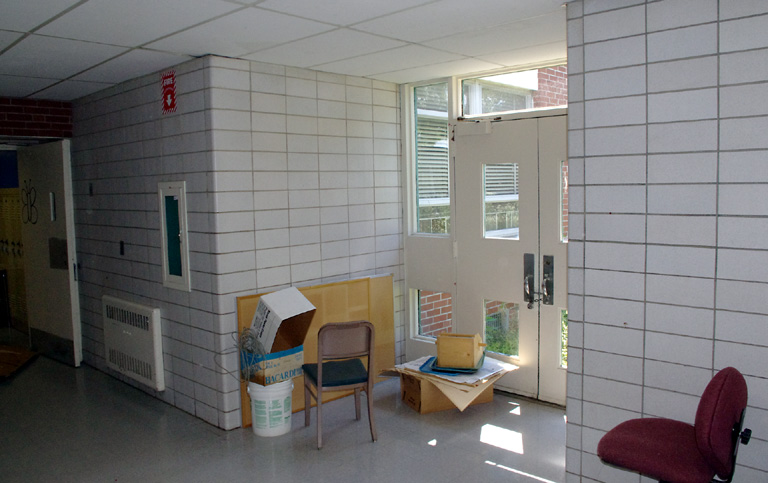 Doors in D Hall that lead out to the courtyard between C and H Halls.
---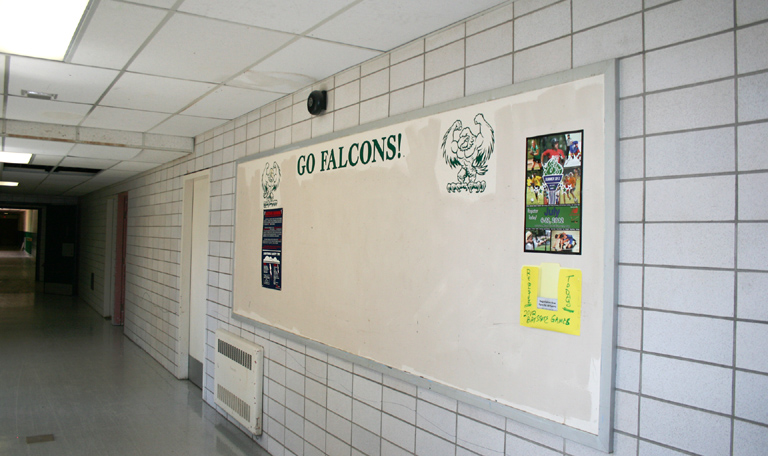 D Hall between C and H Halls. This is basically the area opposite of where we used to hang out. The bomb of June 1976 was placed under lockers (no longer present in this photo) in the dark corner at the left center of this photo. Photo by Paul Goewey.
---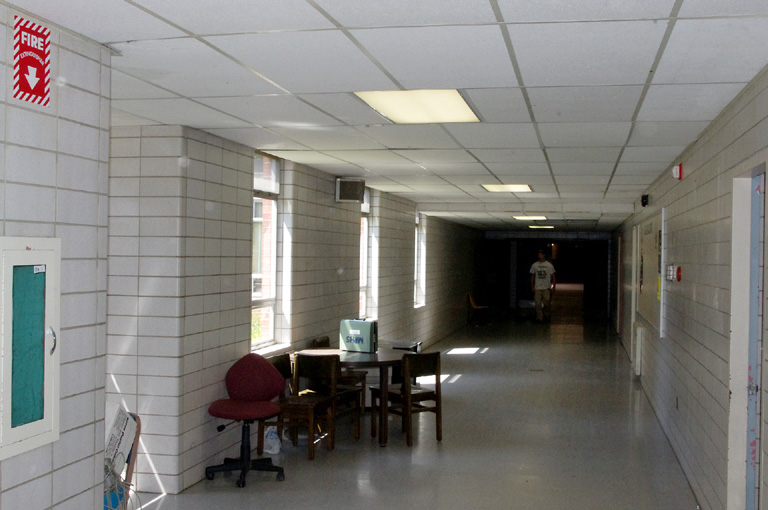 Looking down D Hall, from about the C Hall intersection, towards H Hall.
---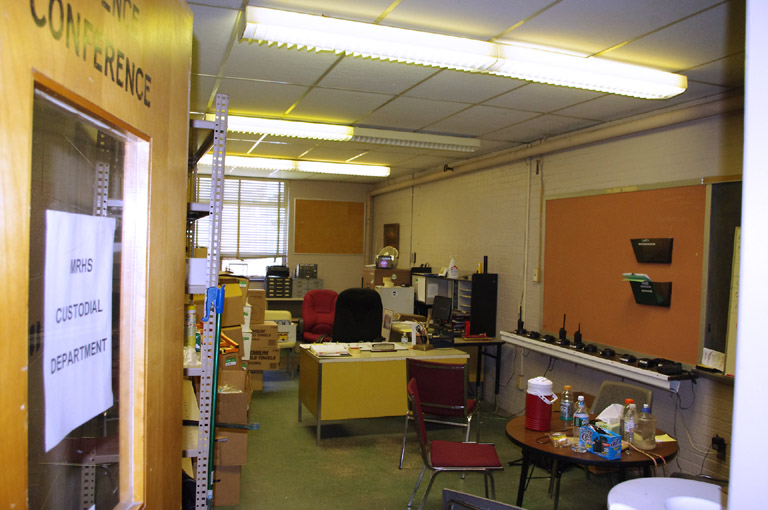 A room in C Hall, towards the D hall end of C Hall.
---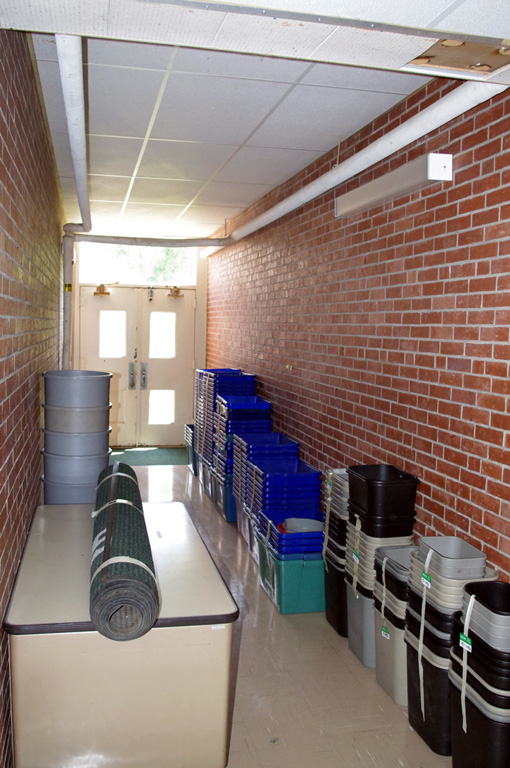 The narrow hallway in C Hall, not far from D Hall, that leads out to the main courtyard.
---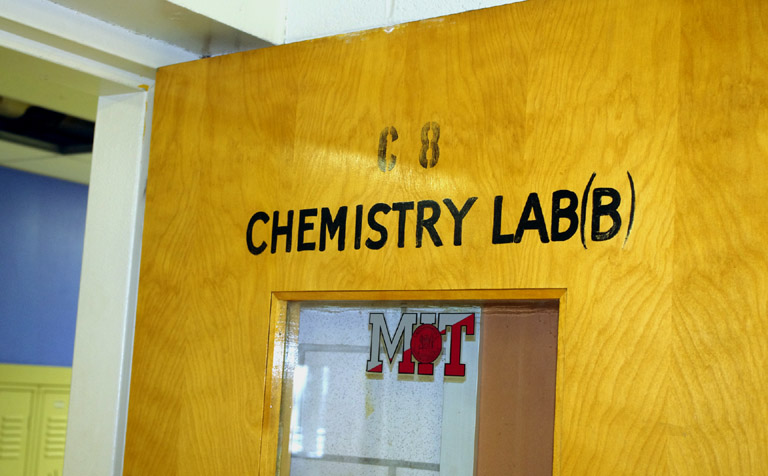 Room C-8 in C Hall. I had Chemistry in this room in Junior Year with Mrs. Towne.
---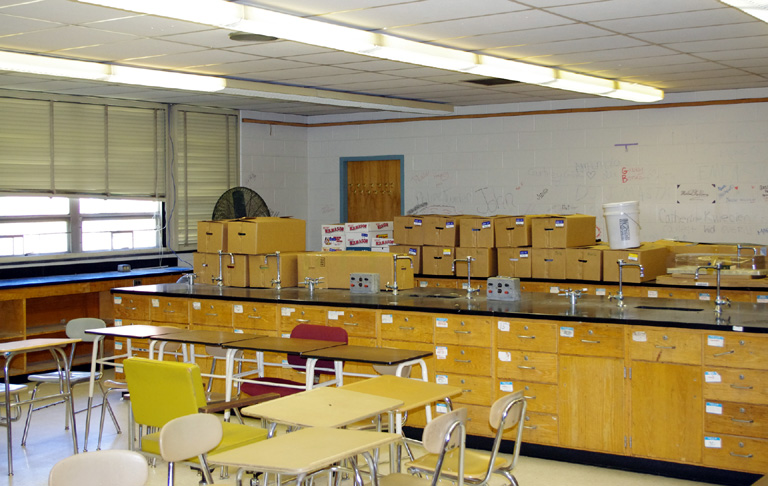 Looking towards the back of C-8 where the lab benches were located. I sat about where the desks are in the lower center of this image. Mike Schmidt sat right in front of me. I remember one class exercise we had a small candle at our desk (everyone had one and they were lit). The exercise was to write down everything one could observe about the candle. I had things like "it's burning, the flame is yellow, there is a pool of wax at the top, the candle is off-white in color, etc, etc. I remember seeing the answer sheet in the book afterwards. I missed a big one: "the candle makes no sound".
---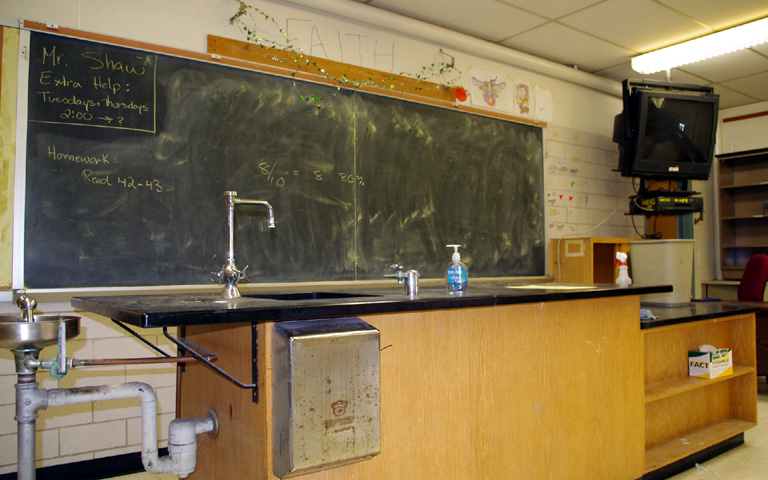 The front of the room where Mrs. Towne taught. One thing she always said to us (some clueless) kids: "A mole is a number". Without looking it up I remember the number being 6.023 times 10 to the 23rd power. I never really took too much chemistry (this class and one in college), it was a tough class. Although it was interesting I don't think I was "cut out" for it.
---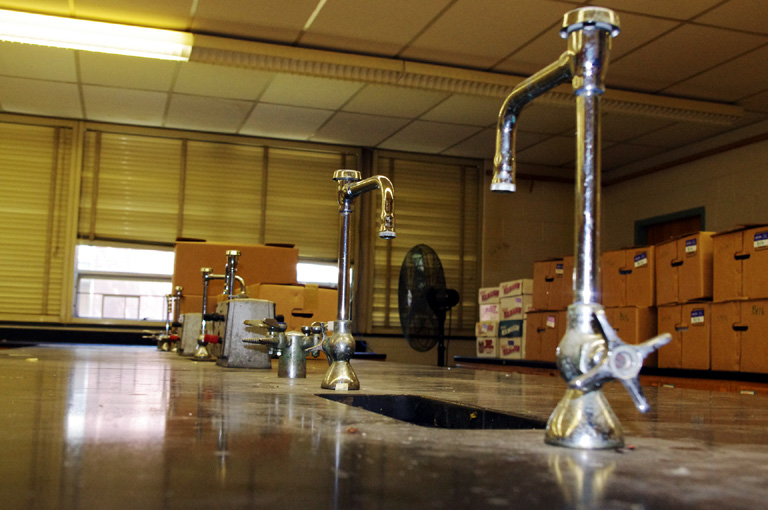 A shot of one of the lab benches. I can't remember exactly which station I used, but I am sure some of the experiments were botched!
---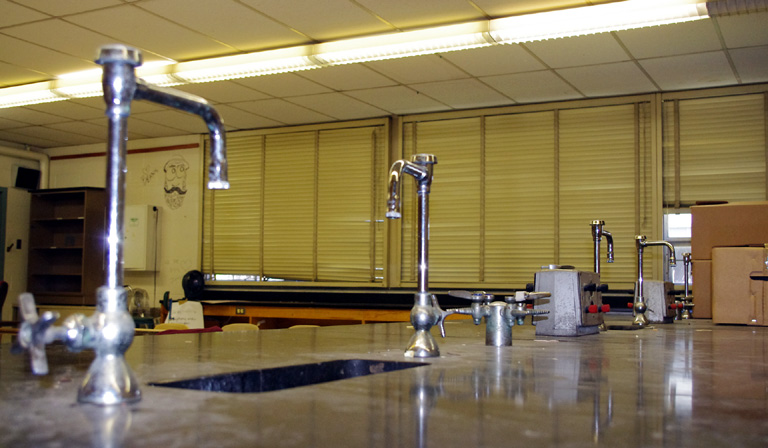 A different view of the lab bench.
---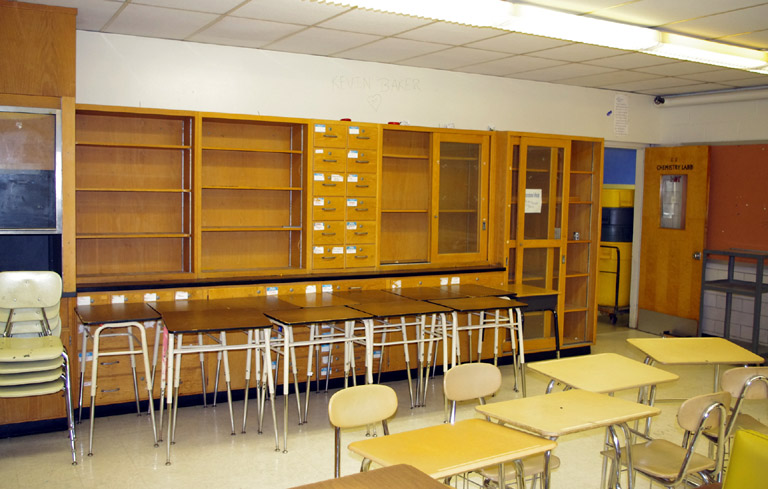 The C Hall side of C-8.
---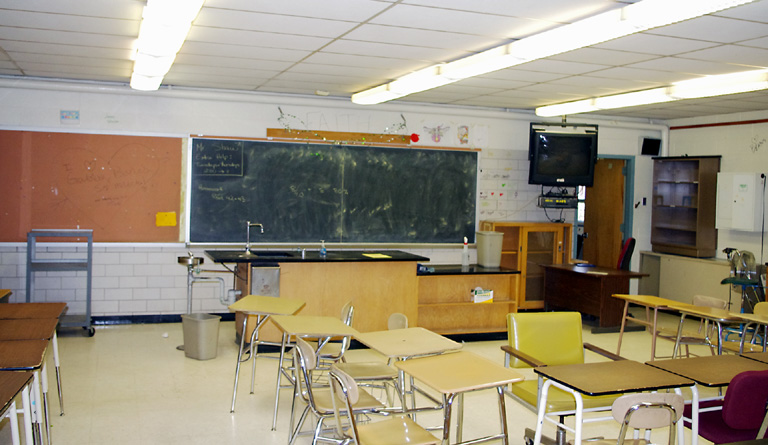 C-8 as seen from the back of the room where the lab benches were.
---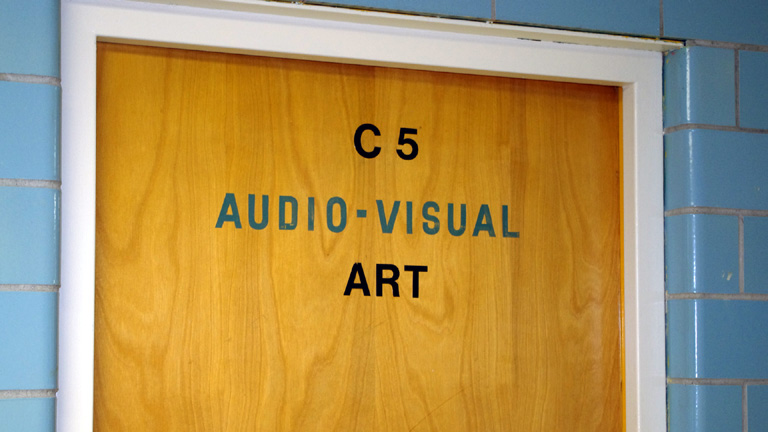 The "classroom" room for art. This is where we had to learn about art history. We had this on Thursdays. I never cared for this part of the class, too many terms to remember.
---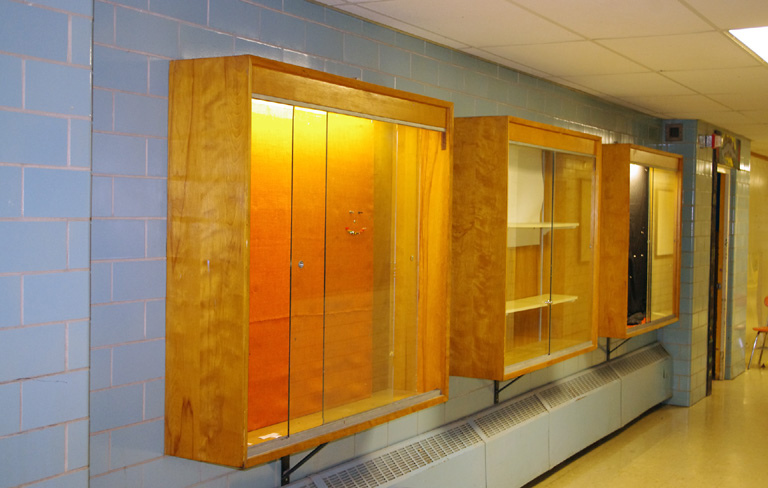 Display cases outside of room C-3 in C Hall.
---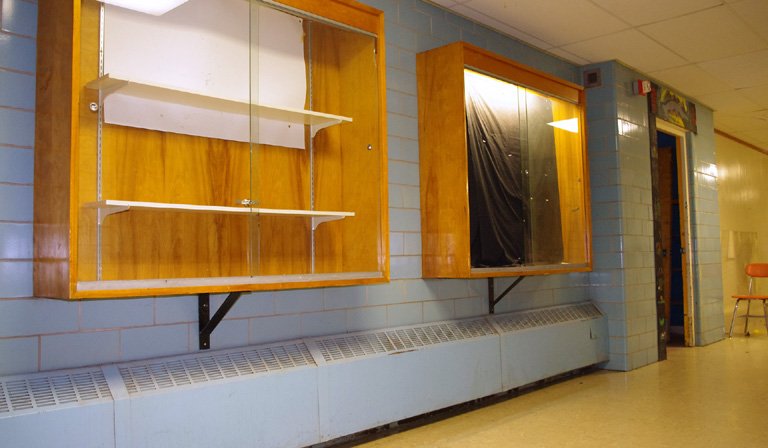 Another shot of the display cases in C Hall.
---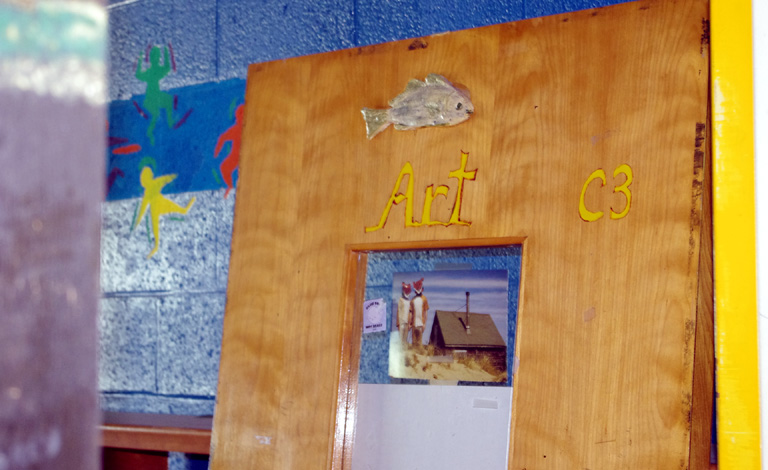 Room C-3. When I was here this was the Art room. I think (in the early days of the school) it was the Library based on what I have been told. I took art for 4 years. Apparently people thought I was good at it, however I knew even back then it would not be a career for me (not a good choice if you want to make enough to live). Being young and naive I went along with what people told me to do, even though I probably would have been better served by taking other courses. That said, I liked art class and have lots of good memories from this time.
---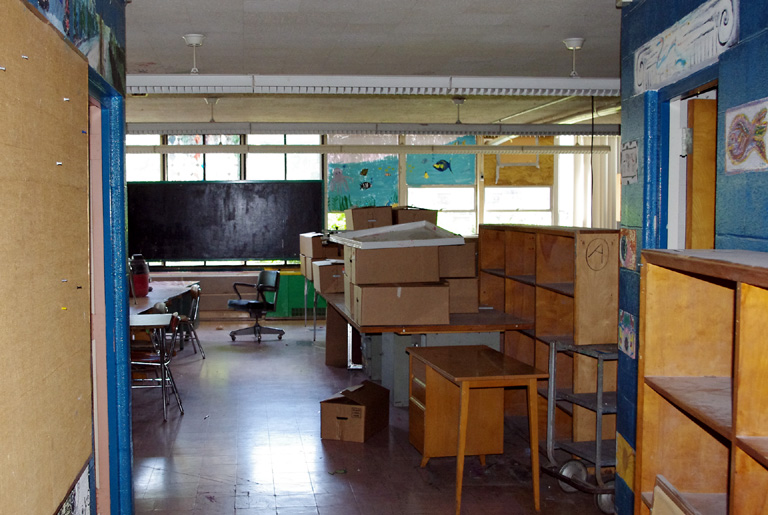 Looking into the door of C-3. In freshmen year I had art here with Mrs. Bichan.
---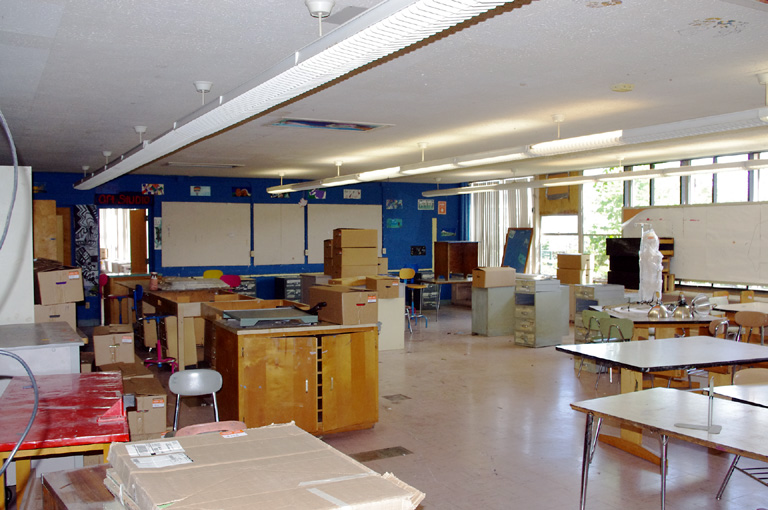 Looking towards the D Hall end of room C-3. In my freshmen year Rich Harvey was in this class (he was from Hampden and I did not know him well, but he seemed like the LAST kid I would expect to see in Art class). I remember working with clay that year. Rich Harvey was working with clay too. One day he was working a ball of clay (about the size of a golf ball)... he abruptly stood up and whipped the ball across the room! It hit the back wall (made of concrete blocks) with a loud "smack"! It stuck up there (the place where it hit was on the wall above the stack of boxes in this photo). Rich quickly sat down and made like nothing had happened. Somehow this act escaped the view of Mrs. Bichan! I remember that ball of clay (stuck on the wall up near the ceiling) was still up there a few years later. One day Mr. Van West spotted it and although he did not say anything, he was probably thinking "What in hell is THAT doing up there!"
---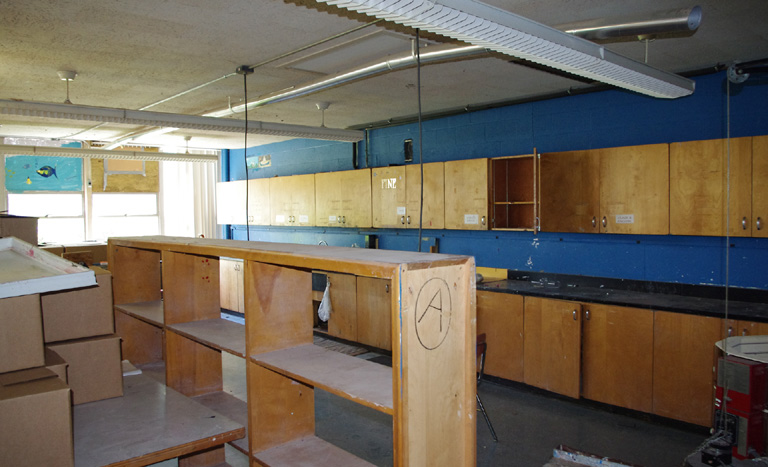 The B Hall end of room C-3. Back in the day this was the pottery area. I remember various kids working the pottery wheel (I never did). There was also a kiln (although Mr. Van West always told us "It's pronounced 'kill'". He (and Mrs. Bichan warned about never opening it while it was on, it could go to like 2000 degrees and it would burn your eyes out. I'm sure it was very hot and could cause some damage but I don't think it would end up causing a "charcoal" face. I remember it had to cool for like 24 hours before opening. The shelf units here often held the pottery items that were done or waiting to go into the kiln. Louisa Wilson was big into art and she did a fair amount of pottery work. One of her works was a clay statue of two people kind of facing each other while holding each other's arms. When the work came out of the kiln there was a big surprise! Somehow the heads of each person had busted off and rolled down into the arms, the arms were basically holding the heads of the now headless statue! I remember Mr. Van West commenting on it, basically telling Louisa it was OK, not her fault. Actually it was pretty funny to look at, a pair of headless people holding their own heads in their arms!
---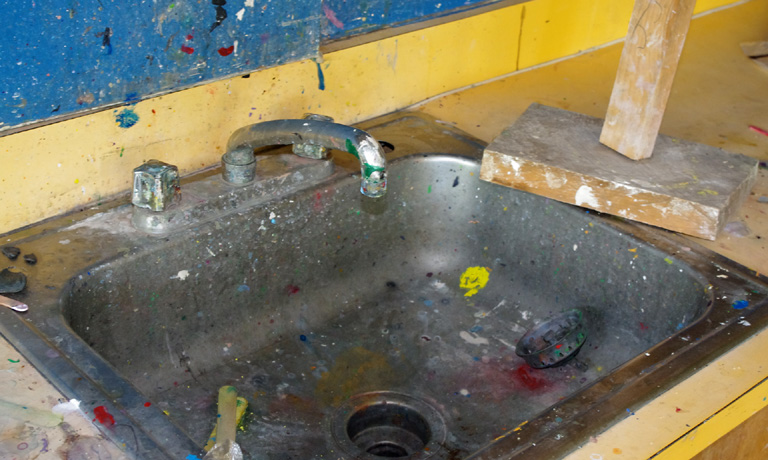 The sink in the pottery area of the room. I never saw it this dirty back when I was there, Mr. Van West would have had a FIT had he seen it in this condition!
---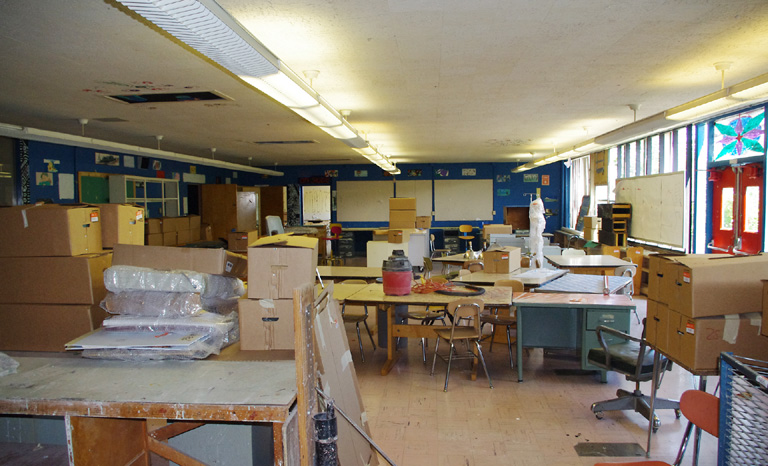 Looking towards the D Hall end of C-3 from the pottery area. One good thing about art class, it was mostly girls (by a ratio of at least 3 to 1). In freshmen year there were a number of older kids in this class. I sat at a table with some of them. One girl was Cindy Bulat. She looked VERY mature, like a model, she was FAR more sophisticated than I was. She sat with Lynn Roncaratti (sp?). They must have sensed I was shy and out of place as these "older women" talked to me. It made me feel very comfortable, these two older girls (and as I said far more sophisticated than I) talking to me like a "regular person". I was into astronomy back then (as I still am today) and I used to talk to them about it. I told them about the telescope I wanted (a Celestron 14, it costs about $3650 back then, about the same as a new car). I also told them how to find various constellations by using the Big Dipper as a starting point). One day Cindy was crying, I did not ask why but my guess is that it was some kind of boyfriend problem. All in all I have very happy memories of sitting with these girls.
---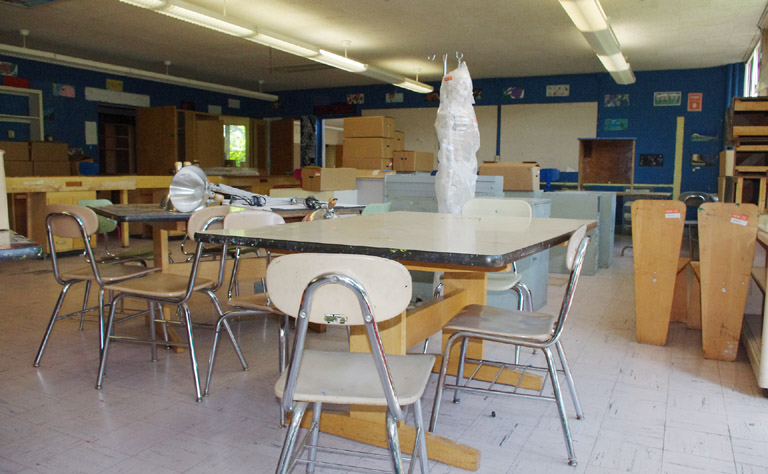 Another shot inside room C-3. I wonder if this table is one of the ones I sat at so many times? Some of the kids in art: Debbie Merrick, Dorothy Bennett, Louisa Wilson, Jenny Trute, Maria Panasian, Irving Morse, Greg Palm.
---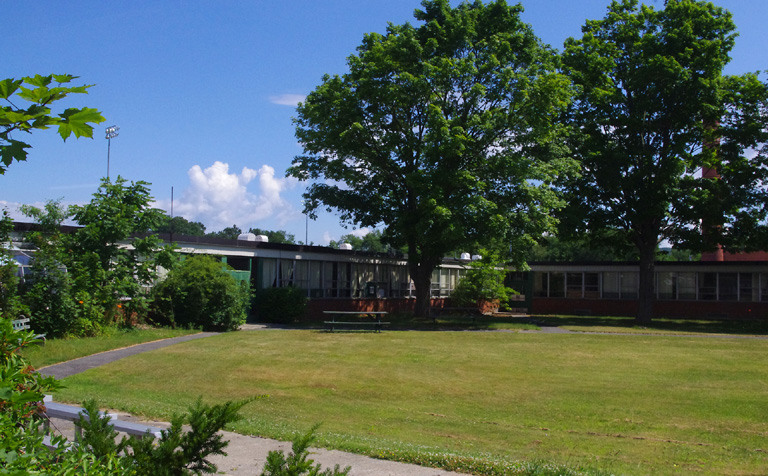 Looking out into the main courtyard from C-3.
---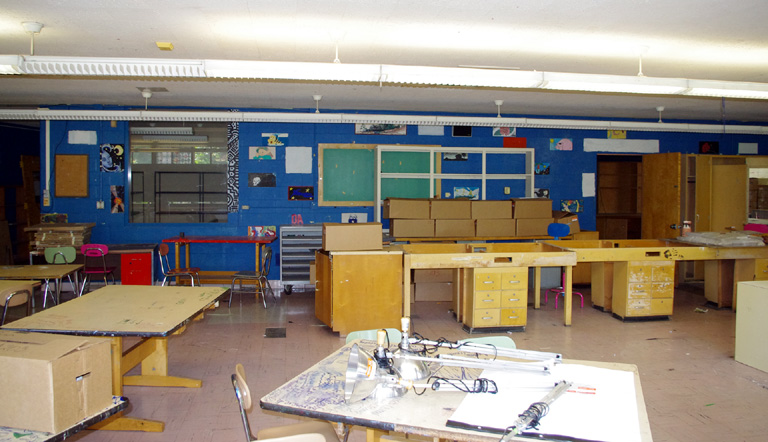 The C Hall side of room C-3. That door off to the left was the entrance to the classroom area where we had to learn about art history. This was part of Art 3 and Art 4. I remember bombing most of these tests. I liked working with my hands but not so much learning art history. I never understood it very well, lots of memorization.
---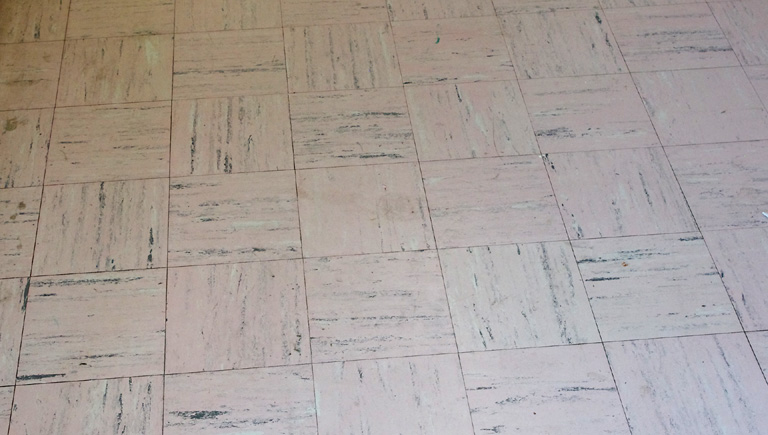 Floor tiles in room C-3.
---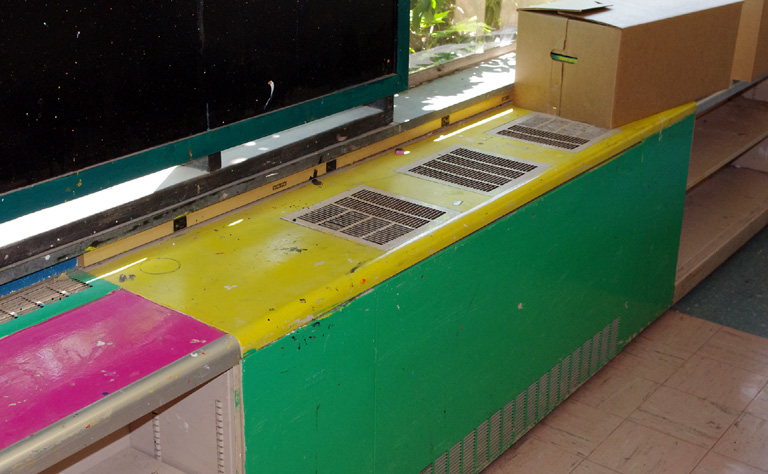 Radiators along the courtyard wall of C-3. I really liked this room as it had a lot of light and felt very inviting.
---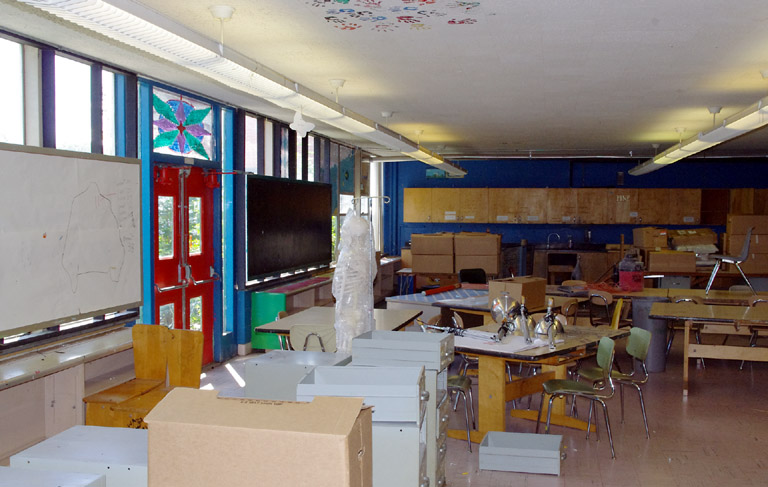 A shot of C-3 looking towards the B hall end of the room.
---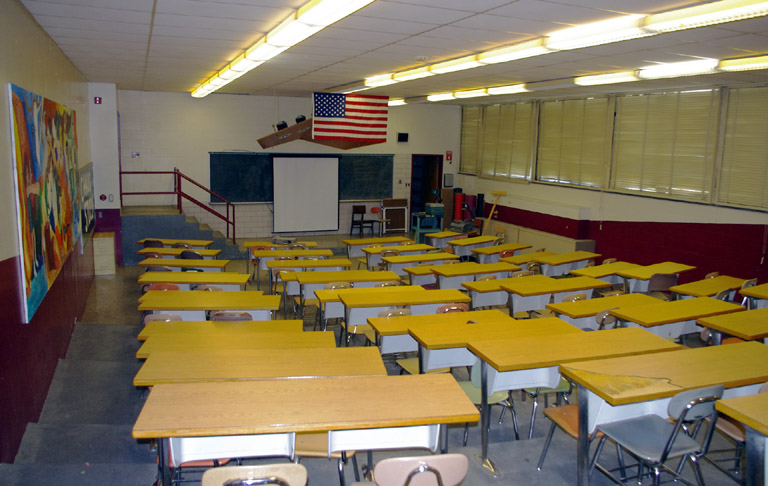 Room C-2 as seen looking towards the B Hall end of the room. I never had any classes in here but I did have several study halls. When I was a freshmen I had a study in here, however it was all older kids, I felt very out of place. I remember a kid named Bill Schubach (sp?) sat right in front of me. Jan Follansbee was also in this study. I always sat in the seat at the lower left hand corner of this photo. Miss Wrona was my study hall monitor. During my very early days in this study I felt so out of place (with all the older kids) that I almost went to guidance to get switched to another one with kids my own age. I never did and eventually I fit in here (more likely no one really knew me so they just left me alone).
---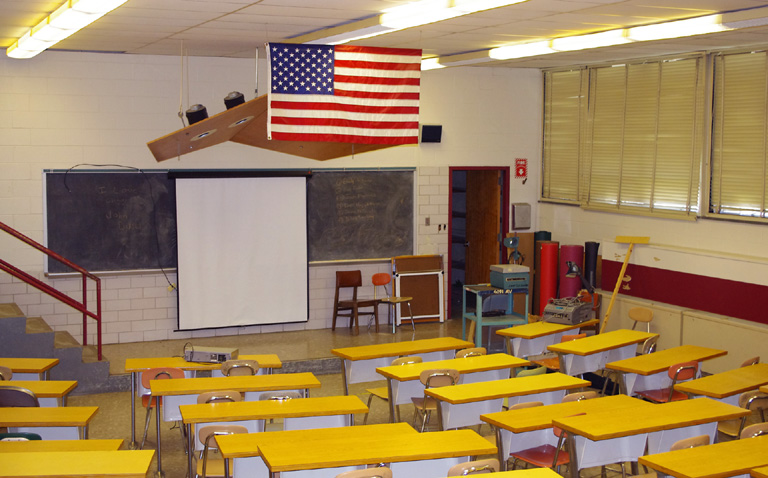 A closer view of the front of room C-2.
---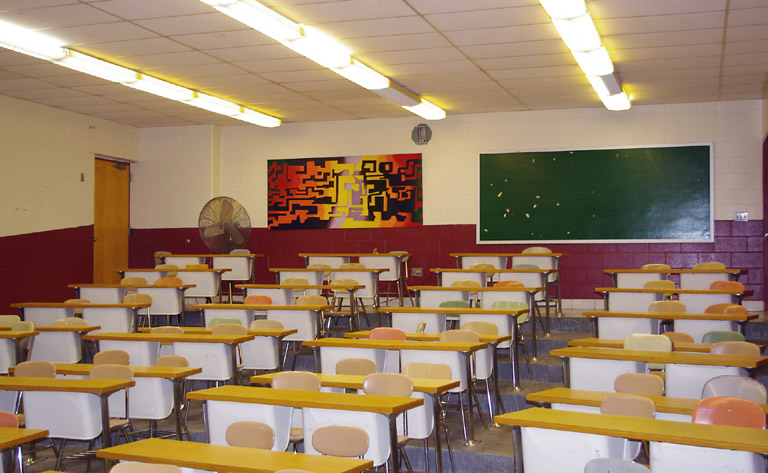 Room C-2 as seen looking towards the back (D Hall end) of the room. I had study hall in here in 1976 too. I used to (secretly) listen to music in this study! I sat in the very back of the room. In October of 1975 I got a pocket transistor AM radio (still have it). I had that in my pocket and wired an earphone up inside my shirt. I used to sit with my head resting on my left ear in a manner that hid the earphone from view. I controlled the radio in my pocket with my left hand. I used to listen to WHYN during study hall, it made the time go so fast (yes I should have been studying). Even though it was only AM radio (not the greatest sound quality) it was so cool to "beat the system" and listen to music in school! I'm not sure what would have resulted had I been caught (I never did get caught). I kept things pretty well hidden. One day someone (Jim Ziemba) DID spot my earphone and started asking questions. He asked "What is that a hearing aid?" I said "yes" and cut the conversation short. I managed to escape detection. I remember in December 1976 listening to "I Never Cry" by Alice Cooper, "Rubberband Man" by the Spinners and "You Make Me Feel Like Dancing" by Leo Sayer in room C-2. Study hall in this room was so cool with the ability to secretly listen to music!
---
Another shot of the inside of C-2. Back when I was there all the seats were bolted to the floor and were the type that rotated (kind of like a bar stool). A few of them were busted. On 30 March 1977 Mr. Van West came into the room VERY pissed, he was shaking one of the busted chairs and yelling at the kids in there to stop vandalizing things. I'm not sure any of the kids in there at the time had anything to do with it, but nonetheless Mr. Van West was pretty pissed at the situation. When I took this modern day image, NONE of the chairs was on their original mounts.
---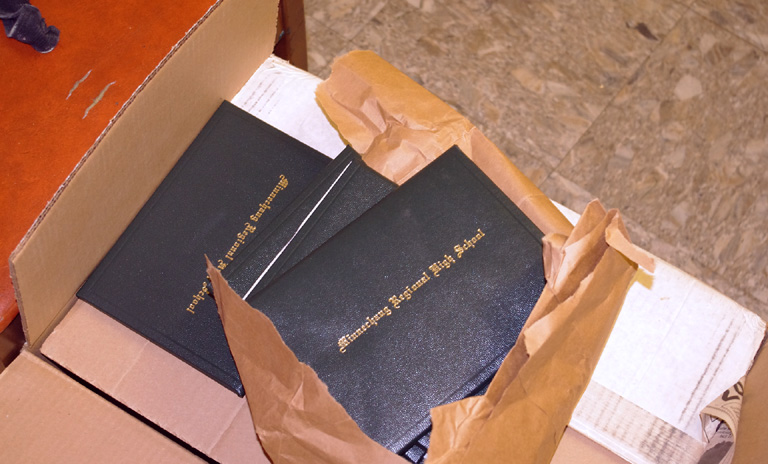 Unused diploma cases sitting in a box in room C-2.
---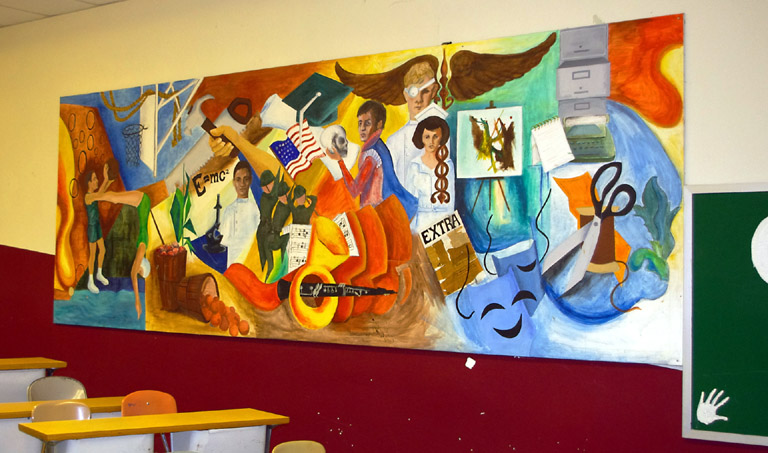 A mural on the C Hall side of room C-2. I kind of don't remember this being there when I was there. Don't know if it will be saved or not (would be a shame to see it destroyed).
---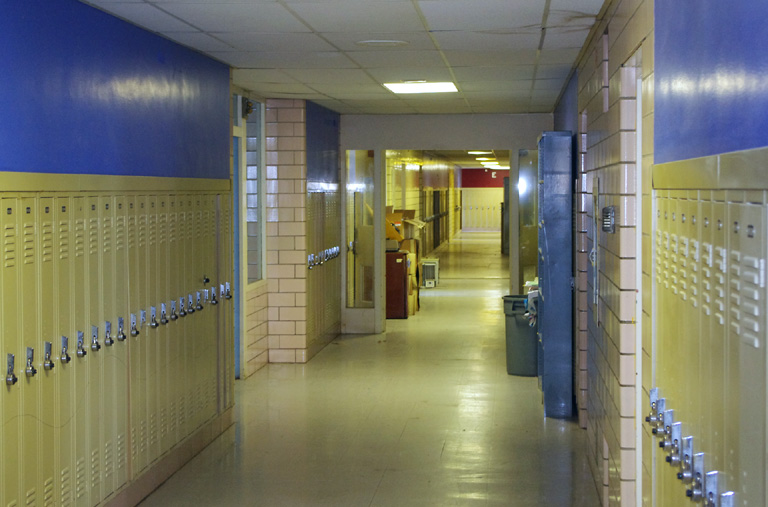 Looking down D Hall (towards E Hall).
---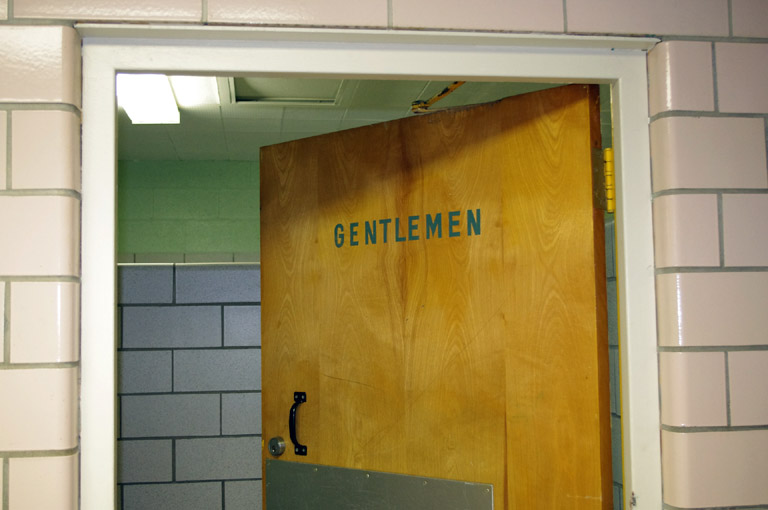 The Boy's Room in D Hall. I wonder how many people smoked in here (remember the popular song "Smoking in the Boy's Room" by Brownsville Station from early 1974)?
---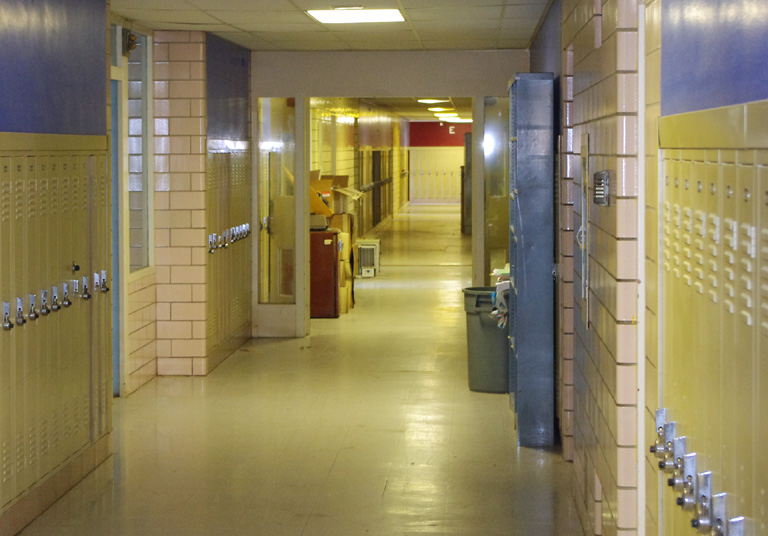 Another shot a little farther down D Hall.
---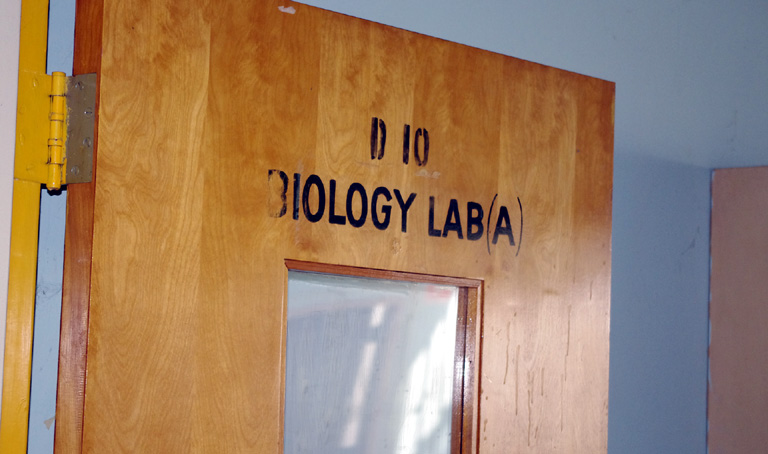 The door to room D-10. I did not have too many classes in D Hall. I had Earth Science (can't remember exactly which room but it was on the courtyard side of D hall) in freshmen year. I found Earth Science really easy for the most part. My teacher was Mrs. Barocas. She was really nice. One of the things we did was learn how soil holds water. We had large graduated cylinders filled with different sized plastic balls. We'd have to fill them with a known amount of water, then pour out and measure how much water came out in order to see how various sized soil particles retain water. I thought to myself "This is a complete waste of time, who the hell doesn't know this concept?" It was so obvious to me, but some kids seemed to struggle with it. I guess it came easy to me from 10 years of playing in the brook, building dams using sand vs. clay, etc. In the spring of that year Mrs. Barocas went on maternity leave, she was replaced by Miss Arata. I liked her too but I think she grew to look at me as a real pain in the ass. When we hit the astronomy section of the course I actually knew a LOT more than she did about observational astronomy. We had a homework assignment where we had to go outside and make a note of the phase of the Moon. In my report I also included observations for a dozen different craters on the Moon, observation of numerous (some obscure) constellations and details on a dozen double stars, clusters and galaxies. I sensed she was intimidate by this (a kid that could run circles around the teacher's knowledge of a topic and potentially embarrass her in front of all the other kids). I didn't know everything however. To get back at me she instructed me to plot (on graph paper using a standard piece of paper and such that the thing was readable) star brightness's that varied by a million to one. I told her "not possible to see 0.003 and 50,000 on the same plot". She said "yes it is". I did not know about logarithms at the time, had I known that it would have been easy. So she kind of did put me in my place in the end. Another time the class exercise was to (without looking at the clock) estimate how long 5 minutes was. We did this in class. The problem was that the clock ticks were clearly audible and all the kids raised their hands right on time. She said something like "I knew that would happen". We then went out into the main courtyard and did the same test, this time without the help of a ticking clock. It was a bright, sunny day, I do remember that. This time most kids went long on the estimation of 5 minutes by at least 30-45 seconds. All in all Earth Science was one of my easiest classes and I liked it a lot.
---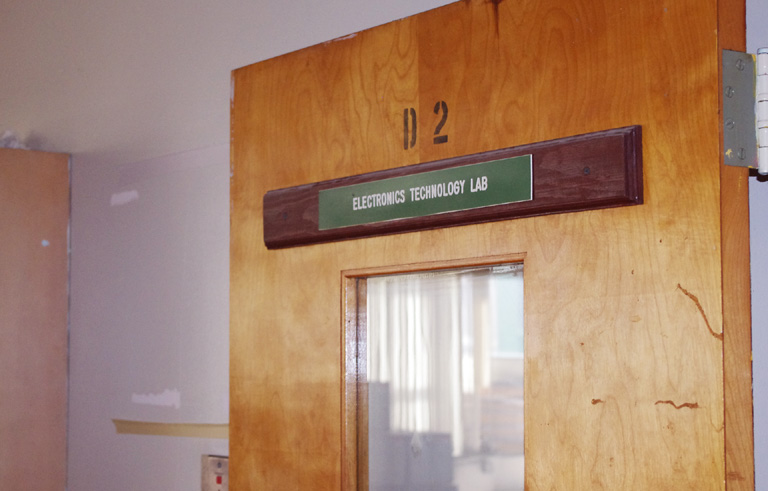 The Electronics lab. I never had any classes in here (in retrospect I probably should have seeing that I went into electronics as a career).
---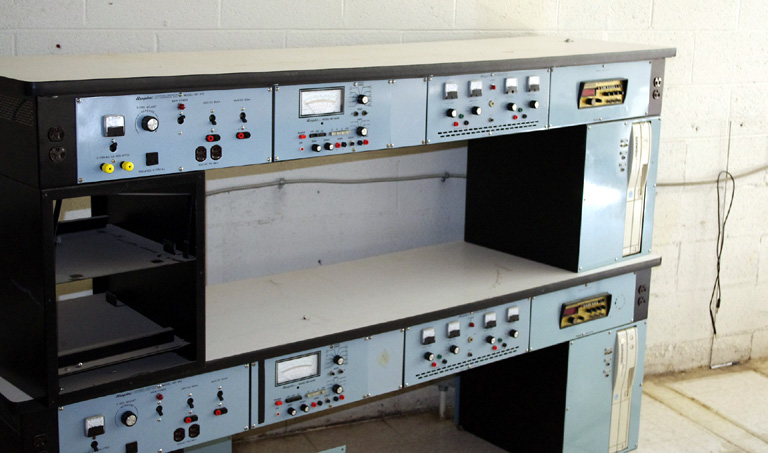 Some test gear in room D-2.
---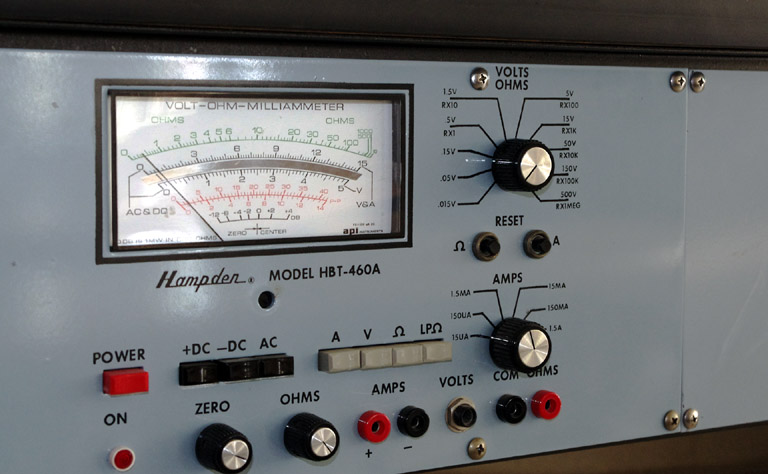 A Volt-Ohm meter in D-2. Not sure if this is original gear from the early days, if it is it's in good shape.
---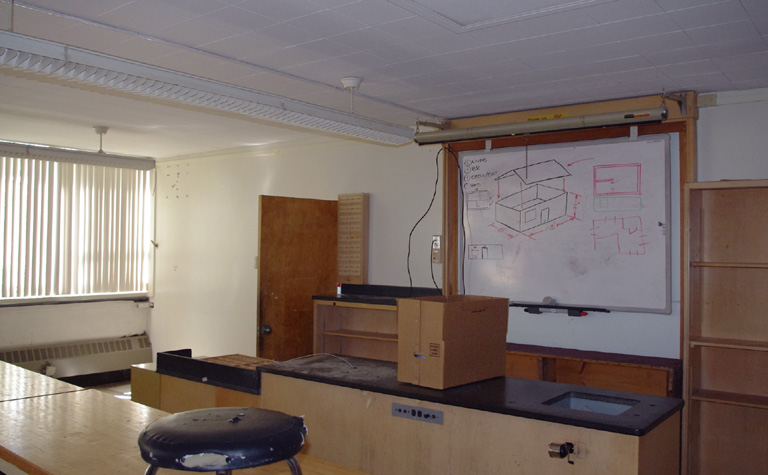 The front area of room D-2.
---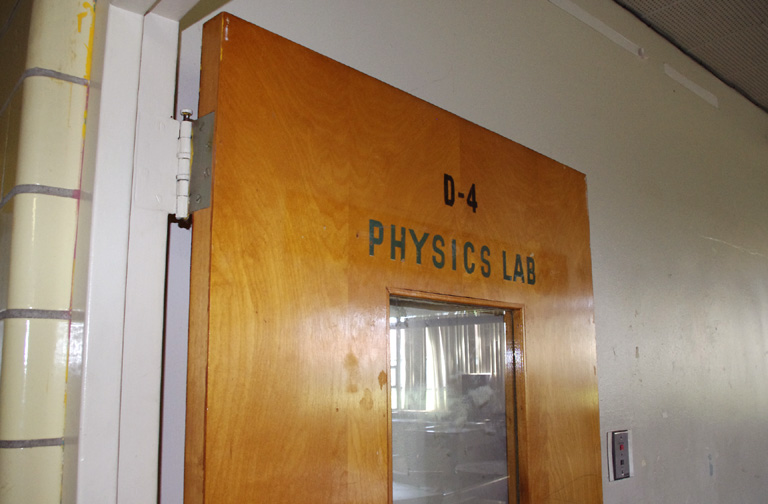 The door to room D-4.
---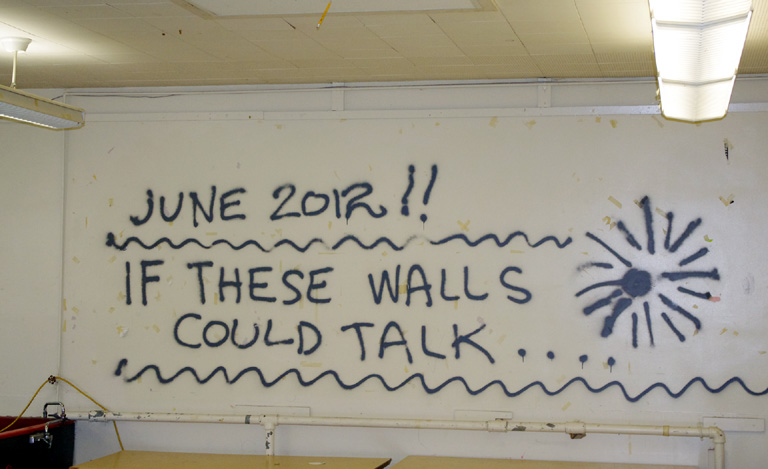 Words that are so true. My stories here are only a miniscule sampling of the many THOUSANDS that could be told from the last 50 years.
---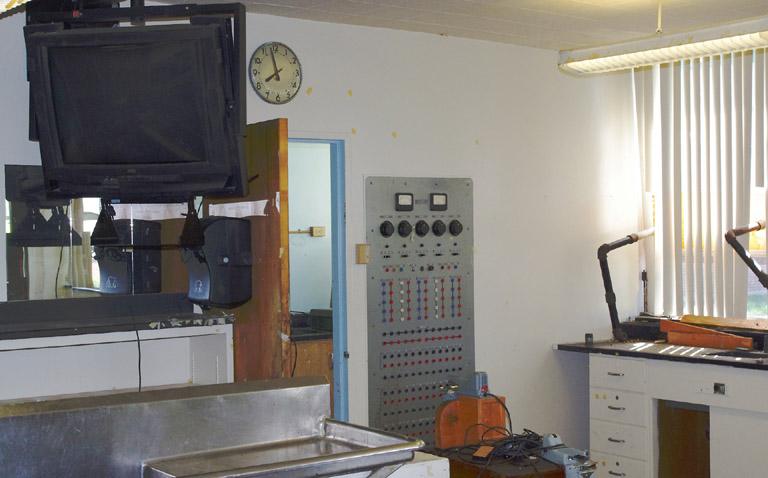 The front corner (towards the main courtyard) area of room D-4. I'm not 100% sure but this may have been the room that Mr. Wing taught in (if not this room it was one very close by). In Mr. Wing's room there was a 6 inch reflecting telescope (a Dynascope 6"). This scope was largely unused and we (my friends and I) made arrangements to borrow the scope from the school (as it was pretty much doing nothing just sitting in the school). Pete Chapin, Mike Schmidt, Tim Rymasz and I took the scope for a week at a time. We cleaned it up and got a LOT of use out of it, I remember being able to see so many more galaxies with it as compared to my 2.4" scope. We decided to form an astronomy club at school in Sophomore year. Besides my 3 friends there were maybe 3 other people in it. Mr. Ferris was also into astronomy and he owned a similar scope. In the fall of 1976 we had a star party in the parking lot behind the school (not far from the football fields). It was not the clearest of nights so some of the scopes ended up being pointed at houses on the mountain. We had maybe 5 or 6 scopes including a 4" Unitron that Mr. Wing got from Springfield College (that was quite a scope, worth big $$$ today). We had a display case in the front of our school for the astronomy club, not sure if anyone paid any attention to it. Although it was fun (the star party) the club pretty much dissolved as there was simply not enough kids interested in it. The Astronomy Club was the only activity I ever got involved with at school.
---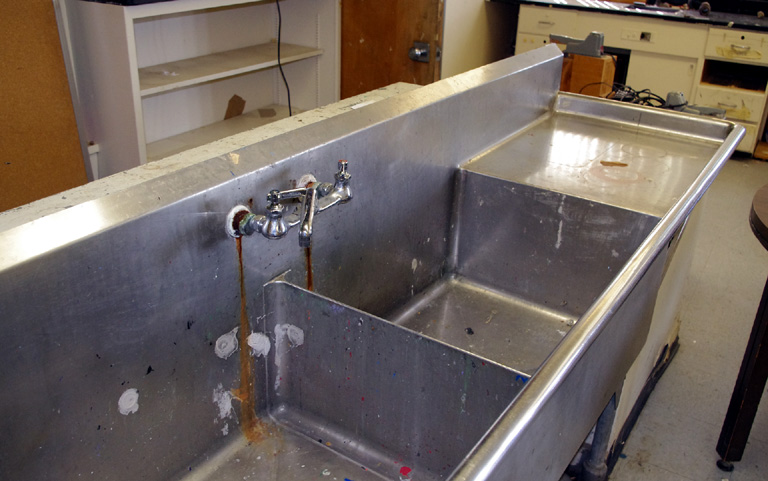 Stainless steel sink in D-4.
---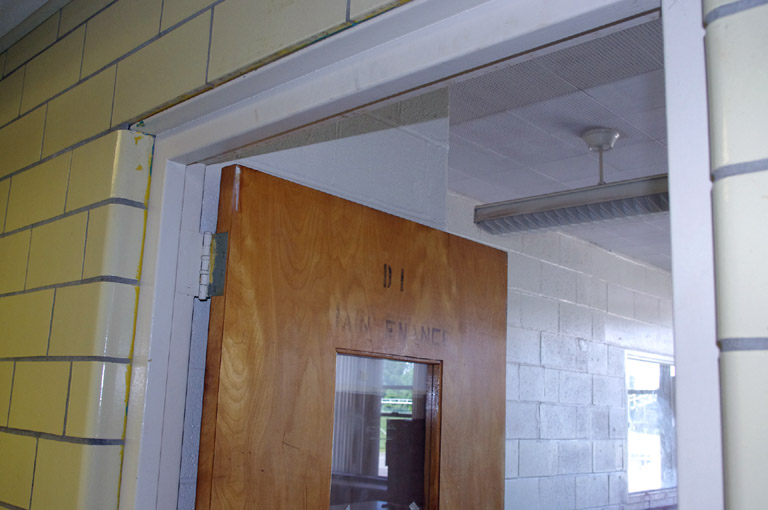 The door to room D-1. I had Art II in here Sophomore year with Mr. Maciaszek.
---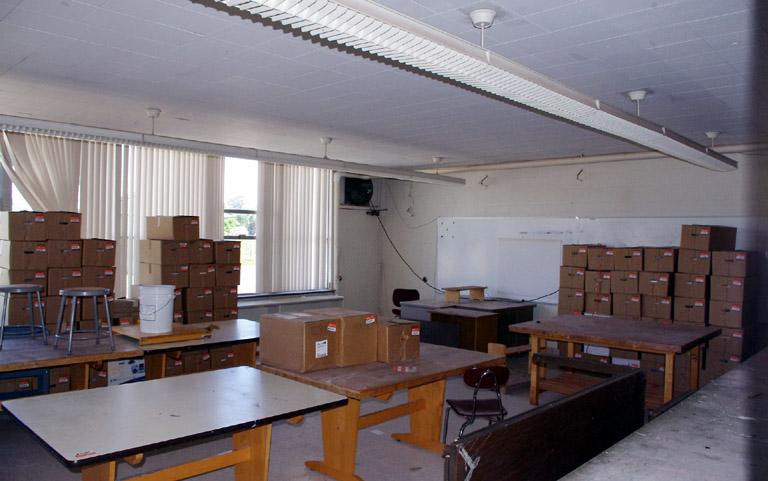 Looking towards the back of room D-1. I sat in the back, just left of center in this image. I remember one time Mr. Maciaszek ripped Sue Engels and Bev Beaumier a "new one". Apparently they sneaked out of art class one day, and wrote some kind of graffiti on the bleachers out back in the playing field. They must have gotten caught, and when found out by admin that they were supposed to be in Mr. Maciaszek's room they ripped him a new one (he returned the favor)! I also remember this girl named Barbara Karpinski. I never knew here before this class, possibly she moved into the area. In Art we always had to come up with a "design" for the class assignment. She was having trouble coming up with one. Each day Mr. Maciaszek would ask her if she had come up with anything and each day it was "no". Finally winter vacation week was upon us, he instructed her to come up with a design during that time (I sensed the end was near). When we came back from vacation, Mr. Maciaszek asked her if she had a design, she said no (looking depressed as she said so), he looked even more disappointed. I don't think she did too well in that class. Not sure whatever happened to her.
---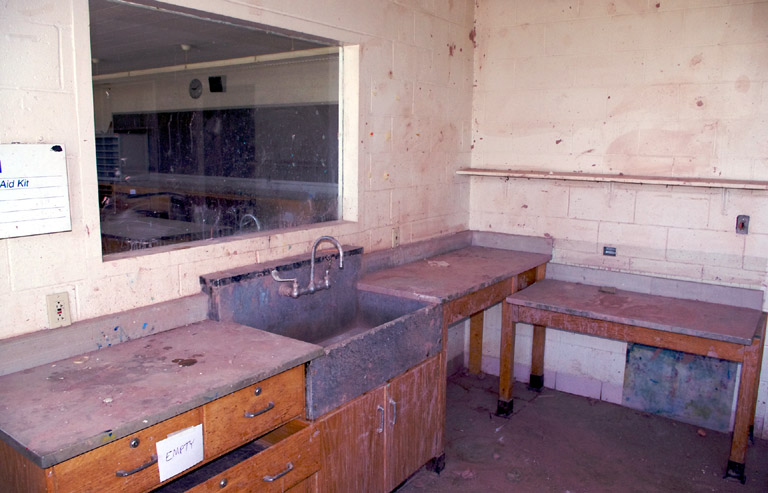 The small room adjacent to D-1. I remember doing etchings in this room and also cutting metal with a coping saw. Mr. Maciaszek was impressed at how I cut an entire piece without breaking a blade (most people broke several doing cuts for one piece).
---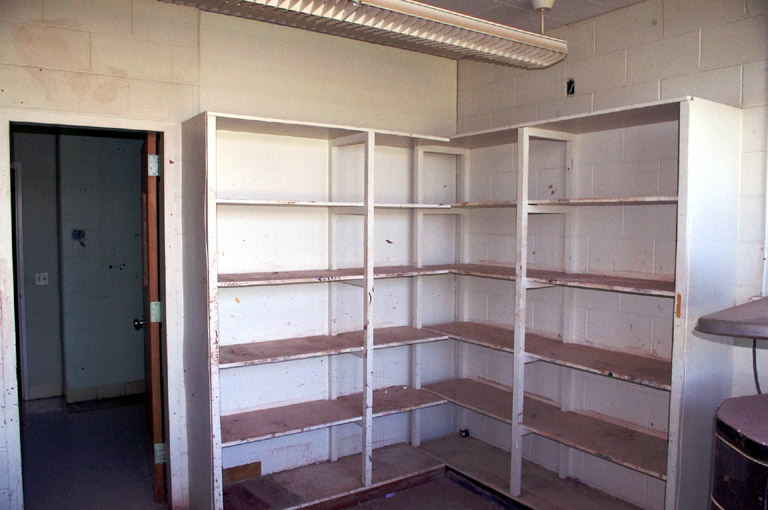 Storage area of the small room adjacent to D-1.
---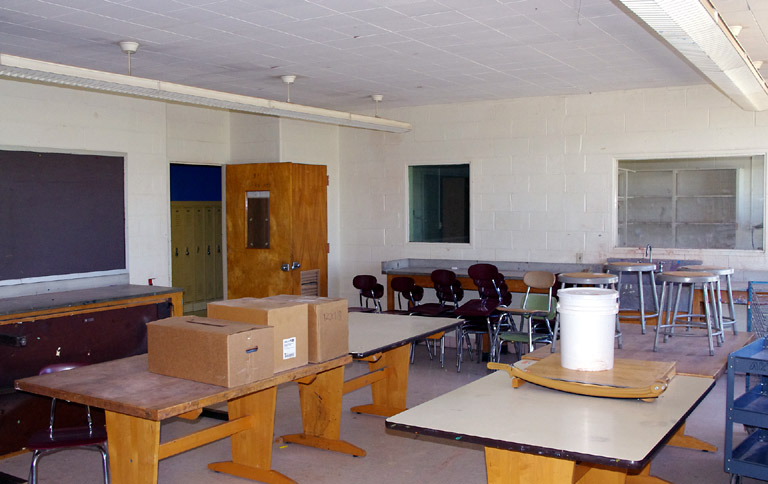 A shot of room D-1 as seen looking towards the front of the room. The desks (at the time I was there) were set up in a horseshoe arrangement. Sue Engels used to sit about where the boxes are piled up on the tables. Barbara Karpinski used to sit back more where I was (in the back of the room). One of the things people in this class sometimes did (not known to the teacher of course) was to use the kiln to heat quarters to a VERY high temp (maybe 1000 degrees?). They would then set them in the hallway in an obvious spot for kids to spot and pick up. If someone spotted it soon after it was placed out there it was scorching hot and they'd get a hell of a surprise when picking it up! A quarter does not sound like much these days, but back then it would buy you a container of milk and an ice cream sandwich in the cafeteria!
---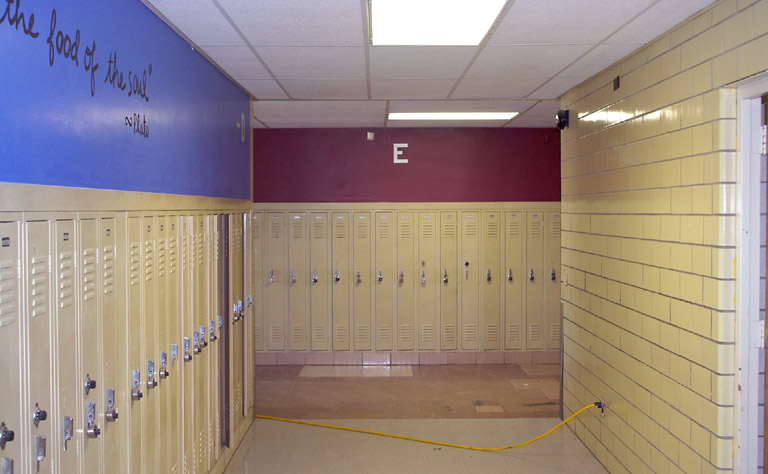 Looking down towards E Hall from the D-1 area.
---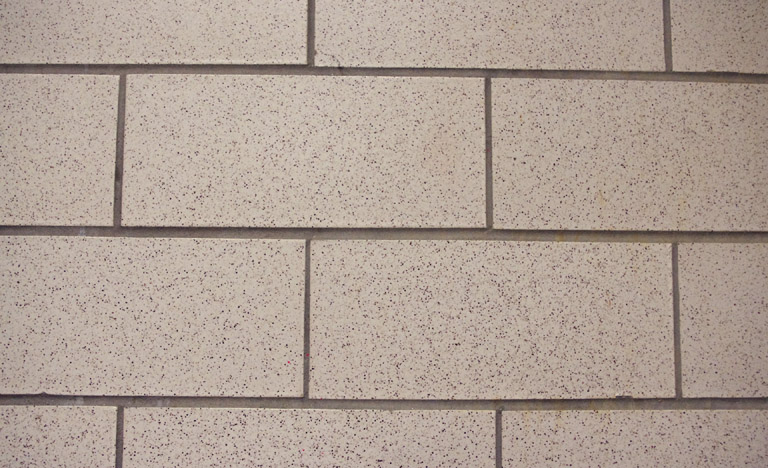 A close up of the bricks in E Hall. These things held up so well after 50 +/- years of life.
---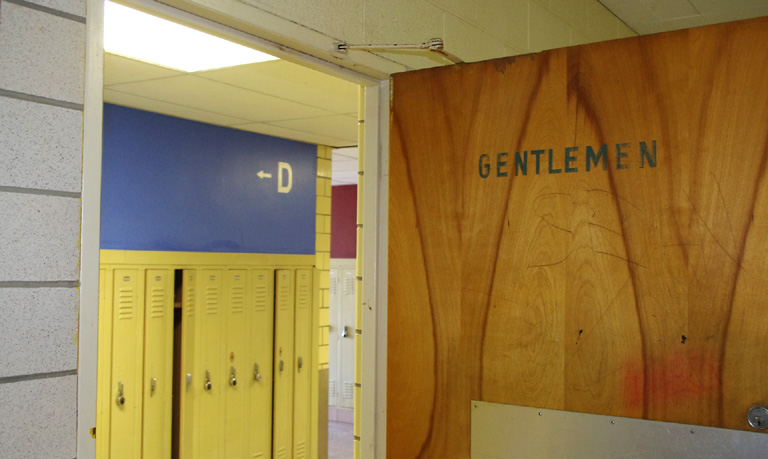 The door to the Boy's restroom in D Hall (across from D-1).
---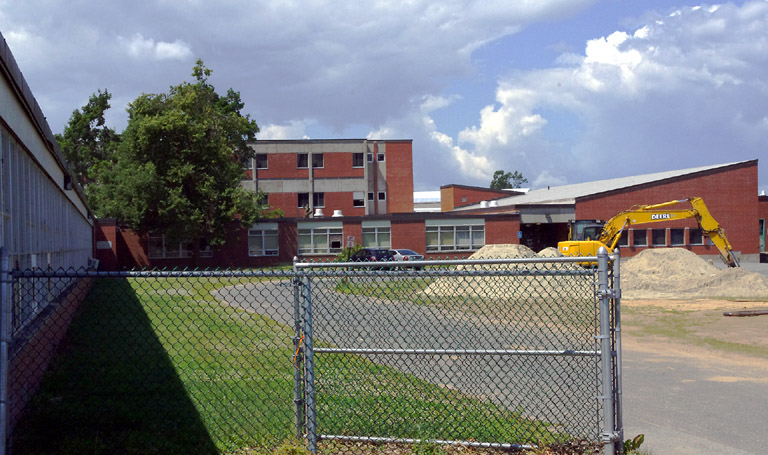 Stepping out the doors at the end of E Hall, looking down along D Hall to H Hall, the Large Cafeteria, and in the background the J-K-M Hall building.
---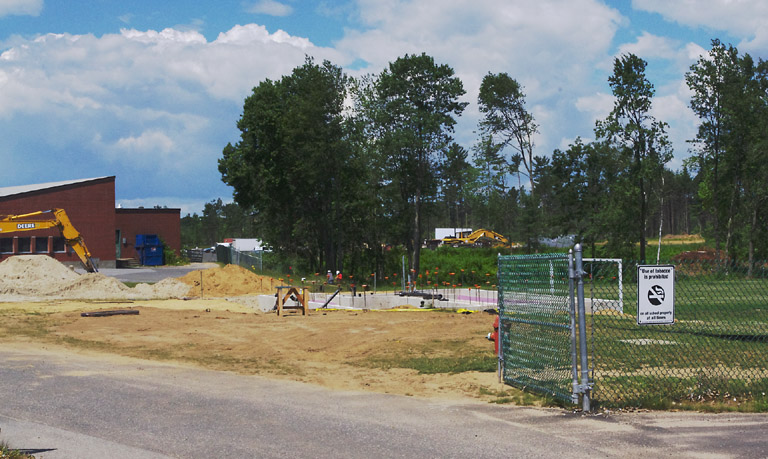 A similar view as above, looking a little more towards the playing fields. The new foundation that is visible is for a "brick shithouse" (the mason's words) when I asked about what they were building.
---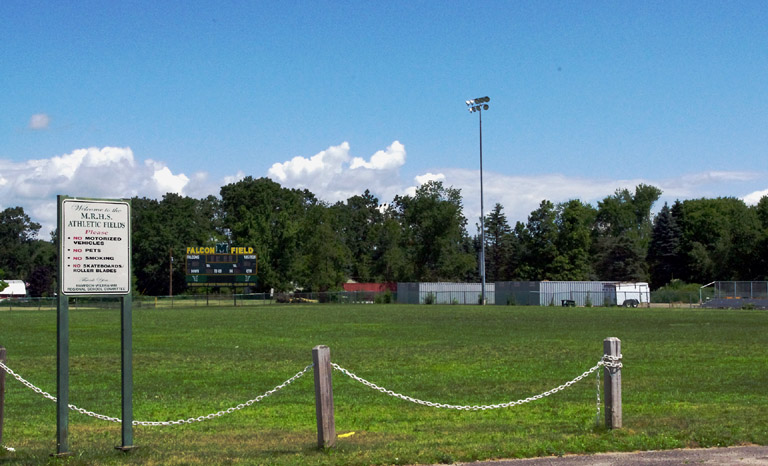 The football field. The scoreboard has been moved to the far end of the field.
---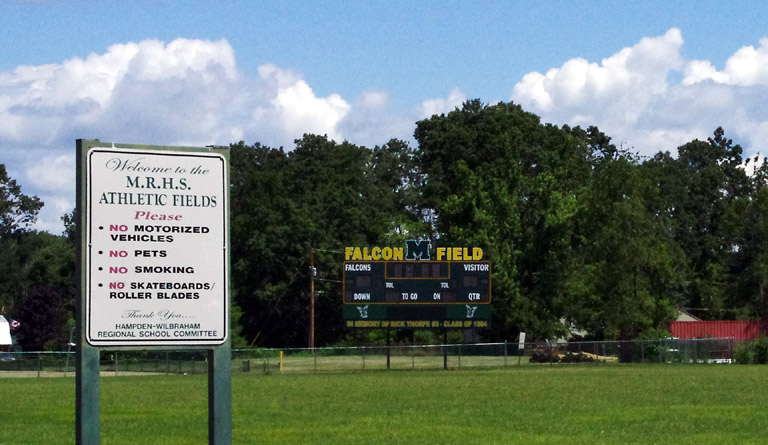 A closer shot of the scoreboard.
---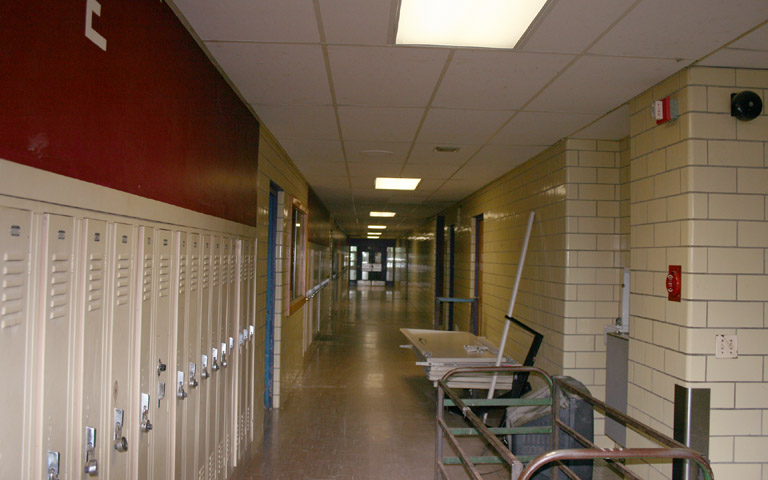 Back in E Hall, looking in the direction of the main lobby. Photo by Paul Goewey.
---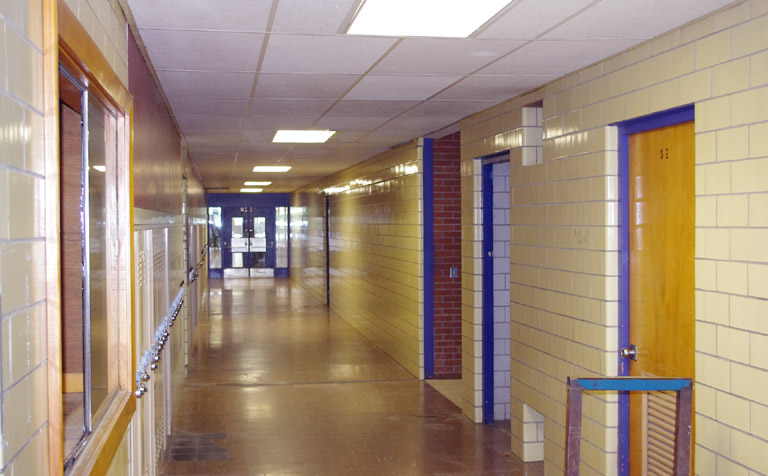 A view a little farther down E Hall.
---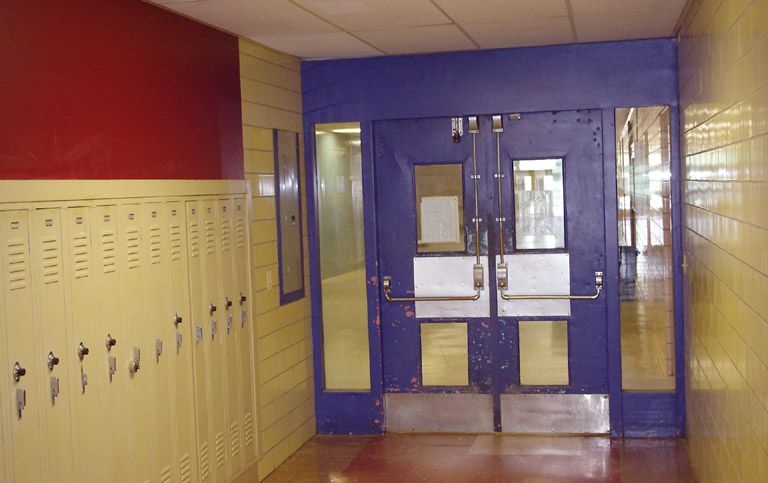 Fire doors in E Hall, the main lobby is on the other side of these doors.
---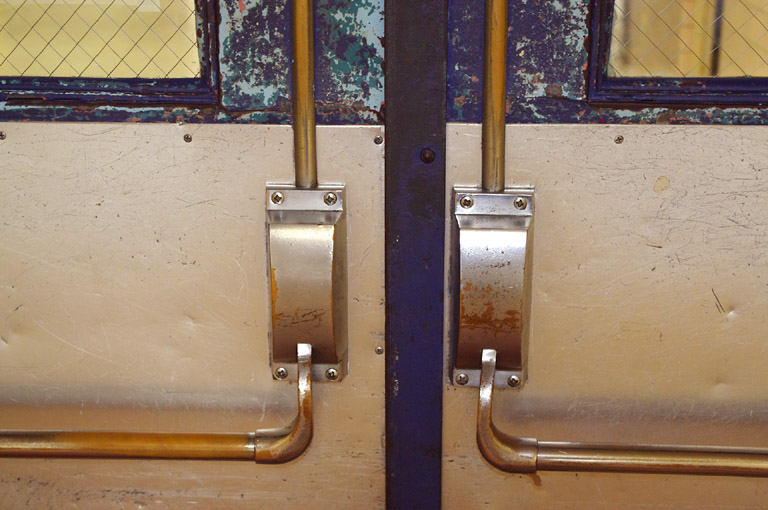 Close up of the door mechanism for the E Hall fire doors.
---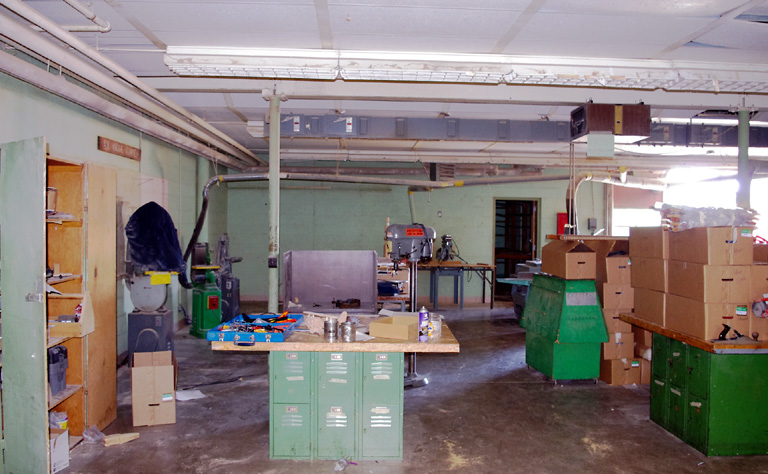 A look into the shop room.
---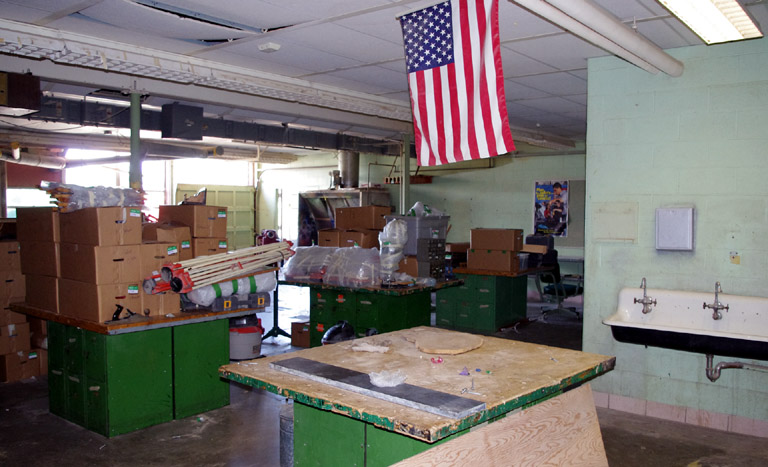 Another view of the shop room.
---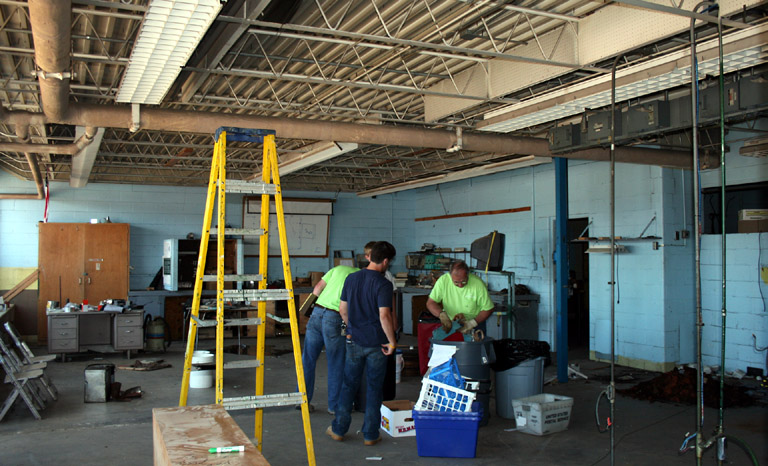 Another view of the shop room. Photo by Paul Goewey.
---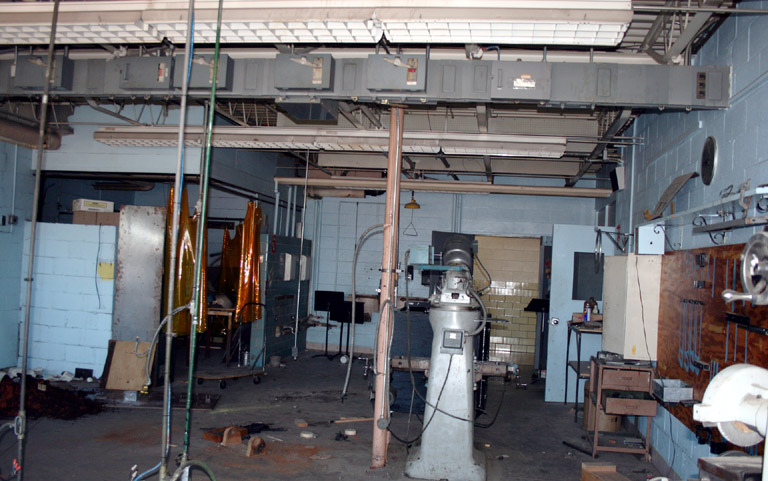 Another view of the shop room. Photo by Paul Goewey.
---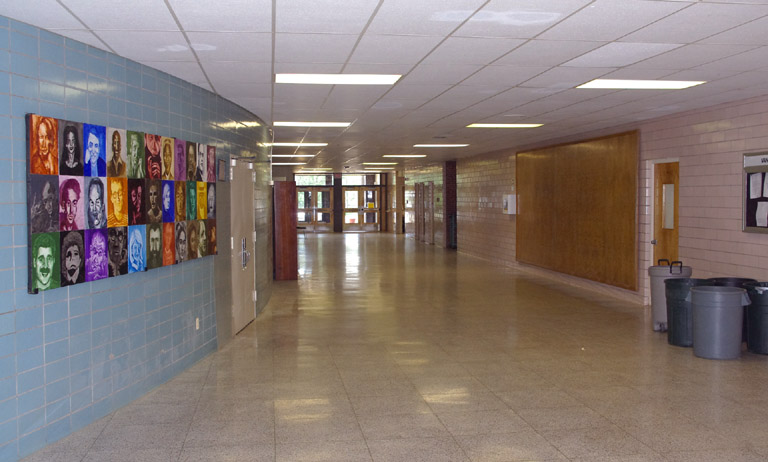 The main lobby of the school as seen from the entrance of E Hall (just outside the shop room).
---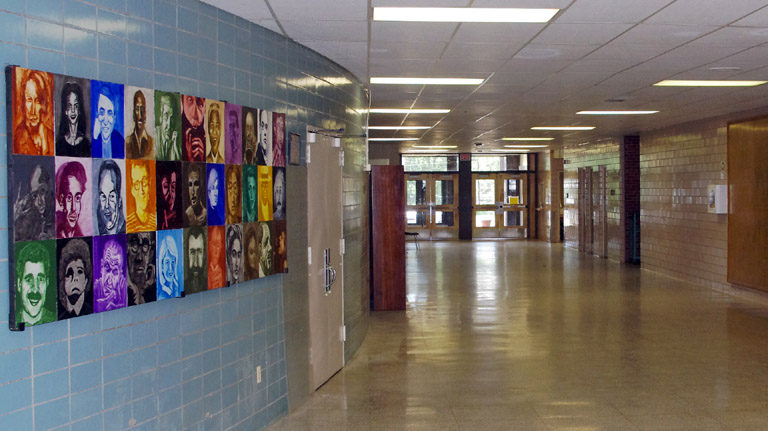 Another shot of the main lobby.
---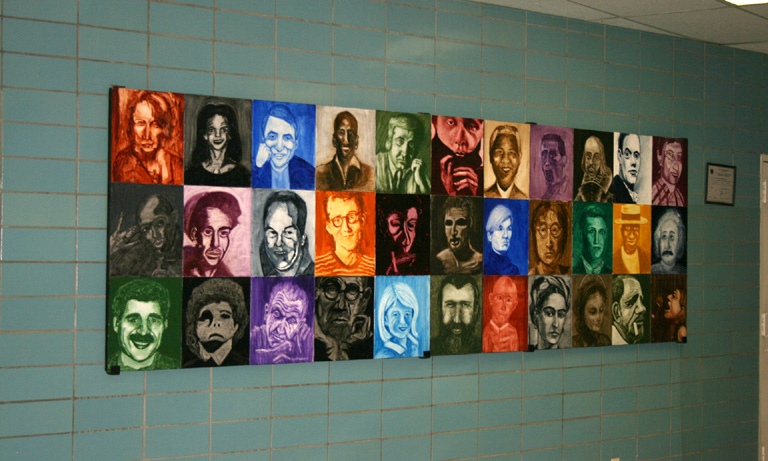 A shot of the mural in the front lobby. Photo by Paul Goewey.
---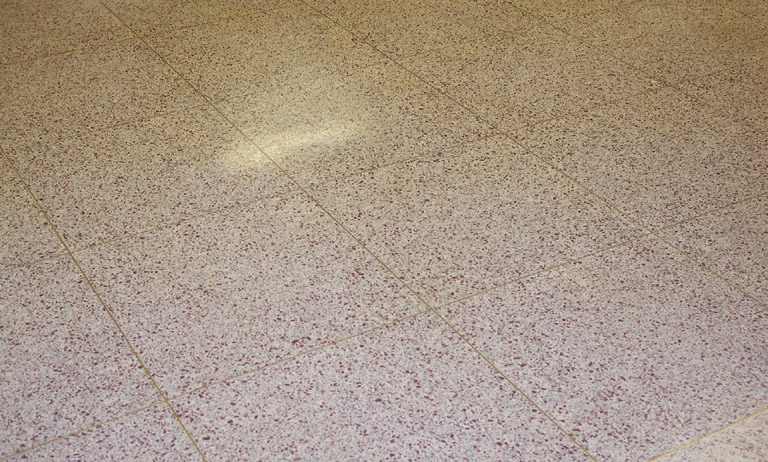 The floor of the main lobby. How many feet have these floors seen?
---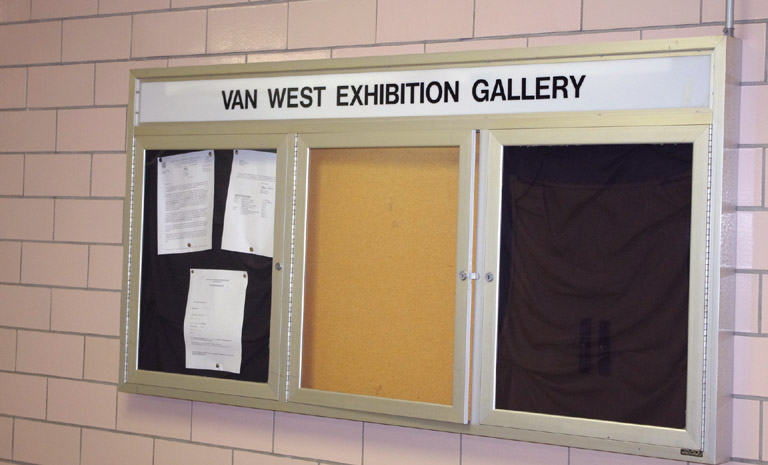 A display window for the Van West Art Gallery. When I was in Art Mr. Van West always talked about how he wanted to set up some kind of gallery at the school. His wish eventually did come true. I visited the school around 1986 and he showed me the gallery. He was lost to cancer a short time later.
---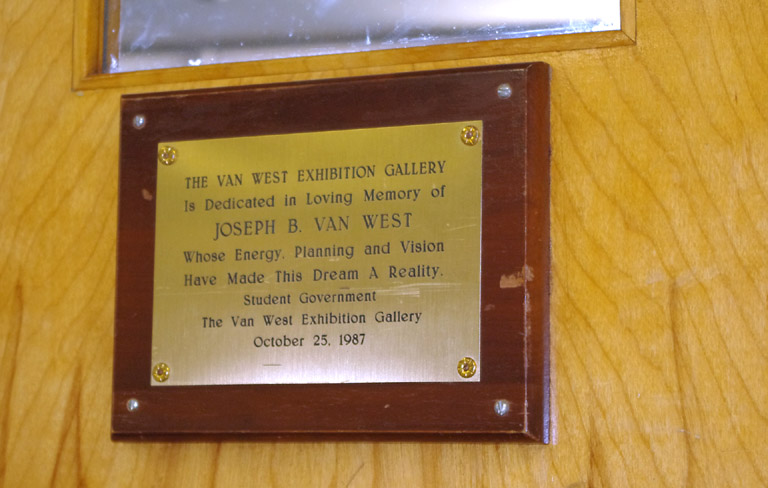 Close up of the Van West Exhibition Gallery Plaque.
---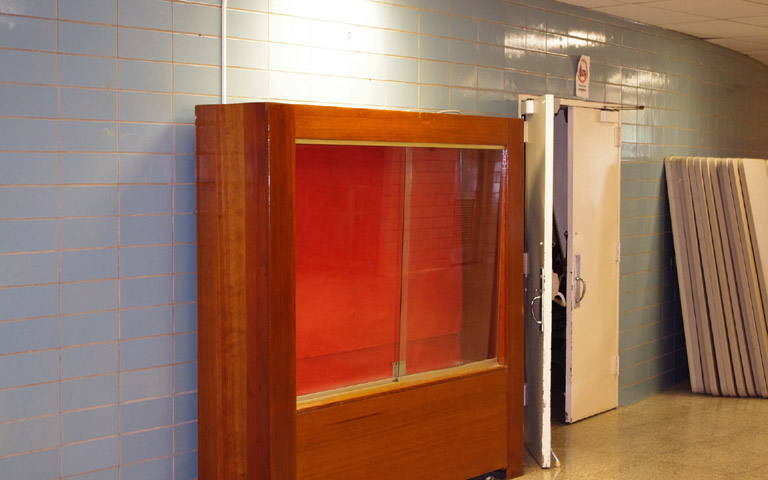 A display case in the main lobby just outside the auditorium. Years ago there was a mural on this wall, it was one that was created by one of the very early classes to attend (at the time) the "new" high school. Things were much more strict back then (think "Leave it to Beaver"). Mr. Van West told us about some controversy with the newly painted mural. Apparently one of the boys depicted in the mural had "unacceptably long hair" and the administration ordered it fixed. Someone had to go out there and paint over the long hair (basically giving the boy in the mural a haircut)! Times sure have changed in 50 years. If the same mural was painted today the only thing that would be banned would be something racist or pornographic.
---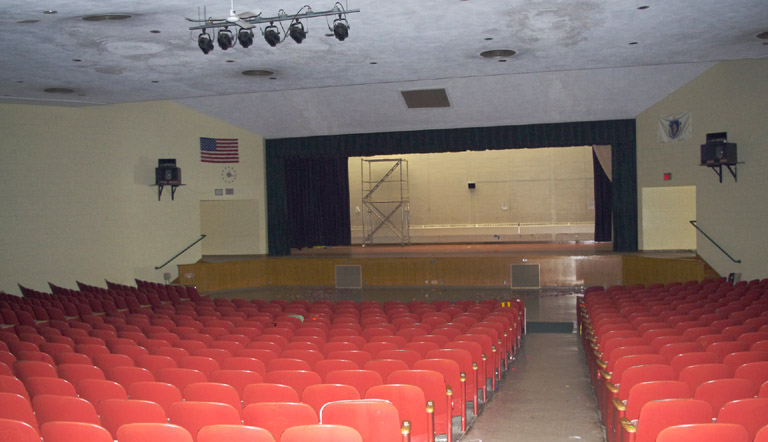 A view inside the auditorium. There were no lights on when I took this photo... the processing required to pull out some detail makes it necessarily grainy.
---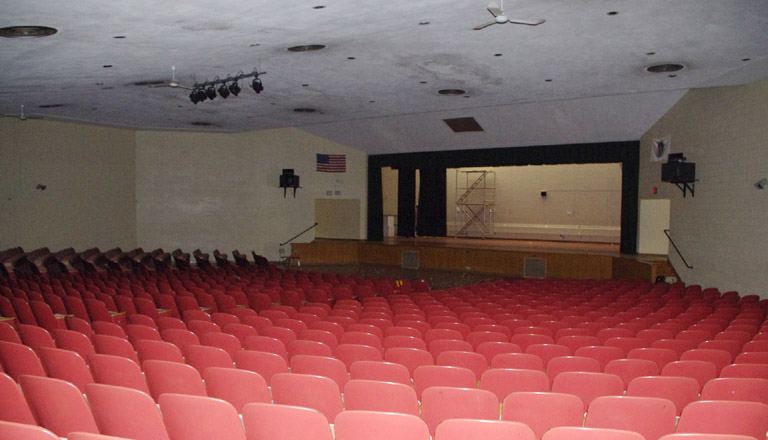 Another shot of the auditorium.
---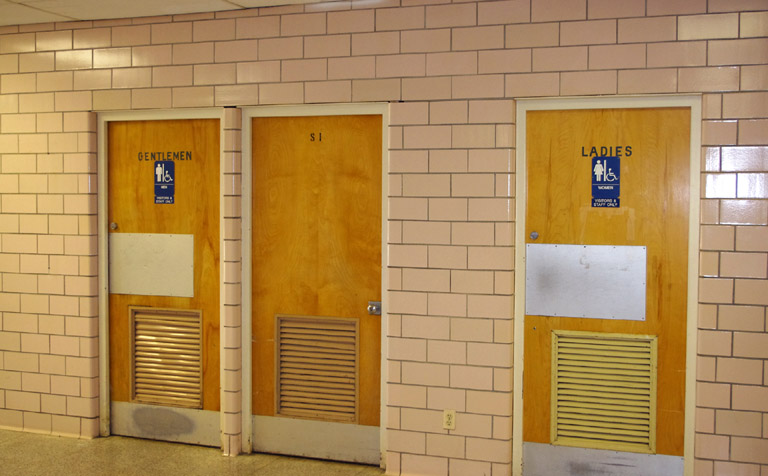 Restrooms in the main lobby.
---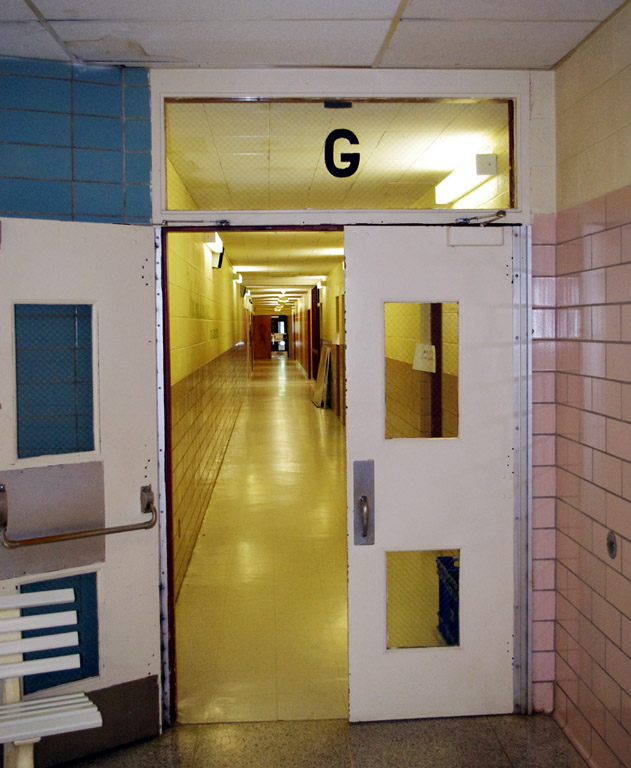 Looking down G Hall. I rarely went down here, I never had any classes here. Somewhere down here in 1976 I signed up for and got my Social Security card.
---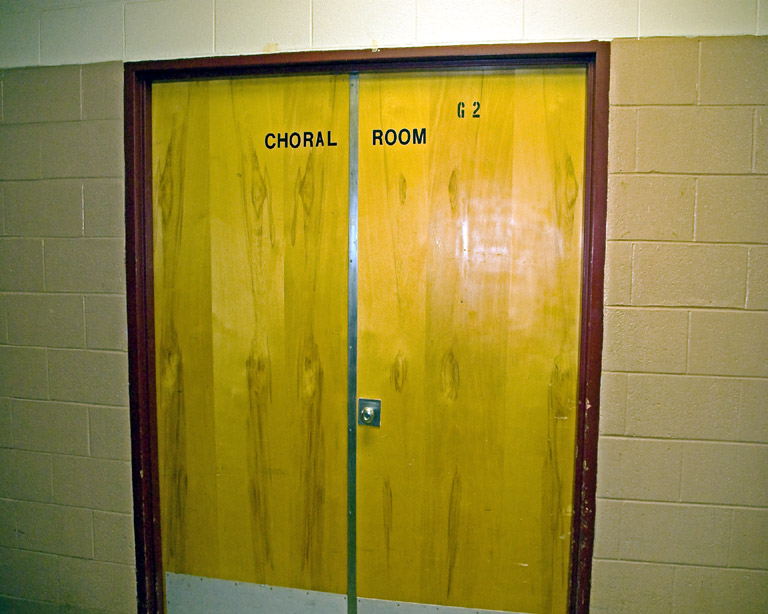 The doors to the Choral Room from 2010 (before any moving activities). Photo by John Bedard of New England Photos.
---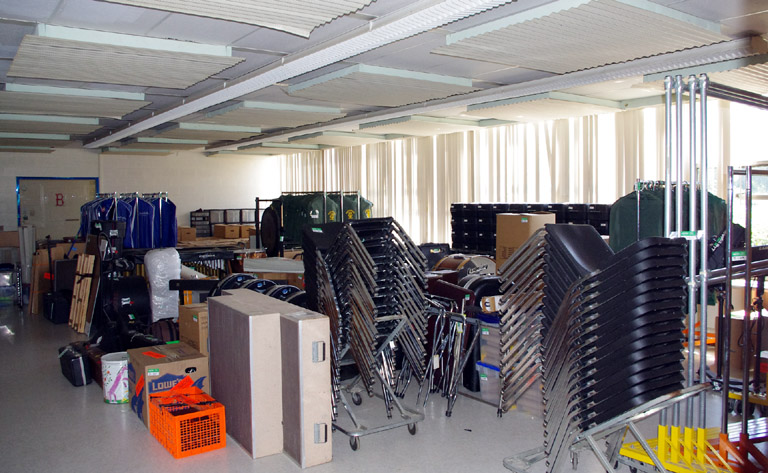 A view inside the band room. I was never in here as I did not play an instrument.
---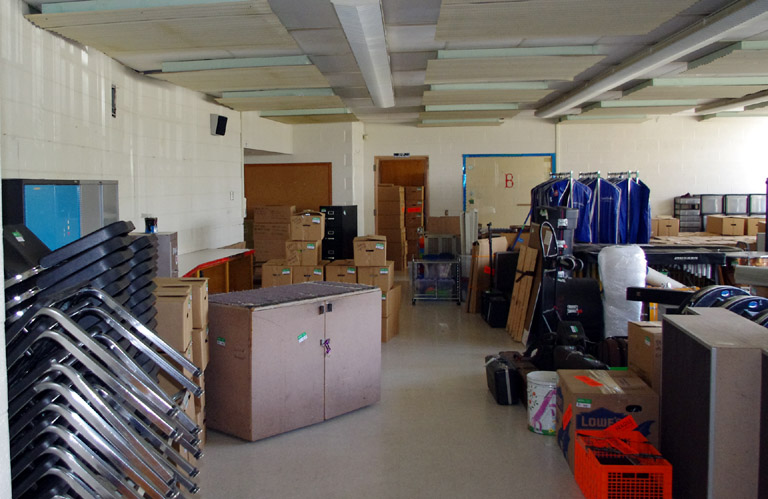 Another shot of the band room.
---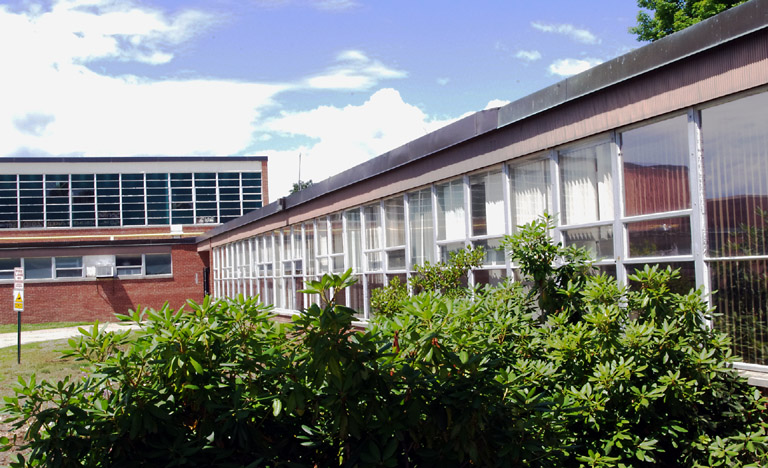 A view along the outside of B Hall, looking towards the Girl's Locker Room, from the main entrance. All the trees have been removed.
---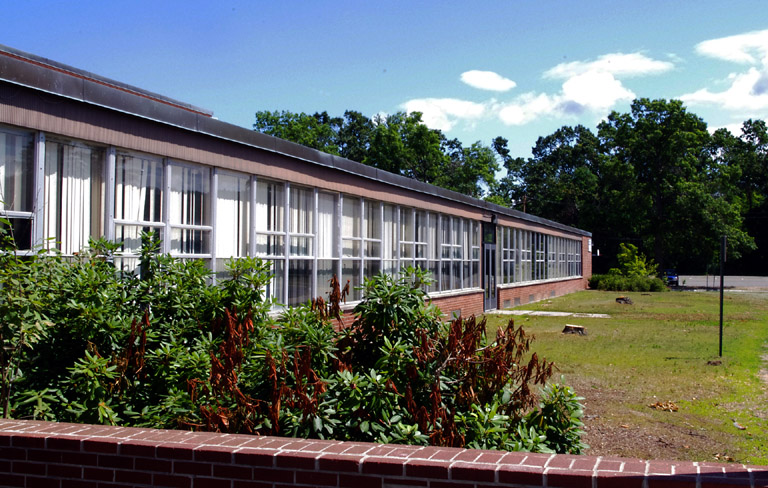 Looking the other way from the photo above, along the outside of G Hall, as seen from the main entrance.
---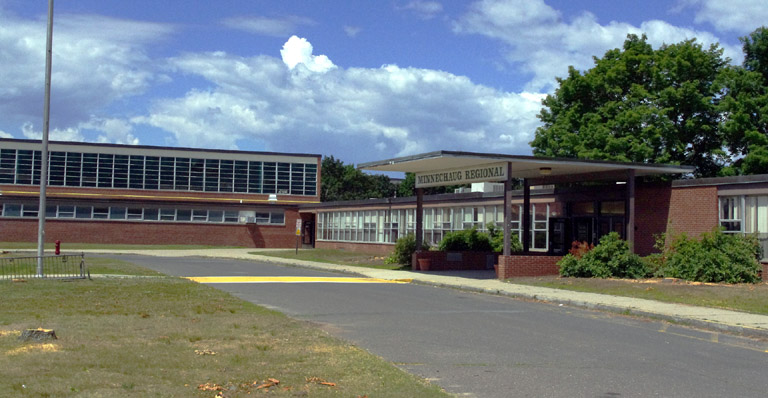 A shot of the front of the school.
---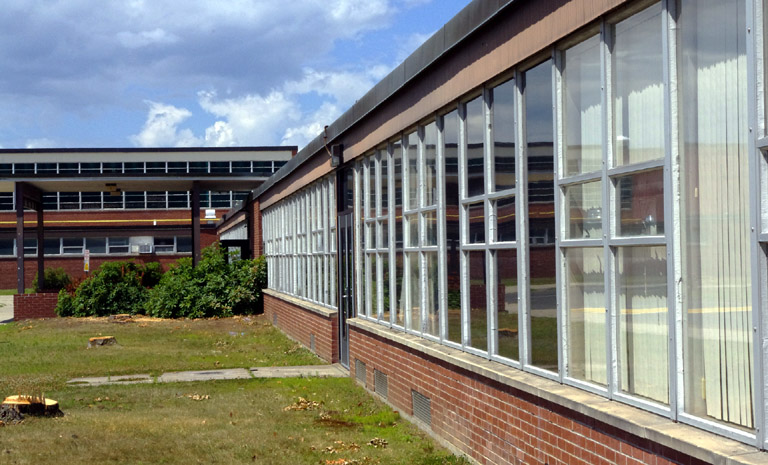 Looking along the front of the school towards the Old Gym.
---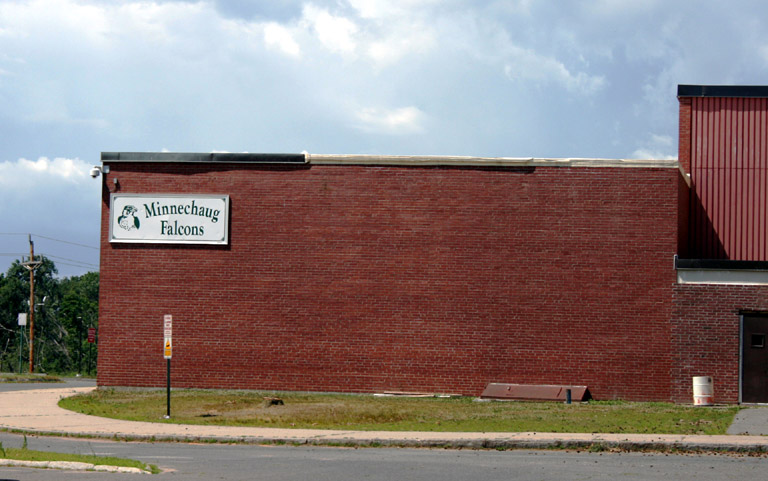 A shot of the pool wing of the building. One year (can't recall which) Ludlow kids had painted some anti-Minnechaug graffiti on this part of the school. That polarized the student body of Minnechaug (even those who kind of hated school), it was OUR school and to have LUDLOW do this... not good. I remember the janitor that was nicknamed "Klink" out there trying to clean it off. Photo by Paul Goewey.
---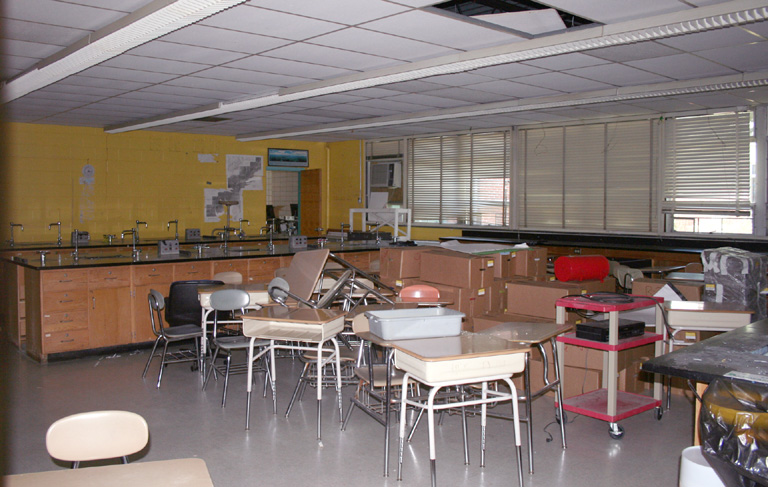 Description and credit to be added.
---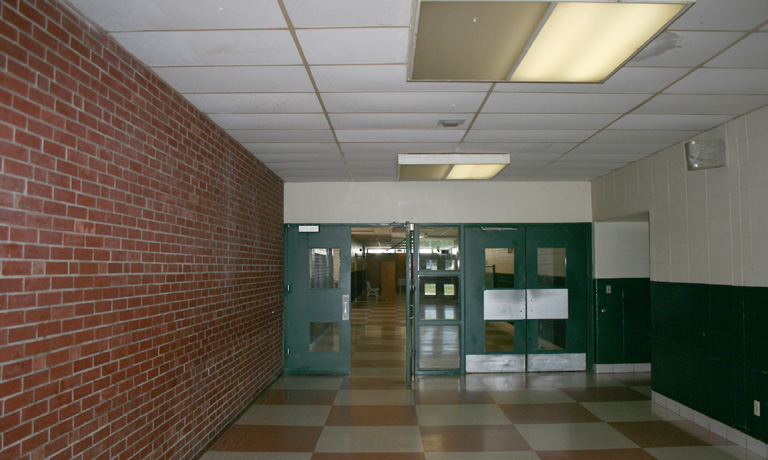 Description and credit to be added.
---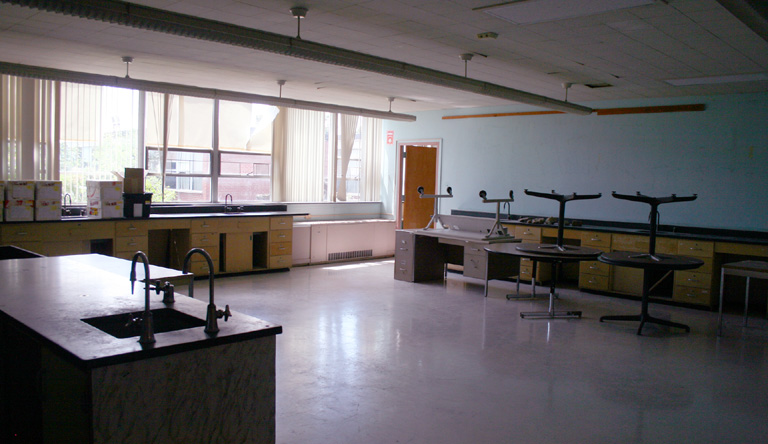 Description and credit to be added.
---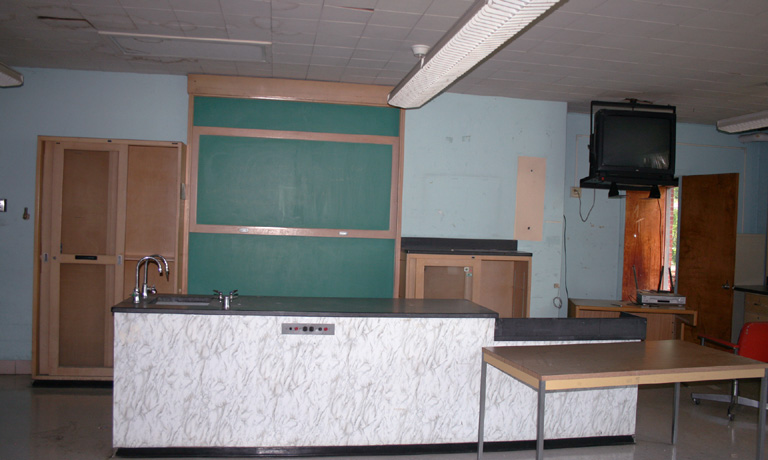 Description and credit to be added.
---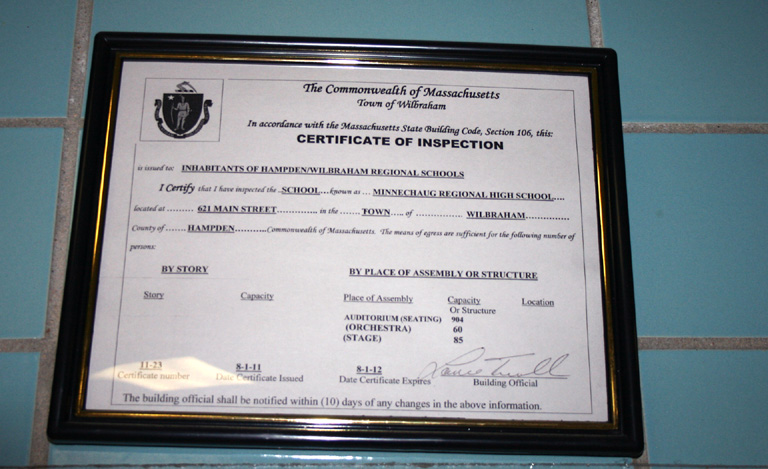 Certificate of Inspection. Photo by Paul Goewey.
---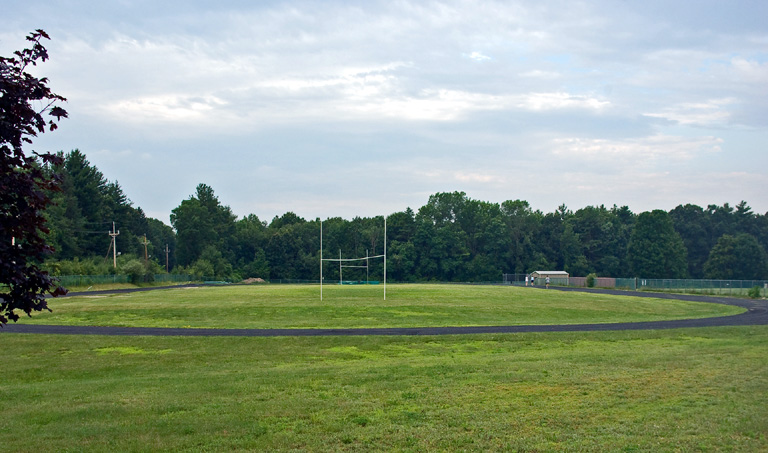 The running track as seen in 2010. This is now gone, the new school sits right on this site. Photo by John Bedard of New England Photos.
---
Many more photos to come (mostly the outside of the building).... check back periodically.
---
"Back" links, e-mail and Copyright
Use your browser's "back" button, or use links below if you arrived here via some other path:
This page is part of the site Joe Roberts Homepage.
E-mail to Joe Roberts
Images copyright 2010-2012 by their respective owners (as credited above). HTML text © Copyright 2012 by Joe Roberts. Please request permission to use photos for purposes other than "personal use".
---